CLICK TO SUPPORT OUR SPONSORS

---

---
Saturday, May 12, 2001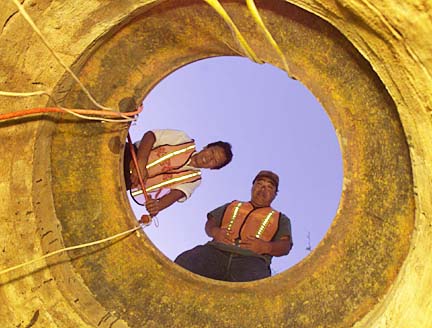 DENNIS ODA / STAR-BULLETIN
Clifford Au, left, and Van Tanabe of Verizon Hawaii looked yesterday
into the manhole at the corner of Hawaii Kai Drive and Keahole Street
where colleagues were splicing together phone cables to restore phone
service to Hawaii Kai after a contractor accidentally drilled through
the cables while installing a fence.
---
Hawaii Kai
residents endure
no phones


A contractor digging post holes
cut through a phone cable that
serves 3,500 customers

---

By Leila Fujimori
Star-Bulletin

When the phones went down in Hawaii Kai Thursday, Roy Rutschman got free use of a cellular phone from Verizon Hawaii.

But yesterday, the 87-year-old, who has prostheses in both knees, drove to Verizon's temporary phone bank half a block away from his Hawaii Kai Drive home to make calls because the cellular phone died. Rutschman made calls to the mainland to firm up last-minute plans for a trip.

"We're in a bad situation," said the Naniwa Gardens condominium resident.

Crews have been working around the clock to restore service to an estimated 3,500 telephone customers in the Hahaione Valley and Hawaii Kai Drive area who have been cut off since Thursday.

Verizon said some or all lines at four condominiums have been affected, including Plaza Hawaii Kai, the Mauna Luan, Naniwa Gardens and Heritage House.

Spokesman Brian Blevins said a private contractor digging post holes on Hawaii Kai Drive near the intersection of Keahole Street cut through two sections of heavy cable, causing several thousands of dollars' damage. Blevins said Verizon will credit customers for the disrupted service.

The Verizon crews are trying to restore as many lines as possible before Mother's Day tomorrow, which competes with Christmas as the heaviest day for phone usage in the country.

Steve Rivas, resident manager at Naniwa Gardens, said he has been listening to concerns from panicky residents who ask, "How are people going to call me? It's Mother's Day."

Rivas noted that Verizon has been very responsive.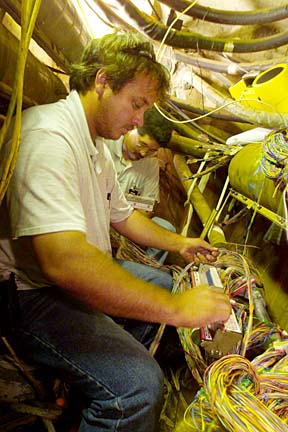 DENNIS ODA / STAR-BULLETIN
Thomas McDonald, front, and Todd Tashima of Verizon Hawaii
identified and spliced phone cables together at the corner of
Hawaii Kai Drive and Keahole Street.
---
Carlos Tenorio and his wife were expecting calls from their four children, all living on the mainland. "We wanted to talk with our kids in advance of Mother's Day, or maybe they're trying to call us," Tenorio said.

Teens also have been greatly affected by the downed lines.

"I have to come here a lot to communicate with my friends, especially since I don't have a cell phone," said Megan Huber, 16, who was at the phone bank yesterday afternoon. "We're trying to make plans for tomorrow."

"It's lucky I have Roadrunner," said the teenager, referring to cable Internet service.

But many of her friends are without both phone and Internet access.

Meanwhile, three-man crews were painstakingly splicing 5,000 pairs of wires in manholes at both ends of 250 feet of new cable installed yesterday. Each pair of wires provides a dial tone to one customer, a supervisor at the site said. The supervisor, who declined to give his name, said the construction workers just missed severing the trunk-line cable that serves the entire Hawaii Kai area.

Verizon spokeswoman Ann Nishida said the company hopes to have service to all customers restored by Monday.

The contractor, Foundations International, drilled holes about 8 to 10 feet deep and about 14 inches in diameter for posts to be used for dust shields during construction.

The holes, inches away from a sidewalk used by dozens of joggers and walkers, were left exposed, and the contractor was asked to cover them up. The contractor installed a few posts yesterday and covered most of the two dozen holes. Verizon used safety barriers to cover others.

The phone company set up a bank of eight free phones in the parking lot at the Oahu Club at 6800 Hawaii Kai Dr., available 24 hours a day.

Customers also can call 1-800-483-1000 to have their land lines forwarded to their cellular phones. Verizon gave out cellular phones to customers who have medical conditions and to managers of condominium buildings for residents to use.

To provide Internet access, Verizon will provide five lines for customers to plug in laptops at a former GTE Hawaiian Tel Phone Mart at the Hawaii Kai Shopping Center, today and tomorrow, 9 a.m. to 5 p.m.
E-mail to City Desk
---
---
© 2001 Honolulu Star-Bulletin
https://archives.starbulletin.com