CLICK TO SUPPORT OUR SPONSORS

---

---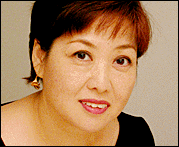 In The Garden



Saturday, May 12, 2001
By Suzanne Tswei
---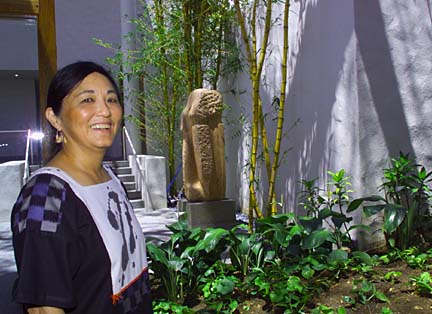 KEN IGE / STAR-BULLETIN
Juli Kimura Walters, landscape architect for the Luce Pavilion
at the Honolulu Academy of Arts, stands in the garden planted
with bamboo, spathiphyllum cannaefolium, ligularia and pothos.
---
Landscaping blends new
pavilion with academy's
older buildings

All gardeners know a beautiful garden does not come up overnight. It requires a well-thought-out design and time for the plants to mature.

So it is no surprise that the landscaping at the Honolulu Academy of Arts Henry R. Luce Pavilion Complex, which opens to the public tomorrow, has been in the making for more than a year. The plants went in only two months ago, but the pavilion garden looks as if it has been there all along.

A planting of lotus leaf begonia near the front door of the gift shop began as clippings about a year ago. They came from May Moir's famous garden in Nuuanu, where she has grown the floppy-leafed plant for decades.

Landscape architect Juli Kimura Walters paid Moir a visit before she began planning for the landscaping. Moir donated the clippings, and Walters nursed them in small containers until it was time to put them in the garden.

Walters -- of Walters, Kimura, Motoda Inc. -- was semiretired when the academy needed someone to design the new garden. Walters, whose work includes the landscaping at the Hawai'i Convention Center, took the unpaid consulting job for sentimental reasons. She is the daughter of painters Keichi and Sueko Kimura and remembers the happy times she spent in art classes at the academy.

"The academy has a special place in my heart and in my childhood memories. It was always a friendly place," Walters said.

The academy is a prime example of kamaaina architecture, and Walters wanted the landscaping to reflect the same relaxed ambience. That's why she went to Moir's garden in search of ideas. Moir, who had authored gardening books for Hawaii's climate and presided over flower arrangements for the academy, keeps many old-fashioned plants in her garden.

"I used plants that date back to Hawaii's early kamaaina homes, since this site was where Anna Rice Cooke (academy founder) had her family home before donating the land for the museum and tearing down the house," Walters said.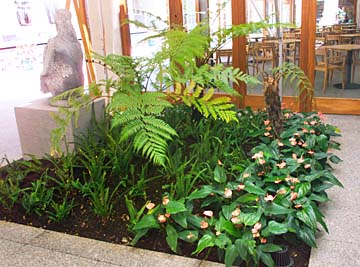 KEN SAKAMOTO / STAR-BULLETIN
Bamboo, spathiphyllum cannaefolium, ligularia and pothos
brighten a corner at the Honolulu Academy of Arts.
---
Many of the plants for the new garden were popular in Cooke's days, such as the fragrant spathiphyllum planted near the new cafe. This is not the same variety as the common scentless hybrids found in the garden stores nowadays, but a closer cousin to the fragrant types popular in the islands in the 1930s and 1940s.

The spathiphyllum came from Walter's own garden. She propagated new plants from her own collection and nursed them for a year at her Tantalus home.

Many of the mature trees and plants in the pavilion space were saved and replanted once the renovations were completed. Large plumeria trees that were uprooted from the old garden are now planted along Victoria Street.

Three large trees -- a monkeypod, a false wiliwili and the 70-year-old mango (which is home to a pair of fairy terns) -- were left undisturbed.

"Special design consideration and substantial cost were expended in order to save these existing trees as the focal point for the Luce Pavilion Complex. They literally built the new pavilion around the trees," Walters said.

The academy's new pavilion garden features a wide variety of tropical flora, including Australian tree ferns, pink anthuriums and a golden bamboo planting at the end of a long waterfall.

A row of rhapis palms forms a border between the Clare Boothe Luce Gallery and the new gift store. Beneath the palms, ligularia are used as the flowering ground cover. Fragrant native gardenias line the wheelchair ramp to the new galleries in the pavilion.

To tie together the modern-looking complex and the traditional-looking older part of the academy, Walters used monstera, which always has been the distinguishing foliage at the front of the academy. Monstera is planted under the large trees in the pavilion.

Green Thumb, which was the landscaping contractor, used mature plants to help create the look of a mature garden. Tall MacArthur palms, plumeria and mock orange bushes line the Kinau Street border to soften the edges and mass of the new building and create a more attractive view from the outside.

Other landscape consultants include Myles Nishida, who supervised the construction, and Michael Motoda, who created the design concept for the Kinau Street corner. Both are from Walter's firm.





---

Suzanne Tswei's gardening column runs Saturdays in Today.
You can write her at the Star-Bulletin,
500 Ala Moana, Suite 7-210, Honolulu, HI, 96813
or email stswei@starbulletin.com
E-mail to Features Editor
---
---
© 2001 Honolulu Star-Bulletin
https://archives.starbulletin.com