CLICK TO SUPPORT OUR SPONSORS

---

---
Island Images



Friday, May 11, 2001
---
REMEMBERING A SELFLESS MAN

An annual ceremony honors Father Damien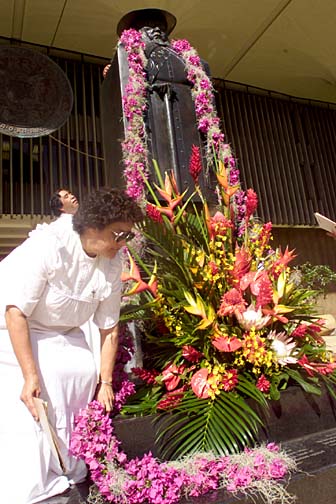 KEN SAKAMOTO / STAR-BULLETIN
The statue of Father Damien DeVeuster at the state Capitol was
draped with leis yesterday by members of his religious order
celebrating the date of his arrival in Kalaupapa to serve Hansen's
disease victims there. Above, Sister Regina Jenkins adds a lei to
the many already draped over the statue of Father Damien,
who died of the disease himself in 1889.
---
KEEPING AN EYE ON THE ART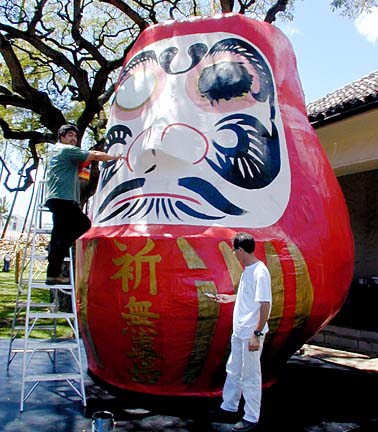 CRAIG T. KOJIMA / STAR-BULLETIN
Spenson Donre, left, and David Tobias painted a 30-foot daruma
fronting the Academy of Arts yesterday. The chicken wire and
papier-mache creation, nicknamed "Big Red," is being displayed
to celebrate the completion of the museum's
Luce Pavilion Complex.
---
WILD SIDE OF BASEBALL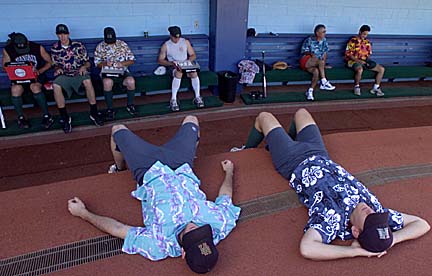 DENNIS ODA / STAR-BULLETIN
It was "Aloha Thursday" for the University of Hawaii baseball
team yesterday, when players can practice in their aloha shirts
on the Thursday before a game. Cortland Wilson, left, and Matt
LeDucq rested in front of the dugout before practice.
---
E-mail to City Desk
---
---
© 2001 Honolulu Star-Bulletin
https://archives.starbulletin.com