CLICK TO SUPPORT OUR SPONSORS

---

---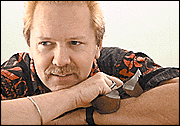 Island Mele



Friday, May 11, 2001
By John Berger
---
Show You Love

AZ (Mafiuso Productions - USO/445066)

Samoan balladeer AZ comes on strong with the "urban" music he obviously loves. His strength is the smooth bedroom ballad sound popularized by the O'Jays and Marvin Gaye in the '70s and taken X-rated in recent years by a horde of national artists who've hit with sexually explicit lyrics. Samoan rap by AZ's Mafiuso sidekicks gives his debut a distinct identity within the genre.

That said, there's a problem here. Respect is the core of the "playa" culture the Mafiusos espouse but respect is owed to the black artists whose music they're using. "Island Girls" scrambles several early Jackson 5 hits, and "What Do I Do" borrows pieces of "Let's Get It On" and "Cowboys to Girls." AZ's closing song, "Jesus is the Best Thing," is actually Gladys Knight's "Best Thing That Ever Happened to Me" with a few minor changes in the lyrics!

"U And I" and "Island Girl" add Jawaiian-rap for radio play here but most of AZ's work is aimed at the national urban charts. AZ has the sound to go national.

http://www.mafiuso.com

---




Kalapawai Ku'u One Honau

Chinky Mahoe (Poki - SPCD9065)

Kumu hula Chinky Mahoe has been prominent for over 20 years. His halau has distinguished itself at Merrie Monarch many times; he has also shared his knowledge with the Honolulu Boy Choir. His album captures the breadth of his musical talents in both chant and melodic form. He honors tradition while addressing the present too.

Mahoe speaks of today in cheering on University of Hawai'i athletes with "Mea Pa'ani Kinipopo." The title song expresses his love for his Windward Oahu ancestral home. Two other songs relate the cultural significance of Kaho'olawe. Mahoe also sings of loved ones but with kaona (hidden meanings) that keep some thoughts private.

No Hawaiian album is complete without good annotation. Producer Kata Maduli provides most of the lyrics and translations. There is enough additional information to make this a great introduction to the proud traditions Mahoe upholds.

Tropical Music, P.O. Box 1494, Honolulu, HI 96806

---




Back 4 Seconds

Pound 4 Pound (Rip Tide - RTR2002)

Every style of music has innovators and followers. "Back 4 Seconds" makes it clear this Jawaiian band is among the latter. The sextet uses so many studio musicians and guest artists that it isn't clear whether they created their own instrumental tracks or are essentially a vocal group. They don't have much to say yet musically either.

It's hard to decide which Jawaiian remake is the most vapid. The choices include a generic rehash of Kool & The Gang's "Let's Go Dancing," a stolid treatment of "Daddy's Home" and a soulless version of Carl Douglas' "Kung Fu Fighting." Of course any of these could be hits on "island music" radio!

But don't give up on the band yet! P4P members Shane Dudoit and Jack Stone have originals here that are better than any of the remakes. "5X Lova," written by Dudoit and some friends, is a party song worthy of local radio play. "Wish," a love song by Dudoit and Stone, also shows what these guys are capable of. Let's hope they keep aiming for original songs.

Phone: (808) 276-5456





---




John Berger, who has covered the local
entertainment scene since 1972, writes reviews of recordings
produced by Hawaii artists. See the Star-Bulletin's Today
section on Fridays for the latest reviews.
E-mail to Features Editor
---
---
© 2001 Honolulu Star-Bulletin
https://archives.starbulletin.com