CLICK TO SUPPORT OUR SPONSORS

---

---
Tuesday, May 8, 2001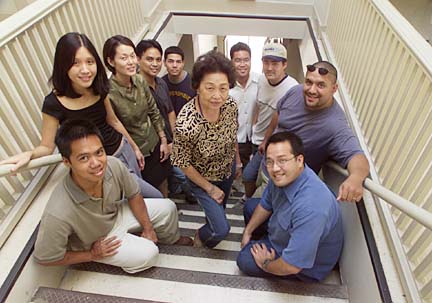 DENNIS ODA / STAR-BULLETIN
Employees who have taken up residence in the old two-story
Hawaii Building across from Hawaii Theatre line the stairway that
leads to their second-floor offices. From left, Allan Galiza, Linda
Kwok, Kimi Takazawa, Chris Magpoc, Sheldon Ortego, Helen
Kiyabu, Aaron Lee, Kimo Kaleiwahea, Robin
Gomes and Kent Hwang.
---
Building from
the ground up


Several Hawaii start-ups have
found a home in an abandoned
two-story structure
near Chinatown

---

By Tim Ruel
Star-Bulletin

Budding start-up companies have turned an abandoned building on the edge of Chinatown into Honolulu's newest business incubator.

The renaissance started a year ago, when print graphic designer Sheldon Ortego was walking toward Century Square Condominium and stopped to check out the old two-story Hawaii Building on Bethel Street, across from Hawaii Theatre.

Upstairs, Ortego found nearly every single office unit unlocked and empty. Small surprise, since the building took $50,000 worth of damage in an early morning fire Aug. 29, 1998.

But Ortego was attracted to the building's high ceilings. "I always liked the older-style buildings," he said. "Everything is just white and clean. It reminds me of a mental ward. To me, it's just perfect." He began calling friends.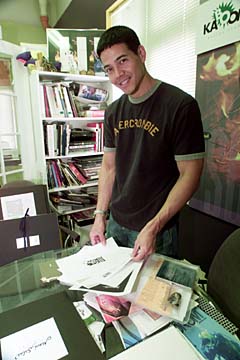 DENNIS ODA / STAR-BULLETIN
Sheldon Ortego, of Ortego Design started a tech exodus
into a formerly-abandoned downtown building.
---
One year later, the once-abandoned building is nearly full. Some of the more high-tech tenants include Web design firm Hubris Online, online shopping firm AlohaFunWear.com and the Ohana Net virtual community.

The firms laud the building's cheap rent and proximity to their downtown customers, as well as its loft-style architecture.

"It reminds me of Soho," said Kimi Takazawa, an alumnus of New York's Columbia University who moved into the building's No. 7 unit in March. Tenants often bring their dogs to work with them at the downtown building, said Takazawa, who runs public relations firm Daisy Dog Inc.

"We're very pleased to have them there," said Ray Hulick, president of the property's management firm Commercial Real Estate Services Inc. "We made the rent attractive."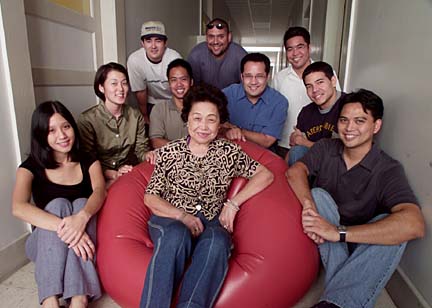 DENNIS ODA / STAR-BULLETIN
Helen Kiyabu, of Fort Beauty Salon on the building's second
floor, is surrounded by her new-found adopted tech family.
---
Although the tenants declined to comment on their monthly leases, under condition of anonymity, they said the price initially went as low as a $1 per square foot a month, but has risen since.

Of the 18 units upstairs, only three were empty as of last week, and Hulick had three offers on his desk.

It's quite a comeback for the building, which got caught up in a rash of downtown arsons three years ago. A homeless man was sentenced to 10 years in prison for setting the fires to cover burglary.

Shortly after Ortego discovered the empty building, he and friend Chris Magpoc became its first new tenants with their respective companies Kaboom! Design Studio and DFI Design.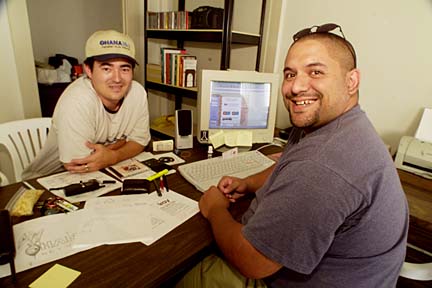 DENNIS ODA / STAR-BULLETIN
Kimo Kaleiwahea, left, and Robin Gomes in one of the new
businesses that have moved into the building's second floor.
---
Kaboom! creates corporate identities for customers, the largest of which is First Hawaiian Bank. The company most recently designed the new Aloha AirAwards Visa credit card, released by First Hawaiian in March, not long after Bank of Hawaii switched its Visa portfolio for American Express.

Magpoc told Takazawa about the building. In turn, Takazawa got the word out through the E-List, a monthly social gathering of local techies that has mushroomed into a loose organization of several hundred members. The group highlighted its most recent meeting with a karaoke contest last week at Rumours Nightclub at Ala Moana Hotel.

For the most part, the Hawaii Building's new tenants are one- and two-person shops, with the exception of Hubris Online, which has five employees.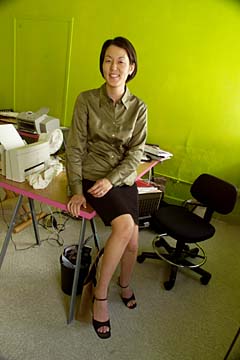 DENNIS ODA / STAR-BULLETIN
Kimi Takazawa of Daisy Dog Inc. public relations.
---
Hubris started out last year in the Keeaumoku living room of Linda Kwock, who co-founded the company with state Rep. Brian Schatz (D-Makiki).

"We really don't have anybody investing in us," said Kwock. "We bring our own computers in, basically."

In search of more space, for cheap, the company moved into the Hawaii Building in April. The building's technical wiring is not the most advanced for a high-tech Web design firm, but it works, Kwock says.

"The rent is great. You're able to make do with what you have here," she said.

Hubris operates over a digital subscriber line, commonly known as DSL, which runs through the building's existing telephone lines.

Other Honolulu high-tech buildings, such as 1132 Bishop St. and the state's Manoa Innovation Center, carry much faster T1 digital lines. But the units in those buildings were simply too expensive for a high-tech start-up, Kwock said.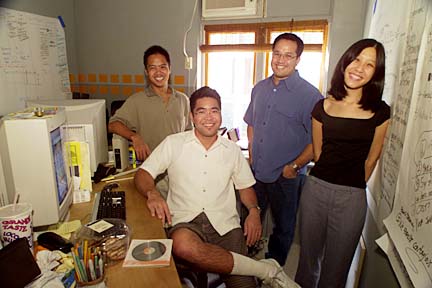 DENNIS ODA / STAR-BULLETIN
Allan Galiza, Aaron Lee, Kent Hwang and Linda Kwok,
left to right, of Hubris Online.
---
Another benefit of the small building is a strong vibe of ambition and enthusiasm. "The ambition is not the drive to make money, per se ... We're young and we want to prove ourselves," said Kwock, who is 26.

Hubris, by the way, is defined as overbearing pride or arrogance, a fact prominently noted in the company's Web site, which notes "you just need a touch of hubris."

Hubris Online now maintains Web sites for such high-profile local clients as Ko Olina Marina, Haseko Homes, Honolulu Councilman Gary Okino and U.S. Rep Neil Abercrombie.

The company is not profitable, but should be in a year, Kwock said. Individual contracts have increased five-fold in value, with clients demanding more complete marketing packages that include print and CD-ROM coverage as well as Web exposure.

"We're able to pay the payroll. We were able to survive that really first rough year," Kwock said. She describes Hubris as egalitarian company, where there is no corporate hierarchy, where all employees share ownership of the company and everyone works on projects.

"We're like a bunch of friends, having fun, building and doing what we love to do," Kwock said.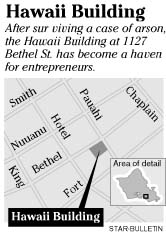 E-mail to Business Editor
---
---
© 2001 Honolulu Star-Bulletin
https://archives.starbulletin.com