CLICK TO SUPPORT OUR SPONSORS

---

---
Monday, May 7, 2001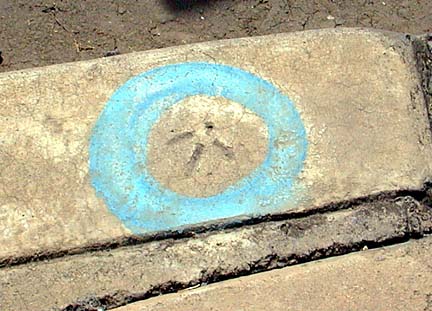 BURL BURLINGAME / STAR-BULLETIN
Shown are surveyor's marks punched into concrete.
The style in the paint circle above is the arrow cut.

---
Surveyors' concrete
marks say 'I was hea'

This week we return to the Secret Life of the City Street or Down at the Heels. The mystery markings in question are, literally, chicken scratches. They look like bird tracks, and they're all over our sidewalks. Sometime they're marked with paint.

Are we dealing with a 2,000-pound chicken, or is this some sort of arcane graffiti? When the Rapture comes, are you supposed to stand right THERE to avoid the Four Horsemen?

Or, according to Jerry Iwata, head surveyor at the city's design and construction division, they could be another type of survey reference point, similar to "the previously described nails in the sidewalk.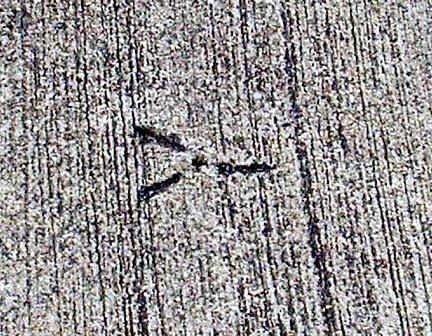 BURL BURLINGAME / STAR-BULLETIN
Here is the crow's foot, or Y cut.
---
"Both are cuts on the concrete with a center punch and chisel, sort of like a surveyor's art work," said Iwata, who kids that the work gets more valuable after a surveyor passes on. "The marks are almost permanent, and will be around for years. You heard of the term 'cast in concrete'? Well, for surveyors its 'punched in concrete'."

The chicken-foot marking is indeed called a "chicken foot" by big-time professional surveyors, explained Iwata, or a "crow's foot" or "Y" cut. The mark with the blue circle is usually called an "arrow" cut.

Why blue?

"The blue circle is just to mark the point and make it easier to find and identify," said Iwata. "We normally use white or orange paint. I guess is it was a frugal surveyor who purchased blue paint because it was on sale."

--Burl Burlingame






Click for online
calendars and events.





---





Send WatDat? questions, stories
or any other story ideas or comments to:
Features, Honolulu Star-Bulletin, P.O. Box 3080,
Honolulu, HI 96802 or send a fax to 523-8509
or E-mail to features@starbulletin.com.
Please include your phone number.
E-mail to Features Editor
---
---
© 2001 Honolulu Star-Bulletin
https://archives.starbulletin.com