CLICK TO SUPPORT OUR SPONSORS

---

---
Monday, May 7, 2001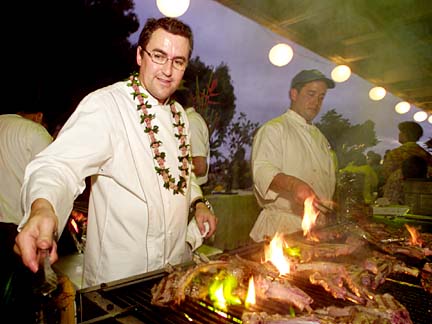 DENNIS ODA / STAR-BULLETIN
Eric Leterc, executive chef of Neptune Garden at the
Pacific Beach Hotel, barbecues lamb to be served with
pineapple chutney and a five-peppercorn sauce.
---
Leeward 'Taste'
excites appetites


Chefs bring star power
but not enough food to a
school fund-raiser

By Betty Shimabukuro
Star-Bulletin

First stop: Zippy's.

In our tour of Saturday night's deluxe food-and-wine event at Leeward Community College, we pause first at a corporate table in the center of the VIP area where the diners seem to be having an exceptionally good time.

Charles Higa, owner/founder/ guiding force behind the Zippy's empire, purchased this $1,000 table for 10 and invited several of the people who keep his restaurants stocked with raw material. Sitting with him, indulging in some very fine wines and dishes prepared by a roster of top Hawaii chefs, are business associates who keep Zippy's stocked with Spam and Tyson chicken as well as other foods and paper products.

They are calling themselves "Charlie's Angels" for the night.

The table's personal server sets down a skillet of braised short ribs in red wine jus, prepared moments ago and a few steps away by chef Alan Wong.

"This is very nice," says Higa, a man of few words.

---

Saturday's "Taste of the Stars" fund-raising event was very nice -- actually, remarkable -- on a lot of fronts.

Events of this scale rarely take place this far west of town. The chefs represented 18 of the most prestigious restaurants in the state, from Merriman's on the Big Island to Manele Bay on Lanai, to Oahu's L'Uraku, Padovani's, 3660 on the Rise, Hoku's, Chai's Island Bistro and Roy's, to mention just a few.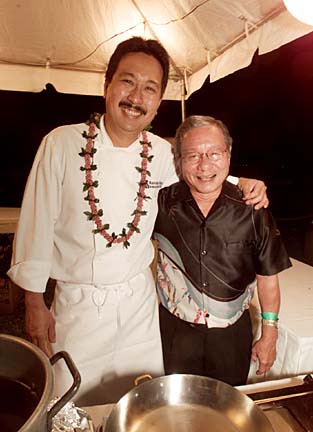 DENNIS ODA / STAR-BULLETIN
Chef Randall Ishizu of the Ihilani hotel, left, and
Charles Higa, owner and founder of Zippy's, get
together. Randall says his first food service job
was washing dishes at Zippy's.
---
Serving the VIP tables, pouring wine and running food trays back and forth were more than 20 restaurant managers from throughout the island. If you ate out Saturday night in one of those restaurants, sorry, but you got the second string.

This is the story of a little school that could. LCC's culinary arts program has always existed in the shadow of the larger program across town at Kapiolani Community College. Money is tight here, facilities are humble and needs are great.

Over the last couple of years, though, LCC has attracted a high-powered group of industry professionals to its cause. Wong is on the advisory board, along with chefs Roy Yamaguchi and D.K. Kodama, both of whom came out to cook Saturday night.

Veteran restaurant managers such as Benson Lau, formerly of the Prince Hotel and now with Service Systems Associates, also signed on.

So did Chuck Furuya of Fine Wine Imports, who brings so much force of energy to projects like these that they come to resemble those giant snowballs in cartoons -- growing as they roll downhill and absorb everything in the way.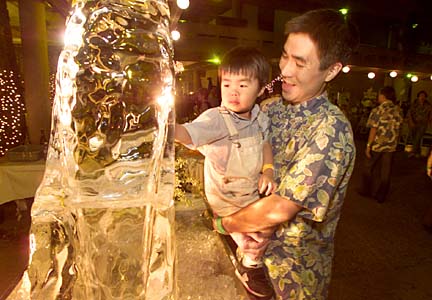 DENNIS ODA / STAR-BULLETIN
David Inouye shows his 2-year-old son, Christopher,
an ice carving on display at the "Taste of the Stars"
fund-raiser at Leeward Community College.
Attendees paid $65-$75 each.
---
These people dream big, and they bring a huge network of other professionals with them. The small LCC faculty, led by professor Fern Tomisato, was a bit breathless at first but put in the sweat equity to make it work. The event was a showcase for the program, for the students who assisted the chefs and for that snowball effect.

More than 1,000 people attended, paying $65 or $75 per person for the privilege of sampling the best in island cuisine and fine wine, and the program probably earned at least $30,000, Tomisato estimated.

---

Stop No. 2 in tonight's tour is Randal Ishizu's cooking station.

Ishizu is executive chef at the Ihilani Resort and Spa at Ko Olina and is the one chef who actually had to drive east to get here. He attended the LCC culinary program in the mid-'80s and now hires many of its graduates. Eight of them came with him to cook tonight. "We're all happy to come back and see the school doing so well," Ishizu says.

The program is important because so many students on the Leeward and Waianae coasts could not make it to school if their only choice was a program in town, he says. Tonight's event is providing needed exposure. "It's opening the door for everyone. They're realizing this school is putting out good food and good students."

Ishizu talks as he slices his pipikaula-style smoked beef and arranges it on a platter with a watercress salad and fruit pickles. A server picks it up and carries it over to the Zippy's table.

To complete the circle tonight, Ishizu notes that his first job in food service was washing dishes at Zippy's.

---

No doggy bags for the chefs here. This was a hearty-eating crowd.

With 18 food stations, they expected that they would not have to prepare 1,000 portions of each dish, but 90 minutes into the three-hour event, supplies were thinning out.

Eric Leterc, executive chef at the Pacific Beach Hotel, prepared 550 lamb chops and another 550 plates of moi for the event. "We go home with nothing."

Hiroshi Fukui of L'Uraku brought 850 oysters -- all gone.

Wayne Hirabayashi of Hoku's served more than 500 portions of noodles from a make-it-yourself bar where diners could choose their own garnishes. He decorated the station with a roast duck, a large piece of char siu and a head of bok choy suspended above the condiment display.

"We took them down and chopped them up because we ran out of everything," Hirabayashi said. "All we got left is bean sprouts."

---

This year's event was the second "Taste of the Stars," and attendance was twice last year's. By the time Saturday wound down, the chefs, the organizers and the paying guests were already talking about Taste 2002.

Charles Higa bought his table this year mainly because his daughter, Joyce Lee of Food Solutions International, is a member of the LCC advisory board and asked him to help out.

But next year, he said, he would like his restaurant managers to attend, and that could mean three tables for Zippy's.





Click for online
calendars and events.
E-mail to Features Editor
---
---
© 2001 Honolulu Star-Bulletin
https://archives.starbulletin.com