CLICK TO SUPPORT OUR SPONSORS

---

---
Sunday, May 6, 2001




[HAWAII'S SIGNATURE HOLES]

---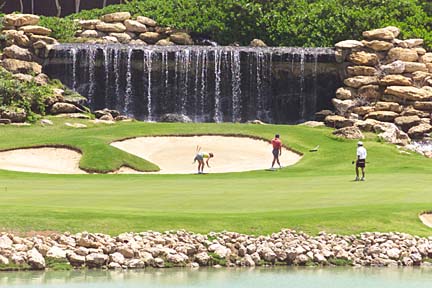 KEN SAKAMOTO / STAR-BULLETIN
The 10th hole at Coral Creek isn't very long but, depending
on the wind, may require anywhere from a pitching
wedge to a 3-iron.
---
For openers,
try Coral Creek


Golfers will start off the back
nine with a picturesque par-3
that features a huge lake
and a waterfall

---

By Grady Timmons
Special to the Star-Bulletin

ANYONE who plays a lot of golf has probably noticed how unusual it is to find an 18-hole course where the opening hole on either nine is a par-3.

Golf architects typically design courses that begin with longer par-4 and par-5 holes because they tend to speed up play.

A par-3 starting hole, however, can provide a refreshing change of pace.

Certainly that's the case at Oahu's Coral Creek Golf Club, where the back nine begins with a dramatic shot across water.

Coral Creek is one of Oahu's newer layouts, opened in 1999 and located on the Ewa Plain west of Pearl Harbor.

From the back tees, it measures 6,800 yards and plays to a par of 72.

Among its features are landscaped gardens, multiple tee positions, wide fairways to accommodate the wind and about 80 bunkers.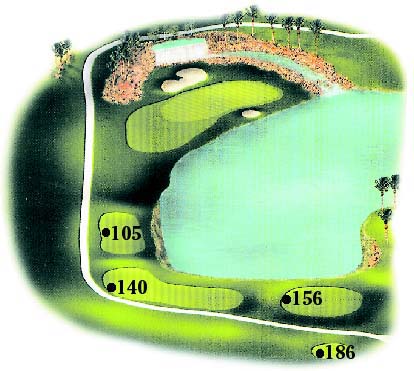 A lake, stream and waterfall adds to the beauty of the par-3,
No. 10 hole at the Coral Creek golf course. The hole measures
186 yards from the Coral tee
---
It is the only course in Hawaii that has Seashore Paspalum turf grass on its fairways, tees and greens.

Coral Creek was not an easy course to build.

Designer Robin Nelson took a marginal piece of former cane land and dug up a lot of ground to expose natural coral rock formations and create Coral Creek, which winds through the course and comes into play on 11 holes.

He also dug out several large coral lakes, one of which guards the signature par-3 10th hole. From an elevated tee, the golfer has to shoot across this lake to a green set at the foot of a large man-made waterfall. The green is wide -- much wider than it is deep -- and is guarded by only two bunkers, a small one in front near the water and a large one in back.

Going by the yardage makers, this hole isn't very long. The forward, middle and championships tees measure only 110, 140 and 156 yards, respectively, but each requires the golfer to bite off a larger chunk of water.

A small back tee measures 186 yards.

What adds to the length and makes this such a testy shot are the prevailing trade winds, which blow directly into the face of the golfer.

On the hot and dry Ewa Plain, those trade winds are almost always strong.

This tends to be a do-or-die, hit-or-miss shot.

Under club, balloon the ball, leak it right, hit it fat, or thin, and the chances are good that you are going to end up in the drink.

---

[ IN THE BAG ]

---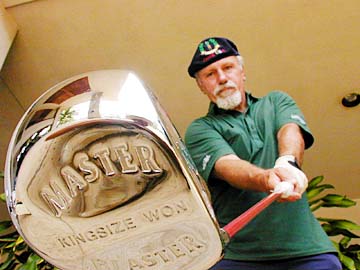 CRAIG T. KOJIMA / STAR-BULLETIN
Jabo Jarog shows off one of his drivers with a 36-1/2-inch
shaft. Jarog, who uses a driver with a 55-inch shaft, says he
can cut the shaft to any desired length.
---
Become a master
driver with the
'Master Blaster'

---

By Randy Cadiente
Star-Bulletin

Want to become a master off the tee?

Then try the Master Blaster.

The 46-1/2-inch shaft driver with a cast aluminum chrome head is the brainchild of Jabo Jarog, a self-taught golfer who became interested in the game when he bought two woods from a friend for $5 nearly 20 years ago.

"I'm little and short, so I need all the help I can get off the tee," said the 5-foot-5-1/2, 165-pound Jarog.

Not that Jarog needed any help.

But the first year the club was manufactured, Jarog hit a drive 304 yards. A year later, he said he smacked one 324 yards. The third year, Jarog's drive traveled 335 off the tee.

"I've entered five long-driving contests, in the senior division, but those guys hit it longer than me," said Jarog, 58.

The standard length for the driver is 46-1/2 inches. But Jarog said he can custom build the boron graphite shaft to any length.

"If they want a 58, I'll make 'em," said Jarog, who uses a 55.

Drivers are not the only clubs Jarog manufactures.

There is an A wood, a B wood and, yes, a C wood. Jarog has even designed his own putter. But he takes pride in his over-sized head driver, which costs $300.

"I don't care about making money," he said.

"But if I can help somebody hit the ball farther, that's what is going to make me happy."

For more information on his clubs, call 387-2951.

Got something new?

Let the readers know if you have something to help their golf game. How about a bigger-face driver? Or a distance view-finder? Call the Star-Bulletin at 529-4785, or fax to 529-4787.
E-mail to Sports Editor
---
---
© 2001 Honolulu Star-Bulletin
https://archives.starbulletin.com