CLICK TO SUPPORT OUR SPONSORS

---

---
Hawaii Beat
By Star-Bulletin Staff
Sunday, May 6, 2001
---
Sea Warriors eliminated

The Hawaii Pacific University softball team was eliminated from the Pacific West Conference championship tournament yesterday with losses to Western New Mexico, 2-1, and Humboldt State, 4-0, in Bellingham, Wash.

The Sea Warriors end the season with a record of 34-15.

HPU, the tournament's fourth seed, entered the day needing two wins to advance to the NCAA regionals, but was instead knocked out of the double-elimination tournament.

Wahine lose in water polo

At the National Collegiate Select Championships held yesterday in Stockton, California, the University of Hawaii women's water polo team beat Pacific University 13-7.

But the Wahine were knocked out of the championship when sixth-seeded University of California, Santa Barbara upset Hawaii, 5-4, later in the day.

The Wahine were the top seed in the tournament. Tomorrow they face UC Davis for third place in the series.

Uemura wins Surf meet

Kekoa Uemura, son of well-known beach boy China Uemura, won his first-ever professional longboard title yesterday at the Hawaiian Style Classic at Kuhio Beach.

Uemura defeated reigning world longboarding champion Bonga Perkins for the win.

The contest continues today with meets for junior wahine and amateur men.

2 SPORTS IN 1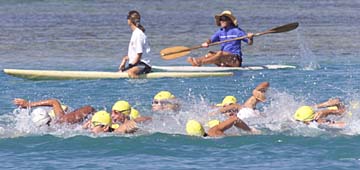 KEN SAKAMOTO / STAR-BULLETIN
Kamehameha School sophomores did an 800-meter swim, top photo,
and 4.2-mile run Friday as part of the school's Sophomore Biathlon
at Ala Moana Beach Park. The Kamehameha School freshmen did a
10K run, bottom photo, and 3,000-meter swim. The event is the result
of a year-long program that educates the students
about the value of exercise.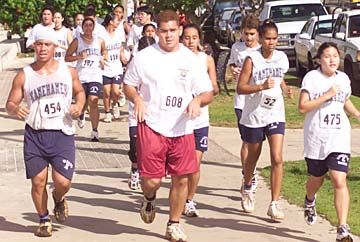 KEN SAKAMOTO / STAR-BULLETIN
---
Smith leads UH track

Cheryl Smith placed first in the 3000-meter run for the Univeristy of Hawaii Wahine at the Texas Invitational track meet in Austin, Texas, yesterday.

Smith's time was nine minutes, 55.78 seconds.

In the 1500 meters, Casey McGuire-Turcott won with a time of 4:39.74, which was 6.59 seconds ahead of the second-place finisher.

Hawaii sprinter Carmel Hurley anchored the women's 4x400-meter relay team relay team that placed second over-all. They came in at 4:04.54 --14.9 seconds behind event winner Tarleton State University.

McGuire-Turcott beat her personal best time in the 800-meter run, going from 2:17.62 to 2:14.73 and placing fourth.

Boxing coach invited

Boxing coach Bruce Kawano of Pearl City has been selected to attend the World Amateur Boxing training camp May 7-26 in Lake Placid, New York.

Kawano will accompany Waianae boxer Samson Guillermo to the camp designed to help fighters enhance their physical conditioning and boxing skills.

QB Club speakers

University of Hawaii assistant athletic director Marilyn Moniz-Kaho'ohanohano headlines the speaker list for tomorrow's Honolulu Quarterback Club luncheon at the Pagoda Hotel.

She will be joined by Hawaii High School Athletic Association executive director Keith Amemiya and National Federation Officials Association director Hardy Spoehr.

The club will also honor its April athletes of the month -- University of Hawaii volleyball player Costas Theocharidis and Sacred Hearts long jumper Kelly Figueira.

Lunch starts at 11:30 a.m., followed by the noon program.

HBA basketball camp

The seventh annual Hawaii Baptist Academy Basketball Camp is scheduled for June 4-8 at the HBA high school gym.

Among the coaches at the camp will be former University of Hawaii-Hilo coach Jimmy Yagi and former Vulcan standout Bill O'Rear. The camp runs from 8 a.m. to 12:30 p.m.

The cost is $90 and includes a T-shirt and basketball. Lunch is available for an additional $12.

For more information, call the HBA athletic office at 595-2469.

Hawaii's own

Benny Agbayani, Mets: The St. Louis School and Hawaii Pacific University alumnus batted leadoff and went 1-for-5 and struck out once in New York's 8-1 win over the Arizona Diamondbacks. His batting average dropped to .309.

Mike Fetters, Dodgers: The Iolani School graduate did not pitch in Los Angeles' 20-1 loss to the Chicago Cubs. His earned run average stands at 1.00.

Chris Truby, Astros: Starting at third base and batting seventh, the Damien Memorial High School alumnus went 0-for-4 with three strikeouts in a 4-3 road win over the Montreal Expos. His batting average dropped to .218.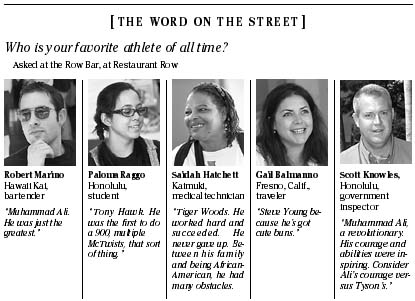 ---

[WE GET LETTERS]

Roster limit's purpose

Let's see if I got this right --Cal Lee proposes to field two varsity football teams at St. Louis, with Kamehameha also having two teams.

The Interscholastic League of Honolulu's 65-player roster limit was put in place because of the already large rosters (around 100 players) at both of those schools. Having that many players limits the number of players who get to play.

Can someone explain to me how two teams of 65 players will help ILH football? Instead of gradually limiting the number of players available at the two football powerhouses, they now could have 30 more players than they have now. That would further limit the pool of players available for the other ILH schools and the Oahu Interscholastic Association.

How does that help? I say, keep the rosters at 65, period.

Douglas L. Vincent,
Honolulu

Bowl humbug!

Regarding Paul Arnett's article on the Oahu and Aloha bowls leaving the islands (April 25), I think Mr. Rohlfing puts a good spin on why the games have to leave. It's true the attendance at the games has declined, but the question that was unanswered was why.

Two years ago, fans in Hawaii were given the opportunity to watch two college bowl games back-to-back. The catch was that it was on Christmas Day. That's a little much to ask of any fan, especially those with families.

I have season tickets for University of Hawaii football. Going to a game at Aloha Stadium takes up most of your day, and that is if there's only one game. With bowl tickets running at $45-50 per person, most families will opt for tailgating in the parking lot instead of paying for over-priced and poorly cooked food inside the stadium. Tailgating takes time.

The bottom line is that Christmas Day was being spent in a parking lot and later, inside a football stadium. Christmas Day is very different from New Year's Day. I have a wife who loves football, but that love doesn't override the importance of Christmas being a day to spend with family and loved ones.

The games weren't for local fans, that's for sure, and we knew it. It was for a TV audience that already opened presents and ate a big Christmas meal.

Now the games are going to be played on Dec. 30 and Jan. 2. I guess the fans in Seattle and San Francisco won't have to miss out on their Christmas morning.

How many more people would have shown up on another day is anyone's guess.

It's just very sad to see an 18-year tradition die due to some poor decisions by people who don't use a little common sense. Maybe Lenny and Marcia Klompus can return to Oahu and get another game going soon.

J. Turner Wells
Wahiawa

Cool reading

As a former caddie at Waialae Country Club (1960-61), and as one of the old-timers in golf, and as an expatriate, I read, with great enjoyment, your article "Golf is cool" (Off the Fringe, April 29).

I even remember those days when Grady Timmons was one of the "young guns" in Hawaii amateur golf.

Harvey Chibana
Seattle




TO SUBMIT A LETTER

We welcome all letters on subjects of public interest. Letters of more than 200 words are used only when deemed of special merit. The Star-Bulletin reserves the right to edit letters for clarity and length. Letters must be signed and include a daytime telephone number. Letters may be submitted by:

E-mail: sportsletters@starbulletin.com
Mail: Sports letters, Honolulu Star-Bulletin, 7 Waterfront Plaza, Room 210, Honolulu, HI 96802
Fax: 529-4787




---

[WINNERS & LOSERS]

[WINNERS]

Costas Theochardis: The sophomore outside hitter for the Hawaii men's volleyball team was named the Player of the Year by the American Volleyball Coaches Association. Theochardis is only the second Warrior to win the honor, joining Yuval Katz, who was judged the nation's best in 1996.

BYUH women's tennis: The Seasiders women's tennis team won its unprecedented 100th straight match yesterday, a day after the school's men's team earned its first-ever trip to the NCAA Division II national championships.

Hawaii long jumpers: Kelly Figueira of Sacred Hearts broke a 22-year-old state record with a jump of 19-feet, 3-1/4 inches, but Kahuku's Natasha Kai eclipsed it a week later with an effort of 19-8.

[LOSERS]

Tie Domi: The enforcer for the Maple Leafs saw his season come to an end Friday when he knocked out Scott Niedermayer with four seconds left in Game 4 of the Toronto-New Jersey playoff series. Domi drew the NHL's stiffest playoff suspension to date.

Twins fans: Supporters of the first place Minnesota Twins nearly cost their club a game last Wednesday when the contest was delayed for 17 minutes under a shower of debris directed at former Twin Chuck Knoblauch.

Portland security: Katherine Topaz was booted from Game 3 of the Trail-Blazers-Lakers series when she refused to give up a sign that read "Fire Whitsitt," referring to the Portland GM. The Blazers were swept by Los Angeles.
---
See line scores and results in
the [Scoreboard] section.
E-mail to Sports Editor
---
---
© 2001 Honolulu Star-Bulletin
https://archives.starbulletin.com