CLICK TO SUPPORT OUR SPONSORS

---

---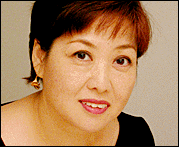 In The Garden



Saturday, May 5, 2001
By Suzanne Tswei
---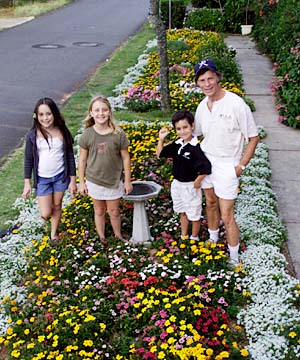 CRAIG T. KOJIMA / STAR-BULLETIN
Devon De Angelo, left, Rebecca Roberts, Dylan De Angelo
and Richard Fassler are proud of the neighborhood
garden they helped to create.
---
Blooming sidewalk
now neighborhood pride

RICHARD FASSLER isn't positive that his sidewalk garden filled with golden marigolds, fragrant white alyssums and other flowering plants helped win his re-election to the Manoa Neighborhood Board this week. The colorful public garden he created out of a weedy patch of dirt about a block from his house didn't hurt, he figures.

"Of the seven candidates (vying for six seats), I was the top vote-getter," says Fassler, who received 466 votes. "See what a garden can do for you! Maybe this could launch a political career. Next stop Washington," he jokes.

Fassler, a longtime community activist, is a familiar face in the neighborhood. He is coordinator of the Lower Manoa Neighborhood Security Watch Program and was the vice chairman of the neighborhood board before the election.

But he may be most famous as the gardener for the sidewalk garden at McKinley Street and Kekela Drive, a volunteer job that began in 1994 and required no sign waving.

"I am pretty much it; it's basically a one-man show. This way, I don't have to have any arguments with anybody," he says.

A handful of children drop by now and then to help out, but they are playful laborers who prefer catching bugs over serious gardening chores, Sassler says.

"This garden is a great opportunity for the kids to learn about nature. They come around and get to see what the insects really look like, and they get to learn a little about gardening and get hands-on experience," Fassler says.

The garden, complete with an arched trellis, bench and birdbath, is in full bloom now. A carpet of brightly colored marigolds is interspersed with other flowers and lined with a border of alyssums. A row of hibiscus, crotons and other flowering plants stands against a rock wall on one side of the garden.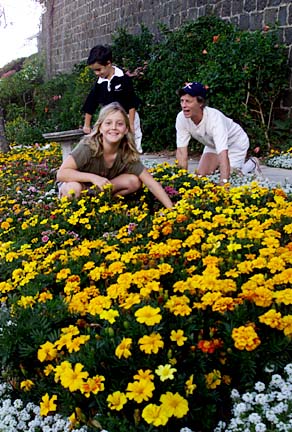 CRAIG T. KOJIMA / STAR-BULLETIN
Rebecca Roberts, foreground, Dylan De Angelo and Richard
Fassler tend to their marigolds. Fassler works in the garden
daily and chats with neighbors who walk by.
---
While the garden is most colorful this time of year, it becomes the center of community celebrations at Christmas. Neighbors help donate electricity and string up a flying reindeer and Christmas lights to turn the garden into a showplace. Residents along McKinley Street also light up their own home to help make the season more festive.

"People really take pride in the garden. It's very nice. Everybody comes out, and we have a party out here with all the lights and everything. It's gotten bigger and better every year," Fassler says.

The garden wasn't always a welcoming place. The land, bordering four homes, had no clear ownership and it still doesn't. Either the state or the city owns it, Fassler says, but no one took responsibility for its upkeep. It was an eyesore, full of tall weeds and parked cars.

Then in early 1994, students from nearby Punahou School pelted the homes in the neighborhood (including Fassler's) with eggs during a night of pranks.

"We heard things slapping against the house, but we didn't know what they were. They really scared the heck out of us," Fassler says.

Police caught about a dozen students, and the next day Punahou officials offered to make amends. Fassler suggested that the students clear the neglected sidewalk of the tall weeds.

He picked up where the students left off, and began clearing the land and putting down plants. First he planted arugula, a sharp-tasting leafy vegetable, which he sold to health-food stores to help pay for its maintenance. Lower Manoa doesn't get much rain, so Fassler had to rig up a 200-foot-long garden hose from his home to water the garden.

Two years ago, he got tired of growing arugula, some of which would disappear in the night. Fassler switched to flowers.

"This is a wonderful patch of land. I thought I'd do something that looked good so everybody who walks by can look at it and enjoy it."

In the two years, he's learned which flowers grow the best in the location: marigolds, alyssums, cosmos, pentas, dianthuses and small mums.

"The best by far is marigold. They are easy to grow. They grow compact and dense. There are many varieties and bright colors. The best thing about them is that when they get old, they go to seed, and from the seeds up will grow hundreds of marigolds."

The hardy and productive plant has helped keep the cost of the garden down. Neighbors also have donated plants and materials to help add variety.

Fassler works in the garden almost every day after going home from his job as an economic development specialist for the state. The garden offers him a chance to meet neighbors during their evening walks and keep up with community news and concerns.

"It's become more than just a garden. It's really a center for the community, a social gathering place, a place of pride for the community," he says.

And the most satisfying part is seeing the former Punahou pranksters, who are now mainland college students, return occasionally to wave at him.





---

Suzanne Tswei's gardening column runs Saturdays in Today.
You can write her at the Star-Bulletin,
500 Ala Moana, Suite 7-210, Honolulu, HI, 96813
or email stswei@starbulletin.com
E-mail to Features Editor
---
---
© 2001 Honolulu Star-Bulletin
https://archives.starbulletin.com