CLICK TO SUPPORT OUR SPONSORS

---

---
Friday, May 4, 2001



Asian Development
Bank protest bound
for Waikiki


As many as 2,000 will take their
case to ADB leaders on a march
from Ala Moana to
Kapiolani Wednesday

---

By Gordon Y.K. Pang
Star-Bulletin

City officials are warning motorists that they will be subjected to detours and delays if they travel in the Waikiki area Wednesday afternoon as a result of a march being staged by the group ADBwatch.

Major portions of Atkinson Drive, Kapiolani Boulevard and Kalakaua Avenue, as well as some related side streets, are scheduled to be closed to vehicular traffic during the march, scheduled to travel from Ala Moana Park to Kapiolani Park from noon to at least 2 p.m. and possibly as late as 3:30.

The march is scheduled to take as many as 2,000 protesters along a route that will take them mauka on Atkinson and then Diamond Head on Kapiolani and Kalakaua.

From noon to 12:15, Atkinson Drive will be closed from Ala Moana to Kahakai Street as marchers make their way to the front of the Hawai'i Convention Center.

From 12:15 to 1:15, all traffic (except emergency vehicles) will be barred along Atkinson between Kahakai and Kapiolani, and Kapiolani from Kaheka to McCully, as protesters stop and rally for about an hour in front of the convention center.

A detour will be set up requiring Diamond Head-bound traffic on Kapiolani to turn left onto Kaheka, right onto South King, right on McCully and back down to Kapiolani.

Ewa-bound traffic on Kapiolani will need to turn right onto McCully, left onto Beretania, left onto Keeaumoku and back onto Kapiolani.

From 1:15 to 1:30, traffic along Kalakaua will be prohibited between Fern Street and Waikiki as the march proceeds to Kapiolani Park.

Traffic headed into Waikiki will be diverted onto Fern and McCully.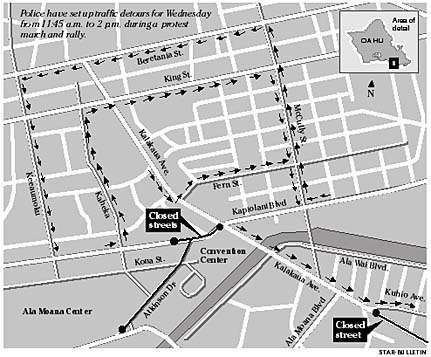 From 1:30, traffic heading into Waikiki will be detoured onto Kuhio Avenue. Police will progressively close and then reopen side streets as the march proceeds down Kalakaua.

ADBwatch is protesting the globalization policies of the Asian Development Bank, an organization made up of the world's financial leaders that is holding its annual meeting at the convention center May 7-11.

On Monday, the first day of the convention, several thousand Waikiki hotel workers plan to stay away from work as part of a work stoppage by Local 5 of the Hotel Employees & Restaurant Employees, AFL-CIO.

Some of the 3,000 convention attendees will be staying at hotels affected by the stoppage, but the union calls the timing coincidental.

The union says it is trying to pressure hotel management for a new contract.

Gov. Ben Cayetano issued a statement yesterday saying Hawaii is fortunate to host the ADB conference.

He said, "The success of this meeting will be a big step forward in establishing Hawaii as a viable and attractive place for world leaders to meet on important global issues."

He said he hoped both sides could work out their contract differences before the meetings begin on Monday.




TheBus will redirect
service on many routes

TheBus riders are being told that detours will become necessary in the area around the Hawai'i Convention Center during the Asian Development Bank conference slated from May 7-11, particularly on Wednesday.

The routes most likely to be affected are A (CityExpress! UH-Waipahu), B (CityExpress! Waikiki-School/Middle Street), 2 (Waikiki-Kalihi Transit Center), 3 (Kaimuki-Pearl Harbor), 9 (Palolo-Downtown) and 13 (Waikiki-Liliha).

Diamond Head-bound routes will be detoured via Kaheka, King and McCully streets, while Ewa-bound service will be detoured via McCully, Beretania and Keeaumoku streets.

Detours are almost certain to take place along those routes from about 11:30 a.m. to midafternoon Wednesday when the organization ADBWatch is slated to march from Atkinson Drive to Kapiolani Boulevard and Kalakaua Avenue.

Also expected to be affected during that Wednesday march are those routes along the makai side of Ala Moana Center: C, 6, 8, 11, 12, 19, 20, 40, 40A, 42, 43, 52, 53, 54, 55, 56, 57 and 58.

During the march, bus service through Waikiki will operate Ewa-bound only on Kuhio Avenue. Diamond Head-bound service will be detoured via King, Isenberg and Date streets and Kapiolani Boulevard to Kapahulu Avenue.

TheBus officials say supervisors and other staff will be on duty near the convention center during the meeting. Detour routes will be posted along affected bus stops. Check with TheBus Web site at http://www.thebus.org. The city will also provide information on the Web, at http://www.co.honolulu.hi.us.




---




---

Cayetano hopes
hotel strike can
be averted


A walkout by workers at
6 hotels is possible Monday, the
same day ADB meetings begin

---

Associated Press

Gov. Ben Cayetano says he hopes a contract dispute involving workers at six Waikiki hotels can be resolved before next week's Asian Development Bank meetings.

The meetings at the Hawaii Convention Center begin Monday. That same day Local 5 of the Hotel Employees and Restaurant Employees Union has asked its members not to report to work so it can hold meetings that could lead to a strike.

The union and its 4,600 affected members are seeking a master contract with the Sheraton, Hyatt and Hilton hotel chains. Negotiations are scheduled to resume today.

The success of the ADB meetings "will be big step forward in establishing Hawaii as a viable and attractive place for world leaders to meet on important global issues," Cayetano said.

About 3,500 people will attend the ADB meetings, including about 600 delegates from about 60 countries.

David Uchiyama of Starwood Resorts, Sheraton's parent company, said management staff will fill in if there is a strike.

A walkout would include reception, kitchen and housekeeping staffs at the Sheraton Waikiki, Royal Hawaiian, Moana Surfrider, Princess Kaiulani, Hyatt Regency and Hilton Hawaiian Village.
E-mail to City Desk
---
---
© 2001 Honolulu Star-Bulletin
https://archives.starbulletin.com