CLICK TO SUPPORT OUR SPONSORS

---

---
Friday, May 4, 2001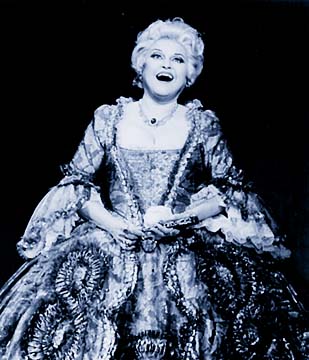 HOT

---
Diva in the
heart of Texas

Opera elite loves
Donath's Southern charm

By Scott Vogel
Star-Bulletin

The world of opera loves the idea of a Texan," said Helen Donath, a soprano of international reputation who can nevertheless sound like a reject from "Heehaw Honeys" at the drop of a hat. "They lap it up like a dog or cat laps up milk."

And unlike, say, Jessye Norman, who despite a childhood in rural Georgia speaks with a voice straight out of tea-and-crumpets land, Donath wears her Southern-ness proudly, it never failing to produce a sigh of recognition. "Being from Texas is like being from Hawaii. When they hear you're from there, they always go 'ahh.' If I say North Dakota, they're like 'where's that?'"




HOT benefit

On stage: Helen Donath recital, a benefit for Hawaii Opera Theatre, 4 p.m. Sunday
Place: Hawaii Theatre, 1130 Bethel St.
Cost: $25-$60
Call: 596-7858




"They" could be anyone from the citizens of Hannover, Germany, where Helen and her husband Klaus Donath have lived since 1965, to the proprietors of the world's greatest opera houses -- Bayreuth, the Metropolitan and Vienna Volksoper among them.

Donath's latest stop, as headliner in the Hawaii Opera Theatre's annual benefit recital on Sunday, represents a departure of sorts, even for her. Sure, she's singing tried-and-true chestnuts from the repertory: Puccini's "O, Mio Babbino Caro" (a.k.a. the tune heard in the Tott's Champagne commercial) and Catalani's "Ebben" aria (the piece Tom Hanks goes crazy over in "Philadelphia.") But Donath is also bringing operatic power and intensity to three songs by Queen Lili'uokalani: "Ku'u Pua I Paokalani," "Nohea I Mu'olaulani," and "Nani Na Opua Ko'olau."

"These pieces have a great mystic depth," she said, the glottal demands and legato lines requiring Donath to take a quick course in Hawaiian pronunciation, one she's apparently passing with flying colors. The songs chosen bracket Lili'uokalani's career, from her first published composition (at 21) to one she wrote in prison during the latter part of her life.

"They are challenging in their simplicity," she said of the Queen's efforts. "But even Mozart can become dull if he's misinterpreted. These songs need a very specific kind of warmth given to them." And while the harmonies are not especially complicated, Donath and her husband -- who will accompany the singer on the piano -- have added a few tasteful embellishments to Lili'uokalani's work.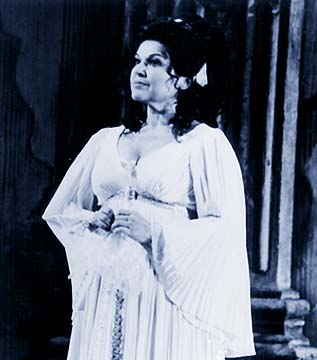 Helen Donath, soprano: "Tell people not to be
intimidated, or to think there's going to be a
soprano up there screeching at them."
---
Without embellishing at all, it seems reasonable to suggest that the Donaths have one of the more satisfying marital relationships in the opera world, a 35-year partnership that rarely sees the couple apart for more than a few weeks at a time. "We wanted to live our lives and not look back and say 'we have a son who doesn't know us and a relationship that doesn't exist'," Helen said. "But we know that not everyone has that option; you have to put bread on the table. We have been blessed and we're extremely lucky."

It's been quite a ride for a girl who got her start at the age of 10 singing songs like "I Cain't Say No" and "I've Got You Under My Skin" at the now-defunct Congo Jungle in Houston. But even now, as she looks back on a nearly 40-year career that includes many of the major soprano roles and more than a hundred recordings, at least part of Donath's heart still belongs to Dixie. She'll be receiving an honorary doctorate from a Florida university soon, and her old friend Mary Ann will be in attendance. ("Helen, awm gonna come over there and see ya get those awards," drawled Donath in impersonation.)

And her future plans? "If I had 20 kids, I'd love them all distinctly." In fact, Donath has just one child, Alexander, who is now 33 and an opera director. ("We often think, what are two young parents like us doing with such an old son?") The children she's referring to are the many opera roles in her repertoire, from the Countess in Mozart's "Marriage of Figaro" -- expect "Dove Sono" to be one of Sunday's highlights -- to Marzelline in Beethoven's "Fidelio" and the Marschallin in Strauss' "Der Rosenkavalier." It's quite a formidable resumé, and one that could potentially be intimidating to first-time opera attendees. But nothing would please this down-home diva less.

"Tell people not to be intimidated, or to think there's going to be a soprano up there screeching at them," she begged, just before going back to rehearsal. "If people have never ventured to go to an opera, this is a great time to get your feet wet. I think they'll really like it. And if not, they can walk out at intermission!"





Click for online
calendars and events.
E-mail to Features Editor
---
---
© 2001 Honolulu Star-Bulletin
https://archives.starbulletin.com