CLICK TO SUPPORT OUR SPONSORS

---

---
Friday, May 4, 2001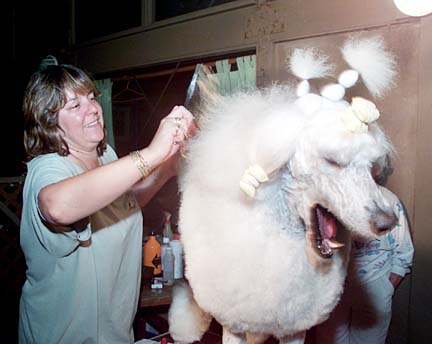 GEORGE F. LEE / STAR-BULLETIN
Dog groomer and handler Leslie Simis, left, combs
out Bonus, a 2-year old Standard Poodle being
readied for competition.
---
Oodles of poodles


Puff and elegance are just
the dressing on one sharp package

---


By Gary C. W. Chun
Star-Bulletin

Active, intelligent and ruggedly-built, yet elegant and refined, these are traits characteristic of ... the poodle. We're talking about a kind of dog that seems more decorative than utilitarian. But if you look into the canine's history, its background as a sporting dog (the name derives from the German word pudel, "to splash in water," describing their retreival capabilities in the water) belies the common misconception as some silly little frou-frou pet.




The Poodle Club of Hawaii

What: 85th Specialty Show and Obedience Trial
Place: Neal S. Blaisdell Park, 98-319 Kamehameha Highway, Aiea
When: 9:30 a.m. Sunday
Admission: Free
Call: 456-4355




Dating back to the 1940s, when Eleanor Johnston Pence started the Poodle Club of Hawaii, the high-maintenance breed has regularly been groomed for shows such as the one happening Sunday at Blaisdell Park. According to the club's current president and show committee chairperson Lois Kittle, this 85th annual specialty show will be three dog shows in one: obedience, conformation (judging to American Kennel Club-established standards of general appearance, carriage and condition) and, finally, a parade of about 28 past champions and title holders. (A silent auction and raffle will also be held.)

The breeding and grooming of these dogs are a serious matter for owners like Kittle, whose club has about a dozen active members ("and many other dog fanciers"). Her own involvement with the club dates back to the mid-'50s. Like the careful, near scientific breeding of any domesticated animal, conscientious club members practice animal husbandry.

To ensure adherence to strict published standards, the club is an affiliate of the Poodle Club of America, which in turn is answerable, like all other recognized breed clubs across the country, to the American Kennel Club.

"The sport of pure breed dogs is the second oldest organized sport in the U.S.," Kittle said, "the first being the Kentucky Derby. It's a wonderful sport; there are great people in it, all with the ability to share information and help one another."

While poodles themselves are considered dogs of good temperament and make fine companion pets, they do need constant grooming, whether they are show dogs or not. That's because they don't shed their body hair. (In addition to a visit from a club-sanctioned judge, a professional groomer, Leslie Simis, has come here from California to work on several of the contestants.)

"The dog is primarily German in origin," Kittle said, although the French adopted it as its national dog. "They are sporting and retreival type dogs by instinct; they make fine bird dogs and hunters. They are generally very obedient, are fine trackers and very agile. Because of their springiness, they're great at playing frisbee!"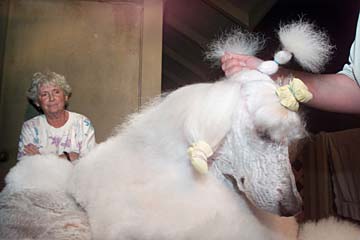 GEORGE F. LEE / STAR-BULLETIN
Dog groomer and handler Leslie Simis, at right,
"bands" Bonus's hair to keep it out of his face as
she prepares him for competition. The Standford
Poodle's owner and breeder Margo Mitchell,
left, oversees the work.
---
The poodles are judged in three size categories: standard (measuring more than 15 inches at the shoulder), miniature (more than 10 but under 15 inches) and toy (10 inches and under). Miniature and toy poodles were bred down from the standard size ones and are considered non-sport dogs ... and hence the stereotype of a dog that does little more than lounge and look good.

The entire poodle package is taken into consideration in conformation judging, trying to achieve a well-tailored, sculpted ideal right down to the topknot of hair that frames the dog's face.

"The dogs must have the correct trot and standing posture, the correct skeletal formation, the right tailset, the accepted trim of hair, and although there is variation in structure, how well-built the dog is is very important," Kittle said.

"All competing dogs should be healthy and are judged for their proportional build, motion and temperament. The dog's attitude as it walks around in the ring also shows how its human handler is of prime importance.

"Most of them are family dogs, here especially. The best show dogs are always pets. They're also very bright, the second or third brightest of all the domesticated dogs. I know that my dogs got me right where they want me," she added with a laugh.

"They have a sense of what's going on around them," she said. "While independent-minded, they are very trainable, provided the owner and breeder has the patience and dedication to do it. With good training, you can help encourage the dog to be excited about competiting, if done with enthusiasm and rewards."

Poodles can be trained as early as six weeks of age, although the puppies under six months old cannot compete in shows.

The club's isolation from the rest of the United States is a concern, according to Kittle. Besides having to spend time in quarantine as local show dogs travel to and from the U.S. for competitions, breeding programs via artificial insemination can be costly but Kittle said the rewards are great.

"It's different from most other sports in that you're working and caring for a living creature.

"It can be hard work and tedious at times but it's pride of ownership and accomplihment, and it builds a tremendous bond between owner and animal."





Click for online
calendars and events.
E-mail to Features Editor
---
---
© 2001 Honolulu Star-Bulletin
https://archives.starbulletin.com