CLICK TO SUPPORT OUR SPONSORS

---

---
Friday, May 4, 2001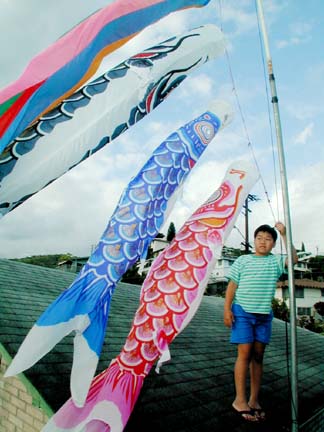 STAR-BULLETIN / 1999
Let's hear it for the boys. In Hawaii, May 5 marks
Children's Day, but it's pretty much in name only.
---
Boys oh Boy's Day!

---


Star-Bulletin

"What a girl wants, what a girl needs," "girls just wanna have fun," girl power ... girls are being seen and heard in a big way these days.

So what of our poor boys? The girls (who had their own day March 3) have even honed in on that Japan tradition once known as Tango no sekku, or Boy's Day, now going by the gender neutral, politically correct moniker Children's Day. Held annually on May 5, the day once set aside for promoting the health and welfare of little boys, now celebrates all children.

In Japan, Boy's Day turned into Children's Day in 1948, but as we have long known, old habits die hard in Hawaii, a repository for ancient tradition.

Boys can be assured that the symbols of Children's Day still reflect stereotypically male traits. Brightly colored paper carp -- a fish known for fighting its way up swift-running streams and cascades, therefore representing strength, perseverance, courage and virility -- can be seen flying over households. A carp streamer is traditionally flown for each son in the family.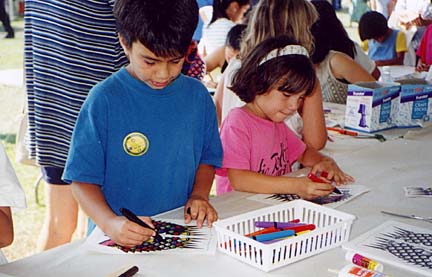 TEMARI
Activity booths at the TEMARI Keiki Arts
Festival include a station for koi paper art.
---
One legend relates that the festival grew out of a farm custom practiced in May, the time when insects begin to appear to harm the young plants. Farmers tried to drive the insects away by frightening them with bright banners and grotesque figures. Later, these figures came to represent warriors famed for their fighting power. As the warrior dolls became more artistic, they were gradually displayed in the home as symbols of manliness.

Following are events celebrating Boy's/Children's Day:

>> TEMARI Center for Asian and Pacific Arts: Hosts a Keiki Art Festival from 11 a.m. to 2 p.m. tomorrow and Sunday at Ala Moana Shopping Center.

There will be activity stations set up throughout the mall allowing children to learn a new craft. Try gyotaku, a method of making a fish print, using a baby octopus at a station at street level near Assaggio's Restaurant. Or make a plumeria lei or fabric flower in the area between Longs Drugs and Banana Republic. Make a stone rubbing or fold a paper kabuto, or samurai, helmet on the mall level between Alfred Dunhill and the elevators, or learn to make a miniature flower arrangement on the upper level outside Sears.

The event is free. For information, call TEMARI at 735-1860.

>> "Boy's Day -- Hawaiian Style": The Japanese Cultural Center of Hawaii commemorates the legend of "Kintaro" from 10 a.m. to 4 p.m. Sunday on the center grounds.

The story is about a young boy whose legendary feats made him an example of courage and strength. The celebration features a sword display, doll displays, live koi, hand-block printing and calligraphy exhibits, taiko drum performances, martial arts demonstrations, food, games and more. Admission is free. Call 945-7633.

>> Boy's Day at Market City: Free kite-making workshops and yo-yo demonstrations will be held from 10 a.m. to noon tomorrow at the shopping center at 2919 Kapiolani Boulevard.

The young and young at heart will be able to create and color their own Scott Sled kite from a kit and pick up a few pointers for getting them off the ground. Team Yomega and Team High Performance will demonstrate yo-yo tricks.

A free event, call 734-0282.





Click for online
calendars and events.
E-mail to Features Editor
---
---
© 2001 Honolulu Star-Bulletin
https://archives.starbulletin.com