CLICK TO SUPPORT OUR SPONSORS

---

---
Friday, May 4, 2001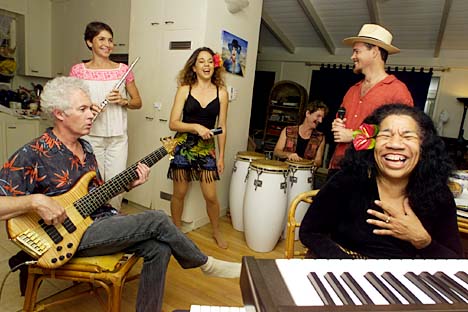 GEORGE F. LEE / STAR-BULLETIN
Members of Espiritu Libre share a light moment during rehearsal.
From left, they are Ernie Provencher on bass, Saskia Short on flute,
vocalist Cheryl Bartlett, percussionist Kim Duffett, vocalist Bruce
Hale and keyboard player Adela Chu.
---
Craving song
and dance


---

By Nancy Arcayna
Star-Bulletin

ADELA CHU IS ONE happy-go-lucky lady. You'll rarely see her without her broad smile or without a kind word.

Her secret? Dancing and music, which she considers to be among life's necessities "like eating or breathing to me," she says. "Music and dance make me feel good, so I crave it. I'm happiest when I'm singing or dancing because it is healing for others as well. It's a means of communication. Best of all, it creates an environment where people can be themselves."




ESPIRITU LIBRE

In concert: 6:30 to 8 p.m. today
Place: University of Hawai'i Manoa Gardens
Admission: Free
Call: 737-8852




Chu was born in Panama, where she said people have a great love of music and dance.

"My earliest memories of dancing was when I was 3 years old. My dad played violin and I'd dance. He played this one tune that had specific moves. Singing and playing classical music on instruments were also started at an early age. Again, it was all part of the culture," said Chu.

Going to the big tents at Carnival was another thrilling experience for her. "I could slip through the gate, sneak in just to watch other people dance. It was mesmerizing."

"Now, having an opportunity to share that with others is almost my reason for being," said Chu, who teaches classes in Afro-Caribbean, Brazilian and Latin dance at the University of Hawai'i and at The Movement Center in Kaimuki.

"I really believe that everyone at heart is a dancer and has music within them and my connecting with them helps to pull it out. And Latin is really big these days."

She'll be performing tonight with her group, Espiritu Libre, at Manoa Gardens in celebration of Cinco de Mayo. "We played last year and were joined by lots of dancers from my classes. Tons of people came and it was quite a fiesta. It's not the same as a carnival, but the spirit is still there."

Chu has been performing since she was 15 years old. "A friend had heard me play Beethoven and gave me his piano," she said.

Classical music suited Chu just fine until she made her way to San Francisco. "I remember hearing this beautiful love song, 'Adoracion' by Eddie Palmieri. I thought, if I could play again, I'd play salsa."

That was when she received an invitation to audition for a women's band in San Francisco. "We started getting really popular and were playing every weekend up and down the coast of the Bay area all the way down to Santa Cruz."

Chu's new six-member salsa and Brazilian jazz band, Espiritu Libre, features flute player Saskia, singers Cheryl Bartlett and Bruce Hale, bass player Ernie Proventeur; and Chu's husband, Kim Duffett, on congas. Chu dances and plays keyboards. The group started 15 years ago as the Electric Malasadas, playing at Anna Bannana's.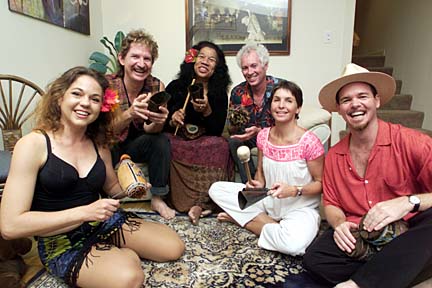 GEORGE F. LEE / STAR-BULLETIN
Espiritu Libre members take time out from rehearsal. From left, vocalist
Cheryl Bartlett, percussionist Kim Duffett, keyboard player Adela Chu,
bass player Ernie Provencher, flautist Sakia Short and vocalist Bruce Hale.
---
"The music is infinitely danceable, fun to listen to, soothing and at the same time exhilarating," she said. "Some of the music we play is my own, so it's real personal. But, we also play a lot of traditional Latin tunes. Most of it is dance rhythms including merengues, salsa, bossa nova, samba and calypsos. It's like a challenge ... we dare you not to dance.

"We hope to bring extra percussion instruments this year to encourage more audience participation. When we perform, we do parades and dance through the crowd so the audience members can follow us and feel a part of it all. I'm a great believer in audience participation and frequently include the element of Carnival in performances," she said.

Chu founded the annual San Francisco Carnival, now in its 21st year, and has taught dance in Rio de Janeiro, Brazil; Mexico City; Jamaica; the Netherlands; the Bay Area; Denver and Michigan.

"I'm hoping a lot of Latinos will show up for the Cinco de Mayo celebrations. It's a celebration of something that is very close to my heart ... a cultural affirmation.

"People think that Cinco de Mayo is the celebration of Independence Day in Mexico. But, it's really a commemoration of the Battle of Puebla," said Chu.

"The symbolic date is an emblem of Mexican unity and patriotism ... it demonstrated to the world that Mexico and all of Latin America were willing to defend themselves against foreign intervention.

"Basically, it's a way of saying that the people of Mexico had a right to be sovereign. The whole idea is to celebrate a national liberation day ... everyone's right to be self-determined. Cinco de Mayo is primarily celebrated in the United States and not in Latin American countries," said Chu.

"The spirit of acknowledging who you are is a very universal kind of theme. When you are happy you forget about everything else, expanding yourself in a way that's good for you. One laugh can add a hundred years to your life."

Celebrate the 5th

Activity Center, 725 Kapiolani Blvd.: Salsa/Mambo workshop with Minnie Ruiz from 12-1:30 p.m. Cost is $20. $5 discount with pre-registration. Call 926-8307.

Bedroq Bar and Grill: Alternative music by Wake. Ladies night, one cent drinks for ladies and $2.50 tequilla drinks. Call 942-8822.

Blue Tropix: DJ Karlos hosts a party with pinata breaking. The pinata has money and adult toys and goodies inside. $5 cover, first 20 people are free. Call 944-0001.

Compadres, Ward Centre: Tequila and beer booths. Music by DJ Rocky from 10 p.m. to closing. A special appearance by the Corona Girls. Call 591-8307.

Eastside Grill: Island-style jam concert with Na Mele Rasta. Lots of tequila specials and $2 drafts. Call 952-6555.

Hula's Bar & Lei Stand: Lots of Corona and tequila add a latin flavor with a little bit of Mexico at "Cinquo de Mayo." Call 923-0669.

Keauhou Shopping Center, Kona: Enjoy the latin sounds of Second Time Around, the Mexicana Folkloric dance group, El Choral de San Miguel and Manuel Ramirez. Sponsored by the Alma Latina radio show.

The Row Bar, Restaurant Row: The Northsiders perform blues, jazz and classic rock, 6-8:30 p.m. and Simplicity amps out top 40's tunes and upbeat from 9-11 p.m. Other highlights include a king and queen contest offering a $100 cash prize per winner, a tortilla eating contest and a limbo stick challenge. Food by Jameson's Grill will be available with $3 margaritas, Don Julio shots and Coronas. No cover charge. Call 528-2345.

Tropics, Kailua Shopping Center: The funky jazz-based band Quadraphonix perform dance tunes while attendees participate in a chili cook-off, 1-6 p.m. No cover charge. Call 236-0057.

Windward Mall, Center Court: Keiki can participate in pinata breaking, Mexican craft making of paper flowers and the Mexican flag. Julita & Latin Fire, Tommy Valentine Y Sus and the Mexican folkloric dancing group, Grupo Quetzal, perform. Call 235-1143.





Click for online
calendars and events.
E-mail to Features Editor
---
---
© 2001 Honolulu Star-Bulletin
https://archives.starbulletin.com