Please support our very first Starbulletin.com advertiser!
---

---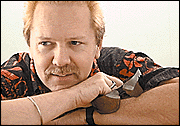 Island Mele



Friday, May 4, 2001
By John Berger
---
Strickly Koa 'Uka Style

Koa 'Uka KDE (KDE-7000)

Koa 'Uka's second album finds them positioned securely in the corps of second- and third-generation Jawaiian groups scrambling for fame and local radio play. Their basic sound is conventional and run-of-the-mill right down to the imitation-Jamaican accents the guys throw into some of their songs. In short, they're right in step with their fans.

The quartet is a strong club band and also active songwriters. "Soundcheck," written by band members West Mulivai and Bronson Rosa, and named for its original purpose, is a particularly audience-friendly song that can fill a dance floor. It is one of seven originals, and several possible local hits, but the band and co-producer Wendell Ching also show imagination as song stylists. Their collective make over of "Don't Expect Me to Be Your Friend" leaves no obvious traces of Lobo's original hit.

Jan Luna of SOS-Las Vegas and guitarist Anela Kahiamoe provided studio strength.

KDE Records, P.O. Box 4930, Kaneohe, HI 96744

---

Year of the Dragon

Rodger Harvil No label (RH5564)

Roots reggae isn't the only alternative to Jawaiian that's percolating out of the neighbor islands these days. Kauai resident Rodger Harvill introduces himself with an album of powerful electric blues rock originals delivered with a Texas boogie attitude. It is almost a one-man project with Harvill on vocals, bass and guitar, and Conrad Matthews adding the drum tracks.

Harvill sings with a gritty rawness that reflects his Texas roots and years of exposure to true blues. He opens strong with a scorching and appealing rocker, "Wrote You Out This Song," then slips into a smooth acoustic blues groove with "Little Momma on My Mind," while also revealing softer textures on several instrumentals.

Email: r_harvill96746@yahoo.com

---

Anthology II 1984-2001

Na Leo Pilimehana NLP Music (NLPCD-3011)

Na Leo Pilimehana made local history by releasing "Anthology I 1984-1996" twice, first as an individually numbered, gold-trimmed limited-edition album, then as an unlimited run edition. "Anthology II 1984-2001" is posed to become another collector's item. The first-edition run of 50,000 comes with a special cover and a window sticker. It also contains "Sweet Someone," from Na Leo's out-of-print debut album, and three remakes of pop chart hits.

Trio members Angela Morales, Lehua Kalima and Nalani Choy each picked one remake to record. Of particular note is "Let It Be Me," the Everly Brothers hit, recorded as a duet by Morales and her husband.

Almost all the other songs are originals. The liner notes share the stories behind "The Rest of Your Life," "You Don't Remember," and all the other beautiful, familiar musical memories.

http://www.naleo.net





---




John Berger, who has covered the local
entertainment scene since 1972, writes reviews of recordings
produced by Hawaii artists. See the Star-Bulletin's Today
section on Fridays for the latest reviews.
E-mail to Features Editor
---
---
© 2001 Honolulu Star-Bulletin
https://archives.starbulletin.com