CLICK TO SUPPORT OUR SPONSORS

---

---
Thursday, May 3, 2001



[ HAWAII PREP SPORTS ]
---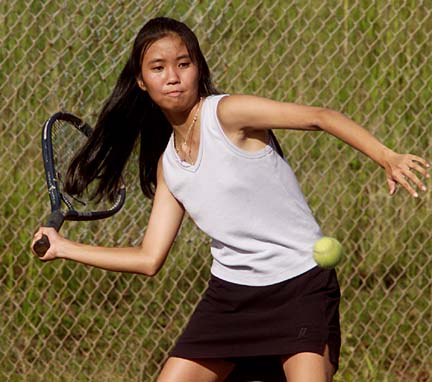 DENNIS ODA / STAR-BULLETIN
Mililani's Ashley Takara, above, teamed with Jena Gamiao
to win the deciding match in the the Oahu Interscholastic
Association championships against Pearl City yesterday.
The Trojan twosome defeated the Chargers' Nicole
Baysa and Emily Ai, 6-2, 6-2
---
Mililani rolls
to seventh straight
OIA tennis title


The Trojans' girls team
defeats the Chargers, 3-1

By Grace Wen
Star-Bulletin

Mililani captured its seventh straight Oahu Interscholastic Association girls tennis championship yesterday -- this time without four-time singles champion Erin Hoe.

In a rematch of last year's OIA title match, the Trojans avenged the only regular-season loss they suffered this year, defeating Western Division rival Pearl City, 3-1.

"We were a little bit nervous playing Pearl City because they had beaten us earlier in the year," Mililani coach Kekua Beamer said. "And with the time off, the kids couldn't practice as much.

"Some of the teams that we put together hadn't played together a lot, like the second and third doubles teams. We were trying to keep the singles matches close, but we were hoping that some of the doubles, because of the switches, might give us some benefit."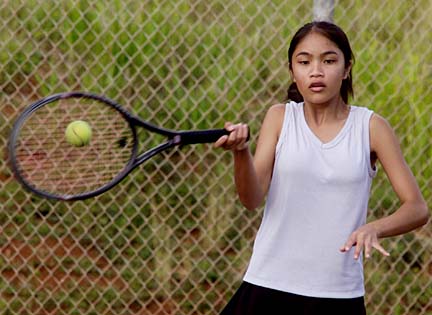 DENNIS ODA / STAR-BULLETIN
Jena Gamiao, above, teamed up with Ashley Takara
to win a doubles match, helping Mililani to the
OIA title yesterday.
---
The strategy worked, as the Trojans won all the doubles matches. Krystal Hangai and Alohalani Castro were 6-0, 6-1 winners against Christy Kaneshiro and Kara Sing Chow, while the senior-sophomore team of Raimi Ishikawa and Jaymi Gamiao defeated Traci-Ann Miwa and Tina Mukai, 6-3, 6-3.

The No. 2 doubles team of Ashley Takara and Jena Gamiao swept Pearl City's Emily Ai and Nicole Baysa, 6-2, 6-2, to clinch the crucial point that gave the Trojans the win. Despite the fact that Takara played with a stomachache, the sophomore tandem maintained great composure and did not seem rattled by the senior duo of Ai and Baysa.

"We were just trying to get it in the court and be consistent," Gamiao said. "We were just trying to make them make the mistakes."

Gamiao was one of the players affected by the lineup shuffle. The sophomore normally plays with her twin sister, Jaymi, who played in the No. 3 doubles match. The change proved to be good for Gamiao.

"With my sister, I don't really play hard," Jena said. "But with Ashley I have to keep it up cause then she's going to get mad."

Pearl City had hoped to capture the title this year with a senior-laden squad and with Hoe graduated. Hoe, who plays for the University of Washington, is the only four-time singles champion in 37 years of girls high school tennis.

"Our focus wasn't quite there," Akana said. "We were missing quite a few shots and making a lot of unforced errors."

Both coaches expected Pearl City to win the singles matches and Mililani to take the Nos. 1 and 3 doubles games. It was the final doubles match that would be key to the competition.

"They took charge and played their own game," Mililani assistant coach Suzanne Kaneshiro said. "The lobs were effective and used at the right time.

"We needed to win three doubles. They knew that. We sacrificed singles to go for the doubles."

The two squads have met in the championship so many times that Pearl City coach Keola Akana couldn't even recall the number of times his team has played the Trojans for an OIA championship.

---



E-mail to Sports Editor
---
---
© 2001 Honolulu Star-Bulletin
https://archives.starbulletin.com