CLICK TO SUPPORT OUR SPONSORS

---

---
Thursday, May 3, 2001
Hawaii farmers
praying for rain


The costs of drought
are climbing, making
restrictions possible

---

By Gary Kubota
Star-Bulletin

Dry conditions throughout the state are causing millions of dollars in agricultural losses and could lead to mandatory water restrictions on Oahu this summer.

"It wouldn't surprise me at all," said Chester Lao, head of the hydrology-geology section of the Board of Water Supply on Oahu.

"We've got to watch it."

Lao said that in the last 100 years, Oahu has never had lower-than-normal rainfall four years in a row. He said while there has been some rainfall in the past two weeks, Oahu did not get enough rain this winter to recharge water levels.

Lao said one of the nine monitoring wells on Oahu has been put on "alert" status, and some of the others are likely to follow as the island enters into the dry season of summer.

The water board may impose mandatory restrictions after three monitoring wells are put on alert status.

The last mandatory water restriction occurred in the early 1980s.

A drought declaration remained in effect for Molokai, Upcountry areas of Maui, and the Big Island, except Hilo, Puna and Hamakua.

The National Weather Service said there probably will not be much rain in the next few months -- June being usually the driest month in the year.

"It's not looking very good," said Kevin R. Kodama, the Weather Service's hydrologist.

Kodama said storm systems passing through the state in February, March and early April brought some rain, especially Kauai.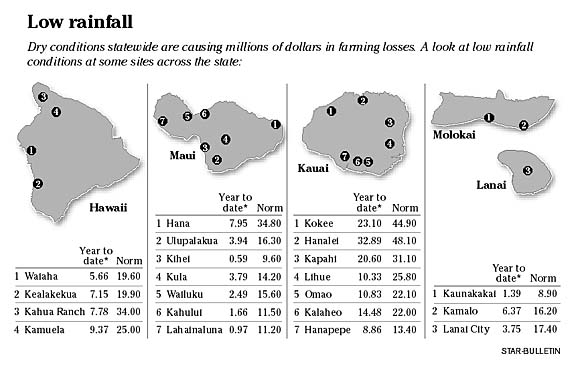 But the rains have not been heavy in Maui County or the leeward section of the Big Island.

Statewide, farmers are suffering production losses into the millions of dollars -- some reducing their farm acreage substantially.

"It's getting worse and worse," said George Watanabe, an Oahu watercress farmer whose production has been cut in half.

Hawaiian Commercial & Sugar officials say the drought means crop losses of $1 million to $2 million every month without water.

Molokai farmer George Mokuau says the lack of rain has forced him to cut his production of sweet potato in the last three years to 32 from 50 acres.

"Hopefully, we can survive this," he said.
E-mail to City Desk
---
---
© 2001 Honolulu Star-Bulletin
https://archives.starbulletin.com