CLICK TO SUPPORT OUR SPONSORS

---

---
Wednesday, May 2, 2001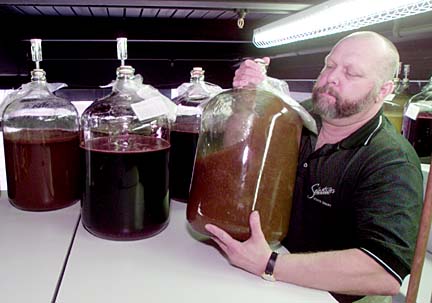 DENNIS ODA / STAR-BULLETIN
Everett Sellers shakes up a grape juice mixture that will
ferment into wine. Sellers owns Denali Winery in Alaska
and is helping set up the new Diamond Head Winery on
Sand Island Access Road, where customers can
make their own wines.
---
Private labels


A new shop provides the
space and materials for
do-it-yourself winemakers

Personalize your labels By Eleanor Nakama-Mitsunaga
Special to the Star-Bulletin

Hawaii is known for many splendid things, but wine-making is not one of them. It's not like grapes grow readily in our back yards.

Val Texeira doesn't see this as an obstacle. Just as she doesn't consider it an obstacle that was never a drinker -- let alone a wine drinker -- yet chose to go into the make-your-own wine business.

"I had a gut feeling," Texeira says in answer to the question, "why wine?"

Diamond Head Winery was born of an ounce of rashness and a gallon of fortitude -- of Texeira listening to her instincts even when others were skeptical. But, she says she's been there before.

At the time, Texeira was looking to get out of a successful porta-potty business she'd run for 12 years. The work was grueling and backbreaking, she says. On top of that, Texeira was running a tropical flower and fruit farm, worked part-time at the Sheraton Princess Kaiulani Hotel and tended to her love of horses and the equestrian sport.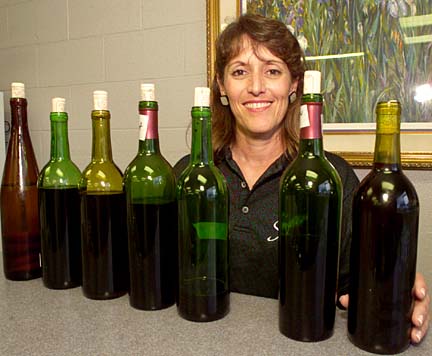 DENNIS ODA / STAR-BULLETIN
Val Texeira lines up sample bottles of homemade wine.
---
She was visiting her sister in Alaska when she was invited to a winery where you could make your own wine. She was captivated with how fun the business seemed. Families and friends gathered to blend and bottle wines they made together and would eventually enjoy together. "I thought, 'What a neat concept'."

She spent two years learning the business and, more importantly, learning about wine-making and wine appreciation, has brought Texeira to her new digs off Sand Island Access Road. Opening day was Friday.

Her concept is simple. Choose from more than 50 varieties of wine from Chardonnay to Merlot, including dessert and fancy fruit-flavored wines such as Green Apple Riesling or Black Raspberry Merlot. Purchase a kit for $180 to $230 (each kit yields 26 bottles of wine).

Then comes blending, a 15-minute process in which fermentation ingredients are combined with grape juice and funneled into a large glass glass container called a carboy, along with flavor enhancers such as oak or flower chips. Yeast is added last and the carboy is sealed. A few swirls of the carboy and your wine is ready to do its thing for eight weeks.

The carboys are stored on the premises where the temperature is kept at 72 degrees. Texeira will baby-sit your wine and will make sure the essential steps of filtration and cleaning are carried out.

Texeira is quick to say, however, "Feel free to come down and check

on your wine anytime."

After eight weeks the wine is ready for bottling. It's siphoned out of the carboy and into sterilized bottles which are then corked and sealed with the help of modern, user-friendly machinery.

Ideally, Texeira suggests the wine be aged for 6 months to a year depending on the variety.

The winery is the only place in the state where customers can make their own wine on the premises. "It's a novel idea that has taken off in Canada and has great potential for Hawaii," Texeira says. "People like the idea of creating and sharing their own custom, private-label wine with family and friends."

---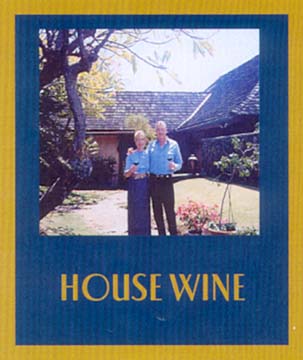 The concept of "house wine" has new meaning
on this couple's label.
---
Customize wine
with message

By Eleanor Nakama-Mitstunaga
Special to the Star-Bulletin

Gary Vierra suggests that you think of a bottle of wine as a greeting card and send your good wishes in the form of a custom label.

"I want people to see us as providing a Hallmark card on a bottle of wine," Vierra says.

Vierra and his wife, Jan, opened Island Wines next to Fujioka's Wine Merchants in Market City last December without much fanfare, but word of their service is slowly spreading.

The Vierras have 35 years of wine business experience between them and ran a similar company in Napa Valley, Calif., for 10 years.

They offer a 1997 California Chardonnay, California Merlot and a sparkling cider in bottles ready to be labeled. They expect to add champagne and dessert wines soon..

It's strictly a family affair. Gary and Jan design and label the bottles themselves while the wine is made and bottled by Vierra's brother in Napa Valley.

Vierra was born and raised in California, but feels a strong connection to Hawaii. "My grandparents were Portuguese immigrants who came to Hawaii in 1909 and my father was born here." The couple moved here just a year after vacationing in the islands.

Island Wines' initial target was the restaurant and resort market, but the Vierras are now focusing on walk-in customers seeking corporate, wedding or birthday gifts, or who want to mark any celebration in a unique way.

Island Wines will label one bottle or 1,000 bottles, using its own stock of designs or artwork and photographs brought in by the customer. Vierra says most customers order about six. You can also bring in your own bottle to be labeled.

Prices start at $25 for a single bottle and label, but there are discounts for quantities.





Click for online
calendars and events.
E-mail to Features Editor
---
---
© 2001 Honolulu Star-Bulletin
https://archives.starbulletin.com