---
Island Images



Friday, April 27, 2001

A Smile Blooms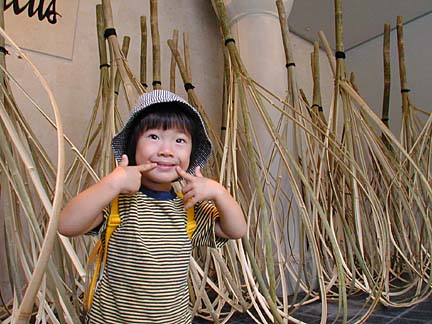 CRAIG T. KOJIMA / STAR-BULLETIN
Anthony Jun Wada put on a smile for the camera yesterday at a
Neiman Marcus show featuring ikebana from Toshiyuki Ohki,
master instructor from the Sogetsu school in Tokyo. Ikebana is
the Japanese art of flower arrangement, in which the positions
of the materials used have significance.
The show runs through Sunday.
---
More Flora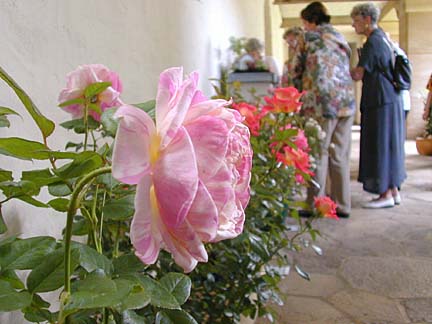 CRAIG T. KOJIMA / STAR-BULLETIN
A hybrid tea rose, Rosa Ferdinand Pichard, is one of many flowers
on display at the "Hawaii Calls" flower show, put on by the Garden
Club of Honolulu at the Academy of Arts. The show begins
today and runs through Saturday.
---
Shadowing the First Lady

A Sacred Hearts Academy student participates
in Take Our Daughters to Work Day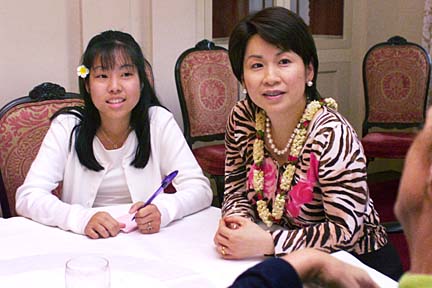 FL MORRIS / STAR-BULLETIN
Michela Kinoshita, a student at Sacred Hearts Academy, shadowed
Vicky Cayetano, right, during Take Our Daughters to Work Day.
They were in a meeting at Washington Place. Millions of girls
nationwide participated in the event yesterday, a day in which
students can gain firsthand exposure to the American workplace.
---
Warriors Come Out To Play

UH men's volleyball ready to rumble against
UCLA for the MPSF championship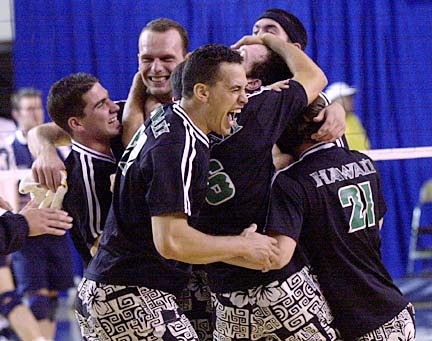 ROBERT JOHNSON / SPECIAL TO THE STAR-BULLETIN
Led by senior outside hitter Torry Tukuafu (front middle),
UH celebrated after beating top-ranked Brigham Young in
four sets in the MPSF semifinals in Provo yesterday.
Dejan Miladinovic (back middle) grinned enthusiastically.
Next up, UCLA tomorrow in the title match.
See story in sports.
---
E-mail to City Desk
---
---
© 2001 Honolulu Star-Bulletin
https://archives.starbulletin.com