---
Friday, April 27, 2001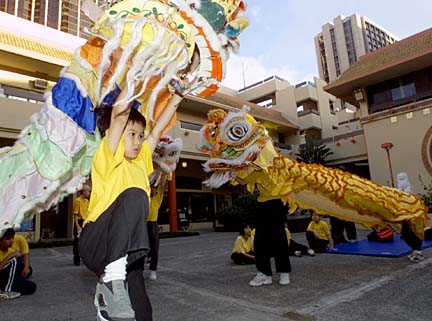 GEORGE F. LEE / STAR-BULLETIN
Kimo Wong's Kung Fu and Lion Dance Federation
student John Ngo, left, takes his turn at the head of the
lion during practice at the Chinese Cultural Plaza.
---
Not just for kicks


Youngsters say Y.E.S.
to fun kung fu and drums

By Shawn "Speedy" Lopes
Star-Bulletin

EVERY MONDAY and Wednesday afternoon, a giddy gaggle of children winds its way down the steps of the Chinatown Cultural Plaza, funneling into a concrete courtyard and bouncing laughter across the plaza's walls. It takes only seconds for the shopping center's ground floor to become deluged with school-age children, each attired in loose fitting yellow T-shirts and even baggier black slacks.

At center stage, sifu Rodney "Kimo" Wong, wearing a majestic silk shirt emblazoned with a snaking golden dragon bellows simple directives to his young students. As the troupe tries as best they can to crouch, lunge and tumble in unison, a little girl, not much taller than the drum she stands over, hammers out a relentless rhythm. Beside her, a friend matches her intensity beat-for-beat on a crashing cymbal.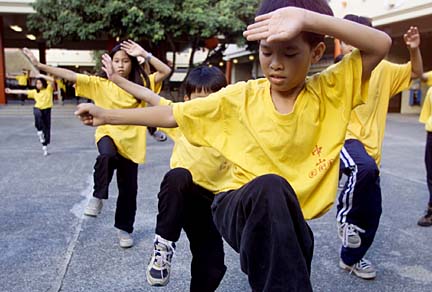 GEORGE F. LEE / STAR-BULLETIN
Student Kevin Do practices a fighting set, above.
---
Wong, who for years taught martial arts to neighborhood kids, helped to establish the Youth and Elderly Services Foundation of Hawaii, a nonprofit organization, in 1999. In his quest to reach more children, teens and young adults in the Chinatown, Kalihi, Palama and Liliha areas, Wong has expanded his low-fee program to include a variety of cultural arts and recreational programs like movies, camping and team sports.

This Saturday, the public is invited to a Chinese Cultural Fun Day fund-raiser from 11 a.m. to 1 p.m. at the Chinatown Cultural Plaza. Family-friendly attractions will include free drum and kung fu lessons, free paper dragon and lantern-making activities. There will be games for kids at nominal cost. It is hoped that funds raised from the group's adopt-a-dragon program will ensure continued success for the Y.E.S. Foundation.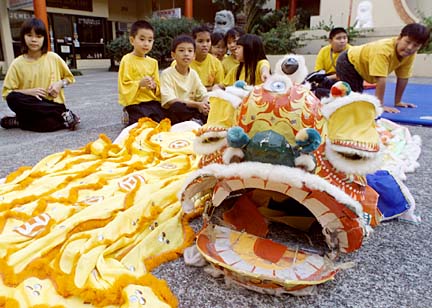 GEORGE F. LEE / STAR-BULLETIN
The students wait for a chance to charge up a
lifeless lion, below.
---
"It started because there weren't any organizations in the Chinatown area for children," Wong says. "For a lot of these kids' parents, English is their second language and they sometimes have trouble acclimating to their surroundings. This can be a problem for their children and the older ones may drop out of school, get into trouble or join gangs. We provide an alternative to that."

Also included, he says, are career awareness, tutoring and education development programs which rely on participation from local businesses and volunteers who have already gone through other programs headed by Wong.

One such volunteer is 21-year-old Brian Chan, a college student who has been under Wong's guidance since the eighth grade. He now gladly devotes much of his spare time to make the program fun and enriching for a new class of youngsters.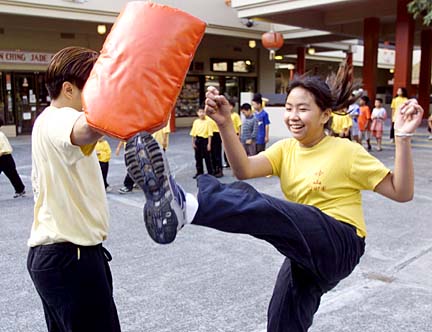 GEORGE F. LEE / STAR-BULLETIN
Minh Le delivers a kick to Brian Chan during practice, left.
---
"When I started, I looked up to sifu," he says, remembering his first day in Wong's martial arts program. "I thought it was so cool that there was somebody who was willing to look out for kids like us. Now, I want these kids to have another role model to look up to."

The key, he believes, is in making the exercises enjoyable for the children. "If you're strict on somebody, it's like you're forcing them to learn," he explains. "Which I don't think is good. You try to make it fun for them so that they want to learn. That's our way of teaching. Like the lion dance -- to the kids, it's fun. But they also learn how to play instruments and work on their stances and their upper bodies. A lot of exercises teach discipline, which helps them out in everything, even school. I think it helps a lot."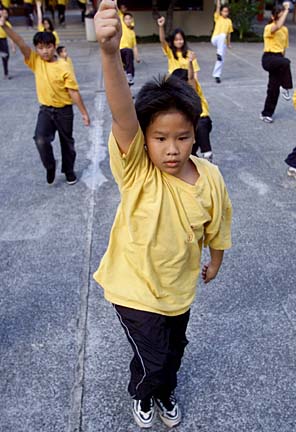 GEORGE F. LEE / STAR-BULLETIN
Students of Kimo Wong's Kung fu and Lion Dance
Federation including Wayland Chan, above, try their
best to stay in step as they practice fighting sequence
at the Chinese Cultural Plaza.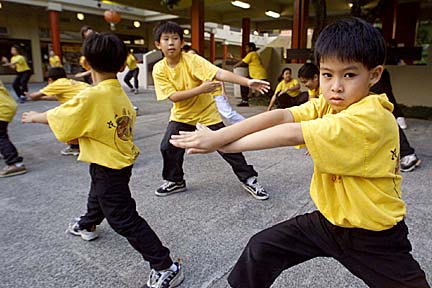 GEORGE F. LEE / STAR-BULLETIN
John Vo, left, Vialli Ou, and John Ngo show off
their moves during a "tiger" set.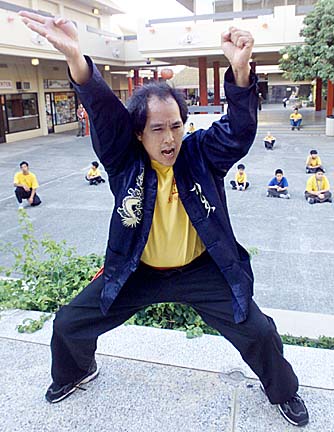 GEORGE F. LEE / STAR-BULLETIN
Kimo Wong demonstrates the required steps
with motion and grace for his students.
---




Click for online
calendars and events.
E-mail to Features Editor
---
---
© 2001 Honolulu Star-Bulletin
https://archives.starbulletin.com