---
Thursday, April 26, 2001
[ STRIKE OVER ]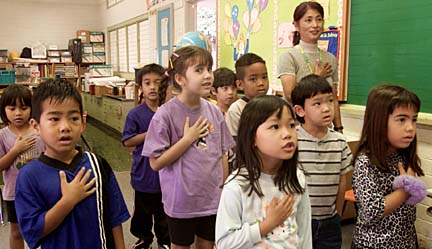 KEN SAKAMOTO / STAR-BULLETIN
Genny Tsukimura's students at Kuhio Elementary School
start the day by reciting the Pledge of Allegiance
this morning.
---



At Kuhio Elementary School,
many parents and pupils enjoyed
a breakfast of fried rice

By Helen Altonn
Star-Bulletin

It was hard to tell who was happier about schools reopening today -- teachers, parents or kids.

"How wonderful," said 6-year-old Chanel Kamanao's grandmother, Debbie, waiting for classes to start at Kuhio Elementary School .

She cared for three grandchildren during the teachers strike, taking them to the library and baseball practice, and Chanel helped her clean house, she said.

"We kept them busy. But that was a long 19 days. They love coming back to school."

Chanel, a first-grader, said she's happy to be back in class because "my teacher makes me learn, and she makes me smart."

Kids happily reunited and played with friends as parents dropped them at school.

More than 100 had breakfast at the school, many accompanied by parents.

"They were all happy. We gave them fried rice and turkey links," said Betty Matsudo, adult supervisor in the cafeteria.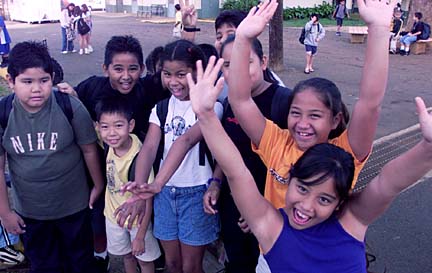 KEN SAKAMOTO / STAR-BULLETIN
Kuhio Elementary School students are glad to be back
at school today.
---
"To see the children's smiling faces, my goodness. I guess a lot of them didn't have breakfast when they were home."

Karen Gough, dropping off twin sons, Jonathan and Robert, both 10, and Kimberly, 9, said they stayed with their grandmother during the strike. She said many kids apparently were with grandparents while schools were closed because she saw them where she works, at Waldenbooks.

All of her children said they were happy to be back at school. "I get to see my friends and do my work," said Kimberly. "I like math."

Nalu Aga, sitting with his 5-year-old son, Poasa, while he had breakfast, said the child was home with his mother during most of the strike. "But we just worried about their education."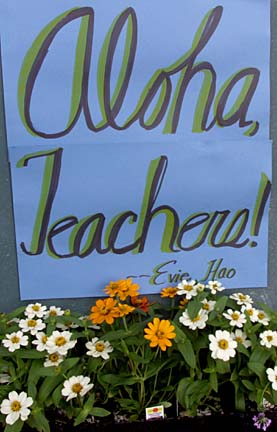 KEN SAKAMOTO / STAR-BULLETIN
Flowers for teachers brought by parents and
students at Kuhio Elementary.
---
Asked what he missed about school, Poasa surprised even his father by saying, "Homework."

Teachers were greeted at the office with a sign, "Aloha Teachers," banked with flowers and signed by principal Evie Hao.

Debbie Nishihira, computer teacher at Kuhio, said, "I'm happy to be back. I'm really tired spending time out in the sun (picketing). It's draining." Friends also told her they just went home and slept after being on the picket line, she said.

Nishihira, due to have her first baby in July, said she has mixed feelings about the contract. "I feel for the older teachers. It is a real sacrifice for them."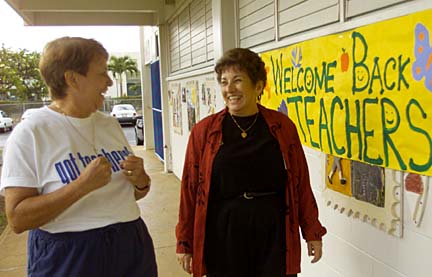 KEN SAKAMOTO / STAR-BULLETIN
Carolyn Mossman, left, a teacher at Princess Kaiulani
Elementary School and president of the HSTA-Honolulu
Chapter, walked through the school yesterday with
Principal Charlotte White. All public school
students were to return to classes today
after a 19-day teachers strike.
---
She said the teachers are constantly engaged in professional development. "My sister just finished her master's. We're constantly taking classes and paying for those classes."

She's concerned also because the school doesn't have enough computers and "the hard part is updating." They buy equipment a little at a time and never catch up, she said. "The ones you use are seven years old already."

The bell rang and things were soon back to normal with kindergartners in Genny Tsukimura's class standing in front of the flag, reciting the Pledge of Allegiance, and singing "Hawaii Ponoi."

---



E-mail to City Desk
---
---
© 2001 Honolulu Star-Bulletin
https://archives.starbulletin.com