---
Tuesday, April 24, 2001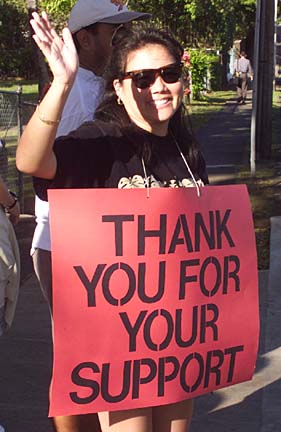 KEN SAKAMOTO / STAR-BULLETIN
Camille Masutomi, a kindergarten teacher at
Royal Elementary School, waves on Queen
Emma St. this morning.
---



Public school classes are
set to resume Thursday

Teachers will start
ratification vote today

The pact calls for raises
of about 16 percent

Deal highlights By Crystal Kua
Star-Bulletin

A tentative four-year deal to settle the 20-day statewide teachers strike includes a 16 percent pay raise and a $1,100 bonus as part of a salary package that will cost the state a little more than $111.7 million.

Hawaii's nearly 183,000 public schoolchildren will return to class Thursday if a majority of the 13,000 members of the Hawaii State Teachers Association approve the pact at ratification meetings throughout the state today.

At a news conference to announce the agreement this morning, both the governor and the HSTA said the new contract will help attract and retain teachers in Hawaii.

"It places Hawaii very, very high," Gov. Ben Cayetano said. "We believe it places Hawaii among the top ten average salaries in the nation." "It will help us be competitive on a national level to be able to retain our quality teachers," said HSTA president Karen Ginoza.

The governor said the state should be able to afford the contract without repealing tax cuts or raising taxes and that the Legislature should be able to restore some social service programs that were cut in the Senate's budget.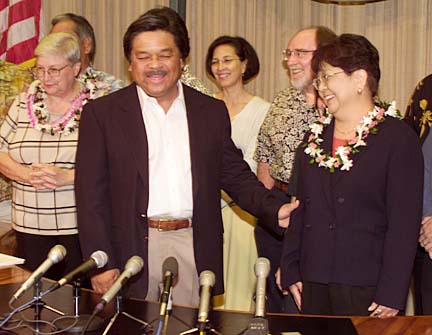 KEN SAKAMOTO / STAR-BULLETIN
Gov. Ben Cayetano and HSTA President Karen
Ginoza are all smiles at today's press conference
in the governor's office as they announced the
contract settlement. Also pictured is HSTA chief
negotiator Joan Husted, left, Department of
Education personnel director Sandra
McFarlane and Rep. Neil Abercrombie,
behind Ginoza.
---
Another goal of the settlement was to reward professional development which Cayetano said is accomplished in the contract.

"I really believe we have taken an important step, a new step, a new direction," the governor said.

Superintendent Paul Lemahieu said the settlement is superior to many contracts negotiated around the country.

"It's quite an accomplishment," he said.

At Moanalua Recreation Center, Michael Pearson, who has been taking care of his 10-year-old daughter during the walkout, said he's glad the strike is apparently over.

As an apartment manager, he said he's been able to take care of his daughter at home. "It's a challenge to keep them occupied because they get bored fast," he said.

When told the strike may be over, daughter Michelle Pearson, a fifth-grader at Aiea Elementary School said, "Oh no, I like having a vacation. It's so hard in school."

Pearson said her teacher gave her two weeks of homework to finish during the strike. "She said just because there's going to be a strike doesn't mean you can't learn."

Under the deal, an entry-level teacher now earning $29,000 a year will make nearly $34,000 at the end of the contract. Salary for the highest paid teachers will go to $64,000 from $58,000.

Picket lines were scheduled to come down at noon today at all public schools and voting was scheduled to begin at 3 p.m. at the Stan Sheriff Center on Oahu and various locations on the neighbor islands.

Once the deal is ratified, teachers would return to classrooms tomorrow to prepare for the students' return.

"There's a lot of work to be done; a lot of pieces that need to be put together," said Greg Knudsen, spokesman for the state Department of Education.

As of tomorrow, students will have missed 14 days of classes since the strike began April 5, leaving only 30 days of school for the year.

Knudsen said that no make-up days will be necessary and that "no students should be penalized for lost time."

But, he added, "we've asked principals to begin the process of minimizing field-trips and other class-day activities (outside the classroom) in order to maximize instructional time."

Knudsen said high school graduation dates at the beginning of June will proceed as scheduled. Summer school should not be affected by the strike, he said.

Picket captains from each school were briefed last night and this morning on the pact. They, in turn, were to brief teachers at their schools today.

After a briefing, Dawn Waiwaiole, picket captain at Lanakila Elementary School said, "We thought our people worked really hard and it looks pretty good. Now we have to go back and convince everybody else."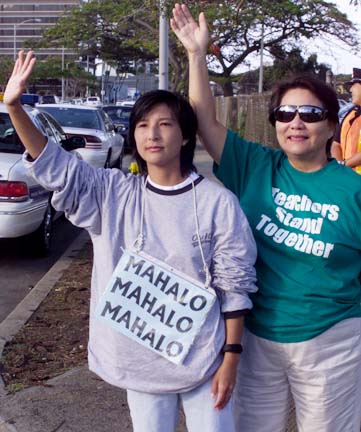 KEN SAKAMOTO / STAR-BULLETIN
McKinley High School teachers Jodi Akasaki,
left, and Grace Yasunaga thank the public for
their support on Pensacola Street this morning.
---
Negotiators for the state and union had an incentive to settle by today: U.S. District Judge David Ezra warned both sides yesterday that if the strike had not been settled by 9 a.m. today, he would intervene and take action to see that children covered by the Felix Consent Decree were no longer hurt by the strike.

The consent decree is the federal mandate aimed at improving educational and mental health services to special needs children.

Ezra said he was going to take action if the strike had not been settled by the start of today's scheduled hearing on the motion.

The HSTA required that a contract include raises for everyone, retroactive wages and step movements. In presenting the package to its teachers, the union said "elements of each goal can be found in the package presented for ratification."

Settlement highlights include:

>> A "retention incentive" payment of $550 for each of the first two years of the contract that began in 1999. Retired teachers will be credited for retirement while other teachers will be paid in the first pay check of next school year.

>> Across-the-board raises of 2 percent each in September and February of the next school year.

>> Across the board raises of 3 percent each in September and February in the 2002-2003 school year.

>> Step increases equal to a 3 percent raise in each of the last two years of the contract for all teachers except those at the top of the pay scale.

>> Several strike amnesty provisions that include no deduction of summer pay for striking teachers.

>> Four instructional days will be converted to professional development days. (The governor had added seven extra days to the school year during the last contract in 1997.)

There had been several sticking points to a deal including retroactive pay and the total money Gov. Ben Cayetano was going to put in the pot for raises.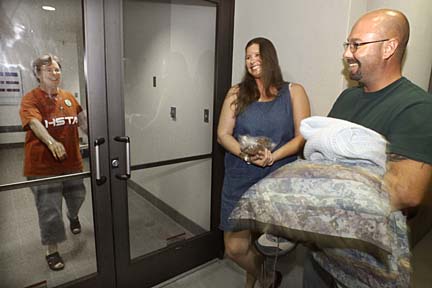 GEORGE F. LEE / Star-Bulletin
School teacher Shirley French, left, comes to the
door of of the HSTA headquarters before last
night's settlement to pick up supplies from her
daughter and fellow teacher, Maile White, and
her husband, Jeffrey White. Union members
had been prepared for a long negotiation session.
---
The HSTA board of directors late last night approved sending the offer to a membership vote.

"I think they'll be pleased," said HSTA spokeswoman Danielle Lum.

After the union's board approved the deal last night, members of the state negotiating team including chief negotiator Davis Yogi arrived at HSTA headquarters in Moanalua. Looking tired and worn, Yogi left without comment except to say that he was going home to sleep.

Two legislative leaders said the state has the money to fund all the contracts and that the strike had its benefits.

Rep. Barbara Marumoto, (R-Kahala) was confident the state will fund all the raises. "It is important and we will be able to pay," she said. "If you want good teachers and good police and others, then you have to pay them."

Senate vice president Colleen Hanabusa (D, Waianae) said the negotiations, although difficult, were better than giving the disagreement to an arbitrator to settle. Also, she said, the state will be able to pay for the raises, by making cuts in the state's budget.

"The Senate has taken hits -- we cut major programs and raided the special funds, but we feel strongly that the settlements are needed," she said.

Official announcement of last night's deal was initially expected at 5 a.m. today but was held up for two reasons.

First, U.S. Rep. Neil Abercrombie, who helped broker the deal, could not be contacted. Also, attempts to make copies of the contract were slowed when the copy machine ran out of paper, Lum said.

The strike was the first by Hawaii public school teachers since the 18-day walkout in 1973. Teacher strikes were averted at the 11th hour in 1972, 1984 and 1997.

The teachers remained exceptionally unified in their fight this time, with only about 1 percent of them crossing the picket line. All public schools, except for the one on Niihau, were closed for the strike's duration.

HSTA hit the picket lines on the same day as a walkout by roughly 3,275 faculty members in the University of Hawaii Professional Assembly, an unprecedented statewide strike of public schools from kindergarten to post-graduate classes.

The faculty union was not nearly as unified as the school teachers. About 30 percent of classes were taught at the UH-Manoa and about 11 percent at the community colleges. UHPA reached a deal with the state last Tuesday that included an across-the-board raise of $2,325 for professors in the first year, a 6 percent raise in the second year, and 1 percent merit raises in both the first and second years.

In general, Knudsen said, parents should be using today and tomorrow as an opportunity to get their children back on schedule for Thursday.

"I suspect most students would be very anxious to get back," he said.

---

Star-Bulletin reporters Nelson Daranciang and
Richard Borreca contributed to this report.

---

Deal highlights

The tentative agreement for teachers includes:

>> Pay raises of about 16-percent over two years

>> A $1,100 retention bonus for the previous two years of the contract

>> Conversion of four days of instruction to professional development days

>> Three percent pay differential for teachers with masters or professional diploma and six percent for teachrs with a doctorate.

>> Teachers who earn National Board of Professional Teaching Standards certification earn $5,000 differential.

PROFESSIONAL DEVELOPMENT

>> A total of 15 credits will be required to move between each salary classification.

>> Teachers may be eligible for two professional development credits a year, retroactive to school year 1999-2000, for participation in activities to implement state standards.

>> Teachers who earn National Board of Professional Teaching Standards certification shall receive a differential of $5,000 for the duration of the certification and a one-time reimbursement of up to $2,500 to cover out-of-pocket expenses for costs associated with certification process that were not already paid.

SALARY

>> Retention incentive of $550 for service in 1999-2000. and another retention incentive of $550 for service in 2000-2001. Retiring teachers will be credited for retirement. Others will be paid in the first check of the 2001-2002 school year.

>> Across-the-board increases as of Sept. 1, 2001. Step movement pay increase of about 3 percent for all teachers except those at top scale. 2 percent across-the-board increase on Feb. 1, 2002.

>> Three percent across-the-board increase on Sept. 1, 2002. Step movement pay increase of about 3 percent for all teachers except those at top scale. 3 percent across-the-board increase on Feb. 1, 2003.

NEW SALARY CONSTRUCT

>> Professional certificate pay differential of 3 percent for those with a masters or professional diploma.

>> Doctorate pay differential of 6 percent.

Miscellaneous

>> Professional Development and/or academic credits shall be required to change classification.

>> 50 percent of credits shall be related to implementing standards when the Professional Development Program is available and accessible.

>> Convert four instructional days to professional development days for school planning and collaboration days.

HEALTH FUND

>> Continue the current level of the employer's contributions to Hawaii Public Employees Health Fund for the life of the agreement.

AMNESTY PROVISIONS

>> No deduction in summer pay because of the strike.

>> Recall pay if individualized educational programs and modification plans have to be redone because of the strike.

>> No coach will lose pay because sports events were canceled.

>> Employer's share of Health Fund premium for the strike period will be paid.

>> No negative impact on striking teachers because of DOE rules, regulations, procedures or policies.

Source: Hawaii State Teachers Association
E-mail to City Desk
---
---
© 2001 Honolulu Star-Bulletin
https://archives.starbulletin.com