---
Island Images



Monday, April 23, 2001

Sweet melody for Gabby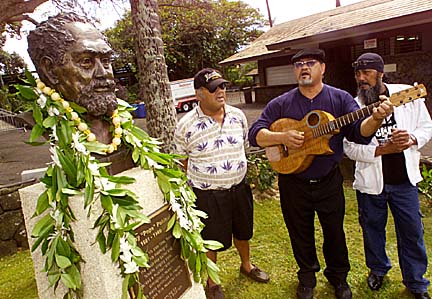 GEORGE F. LEE / STAR-BULLETIN From left, Martin, Cyril and Bla Pahinui sang a tribute to
their father, Gabby Pahinui, yesterday at the Waikiki Shell.
The 80th-birthday ceremony included the unveiling of a bust
of the slack-key great. The bust was created by sculptor
Jan-Michelle Sawyer. A concert honoring the late
Pahinui is planned for Oct. 13.
---
Ready to go find
Redbeard's treasure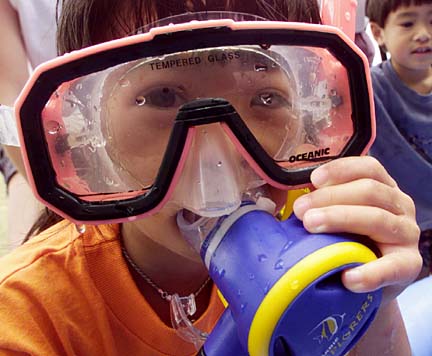 KEN SAKAMOTO / STAR-BULLETIN
Five-year-old Dana Miyashiro tried on a dive mask and
scuba regulator Saturday at the display set up by Aaron's
Dive Shop for the Keiki Fest at Ala Moana Beach Park.
---
Flop House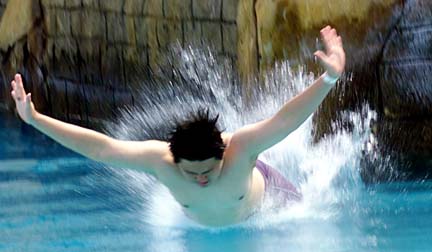 FL MORRIS / STAR-BULLETIN
Joe Tham, a member of the NetEnterprise team, makes waves
during the belly-flop competition, part of the Hawaii Red Cross
Challenge held at the Hawaiian Waters Adventure Park. Also
participating in the challenge were the American Red Cross,
Alexander & Baldwin, Laird Christianson Harris Advertising,
M.Dyer & Sons, Royal Guard Hawaii and Verizon Hawaii.
---
E-mail to City Desk
---
---
© 2001 Honolulu Star-Bulletin
https://archives.starbulletin.com