---




Newswatch
Police, Fire, Courts
By Star-Bulletin Staff
Monday, April 23, 2001
---
Online learning and
teachers gain funds

The National Endowment for the Humanities has awarded the East-West Center $240,000 for a two-year series of faculty development seminars, U.S. Rep. Patsy Mink (D, suburban Oahu-neighbor islands) has announced.

The Hawaii Council for the Humanities was also awarded a $6,500 grant to develop an online state encyclopedia. The money will be used in initial research and development of the project. The council will request another grant in 2002-2003 to implement the project.

The East-West Center program, titled "Cultures of Authority in Asian Practice: A Seminar Series for Undergraduate Educators," will be delivered at four mainland sites by the Asian Studies Development Program.

Libraries to present
'Peppermint Tree' play
through June 1

The Hawaii State Public Library System will present "Come & See the Peppermint Tree" at 12 Oahu public libraries from April 26 through June 1.

The play is based on the Evelyn Dean DeBoeck tale of two sisters who search for a peppermint tree.

In their search, they become distracted by the wonders of their neighborhood, their mother and other children. The sisters play, dance and skip their way through two dozen songs. In the end they learn a peppermint tree is something to create with their imaginations.

The free program is jointly sponsored by the Friends of the Library of Hawaii and local Friends chapters at the following public libraries and times, which are subject to change:

>> Waianae, April 26, 11 a.m.
>> Hawaii Sate Library, Edna Allyn Children's Room, May 5, 10:30 a.m.
>> Ewa Beach Public & School Library, May 7, 11 a.m.
>> Hawaii Kai, May 10, 6:30 p.m.
>> Kailua, May 12, 10:30 a.m.
>> Kahuku Public & School Library, May 15, 6:30 p.m.
>> Kaneohe, May 19, 2 p.m.
>> Aina Haina, May 22, 6:30 p.m.
>> Pearl City, May 23, 3 p.m.
>> Salt Lake-Moanalua, May 30, 6:30 p.m.
>> Kalihi-Palama, May 31, 3:15 p.m.
>> Kaimuki, June 1, 3 p.m.

Former Samoan premier Vaai Kolone dies at 89

APIA, Samoa >> Vaai Kolone, a former prime minister of Samoa and founder of the ruling Human Rights Protection Party, has died. He was 89.

Kolone died Friday at Tupua Tamasese Meaole National Hospital. Officials at the hospital did not disclose why Kolone was admitted or the cause of death.

Kolone served two terms as prime minister, from 1982 to 1987, when the country was named Western Samoa.

He entered Parliament in 1967, five years after the country gained independence, and was a member of the government's Council of Deputies from 1993 until the time of his death.

Burial was scheduled for tomorrow at Kolone's home in the village of Asau on the island of Savaii.

Survivors include his wife, Ida; two sons, Asiata Saleimoa Vaai and Mafasolia Kolone; grandchildren and great-grandchildren.

City and state protest regulations spark rally

Groups planning to protest at next month's Asian Development Bank meetings planned a rally today to announce their lawsuit against the city and state, alleging that conditions being placed upon the proposed protests are unconstitutional.

The National Lawyers Guild, ADBWatch and other attorneys assisting in the lawsuit also plan to lead a 15-minute walking tour of the area around the Hawaii Convention Center where the protests are being planned, the American Civil Liberties Union of Hawaii said.

ACLU attorneys contend that protest permit conditions are so vague, arbitrary and unreasonable that they violate protesters' freedom of speech.

The rally is scheduled for 12:30 p.m. at the convention center.




Corrections and clarifications

The Honolulu Star-Bulletin strives to make its news report fair and accurate. If you have a question or comment about news coverage, call Publisher and Editor in Chief John Flanagan at 529-4748 or email him at jflanagan@starbulletin.com.








---




Police, Fire, Courts



By Star-Bulletin staff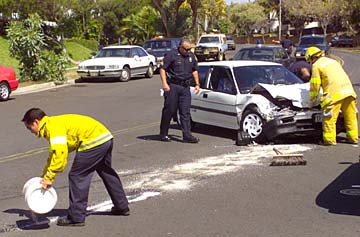 FL MORRIS / STAR-BULLETIN
A firefighter from Station No. 35 spread absorbent over
leaking fluids from a car involved in a two-car accident
yesterday morning at the intersection of Ala Hoi Street
and Makakilo Drive in Makakilo. The drivers
sustained minor injuries.
---
Father has son arrested over ATM theft, drug use

A 47-year-old Waipahu man turned in his 17-year-old son to police Friday after discovering that the teenager had used bank cards to withdraw more than $2,000 from his account. After the father discovered the money had been withdrawn, he found his ATM cards in his son's possession, as well as a pipe used for smoking crystal methamphetamine. Police arrested the teen on charges of drug use and fraudulent use of credit cards.

Brotherly beef ends with one stabbed in the hand

An argument between two brothers ended in a stabbing in Kaneohe yesterday, police said.

Police responded to a report of two men arguing at a house on Miomio Loop. The younger brother, 28, reported to police he was stabbed in the hand by his brother, 30. He went to a hospital, received stitches and was released. The 30-year-old man was arrested for second-degree assault.

Man arrested for hitting, abducting ex-girlfriend

A man was arrested yesterday after he shattered the car window of his former girlfriend with his fist, then repeatedly punched her in the abdomen at the Waianae Beach Park Saturday afternoon, police said.

The man fled the scene, and the woman located police nearby and reported the attack.

Police say the man, in his 30s, found the woman again yesterday at the Waianae Burger King restaurant drive-through. He forced his way into her vehicle and made her drive to Farrington Highway. A patrol officer spotted the vehicle on Farrington. The suspect got out and fled on foot. The officer caught the man after a short chase at about 10 a.m. He was arrested for kidnapping, criminal property damage and two counts of unauthorized entry into a motor vehicle.

Pepeekeo man says he was fired at twice

HILO >> A 19-year-old Pepeekeo man said he was shot at twice on Hawaii Belt Highway yesterday afternoon but was not injured, police said.

The case is classified as an attempted murder. The victim said the gunman was waiting for him, fired from a car, then sped away.

Hilo boy dies after 1-car accident; driver survives

HILO >> A teenager died yesterday, a day after being thrown from a car in an accident at Ainaloa, south of Hilo, police said.

David Santiago, 15, of Hilo, died at Hilo Hospital. The driver, Matthew Smith, 18, of Hilo, lost control and hit two palm trees and a utility pole, police said. Smith was treated at the hospital and released.







E-mail to City Desk
---
---
© 2001 Honolulu Star-Bulletin
https://archives.starbulletin.com