---
Monday, April 23, 2001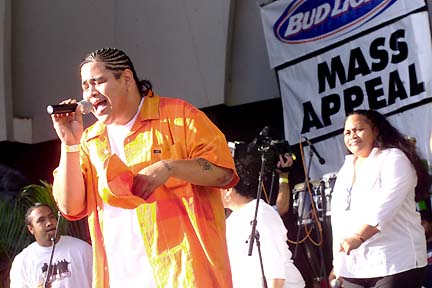 FL MORRIS / STAR-BULLETIN
AZ entertains the Jammin' Hawaiians crowd.
---
Jammin' musicians
embrace many
cultures
| | |
By John Berger
Star-Bulletin

Everyone at yesterday's Jammin' Hawaiian concert at the Waikiki Shell showed up to cheer their favorite act. Dana Decker and Megan Carvalho were there for Fiji. "He's da bomb!," they agreed.

Fiji and Pati capped Mass Appeal's 6th annual concert with a pair of powerful performances.

The grass filled up early into the 6-1/2-hour show and was capacity-plus by nightfall. The terrace seating was full as well by the time Pati came on just after 9 p.m. with his band, three singer-dancers and a quartet of male dancers, opening with a celebration of his Samoan-Tongan heritage before introducing his urban-pop repertoire.

Pati's three singer-dancers got the women in the crowd screaming as the trio "rode" their mike stands erotically during "Let's Get It On." Pati eschewed reggae rhythms almost entirely, concentrating instead on the urban R&B material he loves. With smooth harmonies and cohesive choreography, Pati's act was easily one of the most impressive in the show.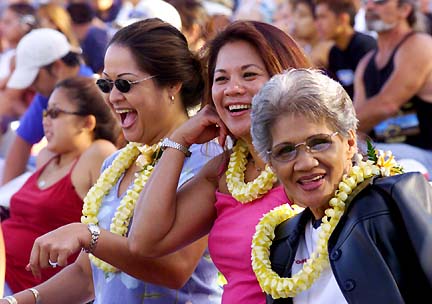 FL MORRIS / STAR-BULLETIN
From left, Lisa and Ezrita Parrow and their mom,
Anita Parrow, enjoy the show
---
And then came Fiji, who was outstanding in all respects. He opened with a video clip followed by a performance by a squad of armed dancers that set the mood for an intense and dramatic rendition of "Tribal War."

Fiji radiated spiritual power throughout his 25-minute performance but lightened the mood several times. "Smokin' Session" was a natural sing-along song and just about everybody in the audience joined in. The charismatic performer also entertained with his free-form dancing and got many in the crowd on their feet as well.

B.E.T., Colon and Jamin "Chief Ragga" Wong, were three other distinctive acts in the expansive and diverse cavalcade of talent. Unity and cooperation was evident as entertainers sat in on each others' sets. Fiji performed earlier with AZ, Damon, and Pati. Damon returned the favor by joining Fiji for one of his numbers. Taz Vegas of Typical Hawaiian was Wong's guest, Wong played drums with Hawaiian Time, and B.E.T. shared the stage with Ten Feet.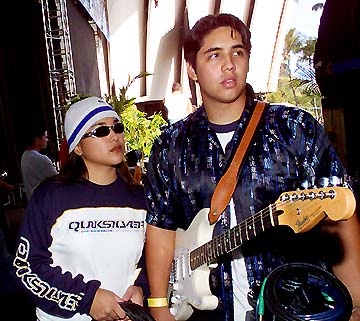 FL MORRIS / STAR-BULLETIN
Kanalo members Zaysha Labrador and Keoni
Nicodemus with the guitar, wait backstage
for their turn to perform.
---
The scouts were out en force. Local record producers Roni "Hobo Kid" Yurong and Bully Soares, and talent agent/manager Rick Davis, were there to appraise some of the acts. So were record industry executives Tony Solis of Booklines Hawaii and Lui Burgess of Olinda Road.

Jazz singer Andrea Young, Honolulu actor Ed J. Dyer and Kauai-based recording artists Tommy Tokioka and Malia were just there for the music.

Some other observations:

>> Polynesian artists from other Pacific island cultures are coming on strong. In addition to Fiji and Pati, AZ and last-minute addition Mark Atuaia distinguished themselves.

>> Colon is more interesting musically than Pure Heart ever was and Jake Shimabukuro continues to push the boundaries of ukulele as rock instrument.

>> Several local "island music" groups are stronger on stage than their recordings to date suggest. Hawaiian Time is one such band. Kanalo -- with Zaysha Labrador on keyboards as the newest member of the quartet -- also displayed much more power and presence Saturday than is found on most of their studio recordings.

>> Sly Dog and the new Mana'o Company clearly appreciate the textures that a good horn section adds to traditional "island music." Sly Dog did Maui proud as one of the early acts in the show. The new Mana'o Company is going to be an act to watch in the next few months; the reformed group's come-back album could be a local music milestone.

>> Natural Vibrations has a secret weapon in preschooler Comet Enos. The band members had some of their kids performing with them, and the 3-1/2-year old guitarist worked the stage like a veteran. Cutesy kids can wear out their welcome quickly but Enos did a fine job throughout.

Local concerts often start late for no apparent reason and then run slow. That wasn't a problem as promoters Mass Appeal and KCCN-FM100 started things promptly and keep the show running smoothly.

It was a great day for island music.





Click for online
calendars and events.
E-mail to Features Editor
---
---
© 2001 Honolulu Star-Bulletin
https://archives.starbulletin.com