---
Wednesday, April 18, 2001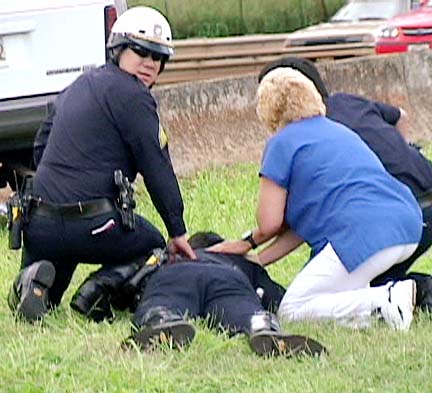 By BARRY MARKOWITZ, SPECIAL TO THE STAR-BULLETIN
A downed policeman in the grass received assistance
from fellow officers yesterday afternoon after he
and a colleague were shot while stopping a stolen
van on the H-2 freeway by Waipio.
---



A gunman in a stolen van
sparks a shootout on H-2;
3 others are arrested

How and where By Rod Antone, Nelson Daranciang,
B.J. Reyes and Gordon Y.K. Pang
Star-Bulletin

A suspect in a shoot-out with Honolulu police officers died and another suspect was captured along the H-2 freeway when she tried to flag down a motorist this morning.

Two motorcycle officers were wounded in the exchange of gunfire at about 4:45 p.m. yesterday in the median of the H-2 Freeway near Waipio.

Both officers were flown by Army medevac helicopter to the Queen's Medical Center.

One officer, nine-year veteran Robert K. Steiner Jr., 32, was treated for a shotgun wound to the hand and was upgraded to fair condition this morning.

The other officer, 32-year-old Aaron Masami Bernal, also a nine-year veteran, was treated and released. He suffered "grazing wounds" from shotgun pellets to his side and his face, said Mandy Shiraki, district chief of Emergency Medical Services.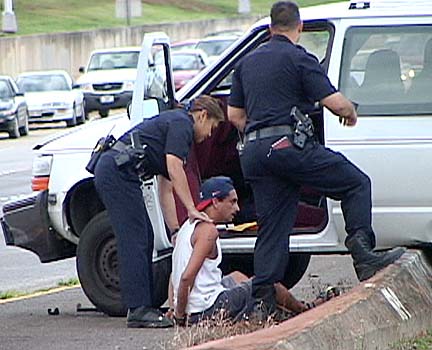 By BARRY MARKOWITZ, SPECIAL TO THE STAR-BULLETIN
Police officers subdue a male suspect after two
officers were shot on the H-2 freeway in the Waipio
area yesterday afternoon.
---
All the officers involved in the shooting were wearing bulletproof vests, police said.

The 27-year-old suspect from Waianae shot by police died at 1:06 a.m. today. He was taken by ambulance to Kapiolani Medical Center at Pali Momi, in critical condition where he underwent surgery, according to Pat Oda, spokeswoman for the hospital. His name was not released as of this morning.

The incident began when an officer in an unmarked car on the H-1 Freeway spotted a stolen van, police said. The officer was working with two solo-bike officers to catch motorists speeding on the freeway, said Assistant Police Chief Rafael Fajardo.

Police stopped the van on Kamehameha Highway for speeding. When one of the officers tried to talk to the driver, the van sped off, knocking the officer to the ground, police said.

Solo-bike officers pursued the van into the Waipio Gentry area and onto the H-2 Freeway.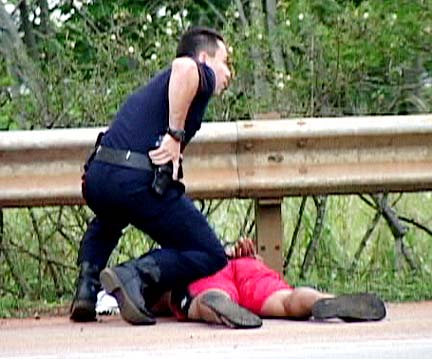 By BARRY MARKOWITZ, SPECIAL TO THE STAR-BULLETIN
Police officers subdue a male suspect after two
officers were shot on the H-2 freeway in the Waipio
area yesterday afternoon.
---
The van was headed in the Wahiawa direction about a half-mile north of the Ka Uka Boulevard overpass when the driver attempted to cross the center median but instead crashed the vehicle into a concrete barrier, Fajardo said.

As the three officers approached the van, four suspects jumped out, including the gunman, who exited from the sliding door on the passenger side, he added.

The officers were trying to arrest the suspects when the gunman opened fire with a shotgun, Fajardo said.

At 4:52 p.m. there was a police call for "officer in distress," according to Assistant Chief Boise Correa.

"It's the worst-case scenario for an officer," Correa said of the shootings.

It was unclear last night which of the officers were able to return fire. Police also would not say how many shots were fired, either by the gunman or by the officers.

Two other suspects, Samuel K. Hao, a 29-year-old man from Nanakuli, and Jessie Ani, 28 years old and also from Nanakuli, were arrested at the scene.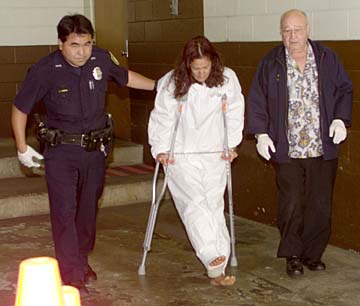 KEN SAKAMOTO / STAR-BULLETIN
Police escort suspect Bernadette Laa from the
Pearl City police station today.
---
The fourth suspect, 27-year-old Bernadette Laa of Waianae, was taken into custody at 4 a.m. on the H-2 Freeway not far from where the shooting happened. Police said she was trying to hitch a ride and a motorist with a cell phone called them.

Laa had escaped into the gulch on the Ewa side of the freeway after fleeing from the van yesterday. Police searched a four-acre area around the gulch last night.

Laa had a fractured leg and was taken to Pali Momi Medical Center for treatment before being arrested at the Pearl City Police Station. She told officers the injury was from a previous incident, police said. She was transferred to the main police station at about 10 a.m.

Investigators diagramed the shooting scene last night. The town-bound lanes of the freeway as well as one mauka-bound lane were closed at about 5 p.m. during the investigation. The freeway was reopened at about 2 a.m.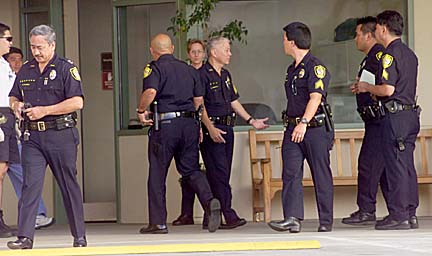 DENNIS ODA / STAR-BULLETIN
Police officers gathered outside Queen's Hospital emergency
room after two of their own were taken there with injuries
sustained in the shooting.
---
Town-bound traffic was rerouted to Kamehameha Highway at the Mililani onramp.

The American Red Cross said it provided meals and drinks to the roughly 125 emergency personnel at the scene. Police Chief Lee Donohue was at the scene but was not available for comment.

A press conference was scheduled for 4 p.m. today.

The last time an HPD officer was shot in the line of duty was Sept. 11, 1998, when officer Earl Haskell was wounded by a man breaking into cars on Makapuu Lighthouse Road.

The two scuffled, and the suspect shot Haskell and fled to his car, where he was wounded by another police officer.

Haskell was wounded in the stomach and spent more than two months in the hospital.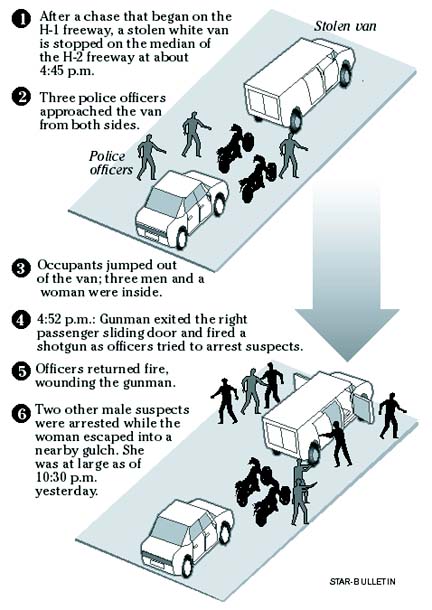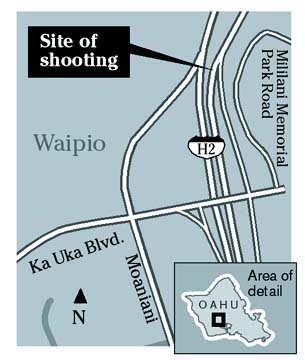 ---

| | |


Past shootings
of police officers

>> Sept. 11, 1998: Officer Earl Haskell was wounded by a man breaking into cars on Makapuu Lighthouse Road. The two had scuffled, and the suspect shot Haskell and then fled to his car, where he was wounded by another police officer.

>> Aug. 31, 1994: Officer Stan Cook was wounded in a shootout with a driver armed with an AK-47 semiautomatic rifle during a routine traffic stop in Waipahu.

>> July 17, 1992: Sgt. Glenn "Jake" Jicha was wounded in the abdomen in a shootout when he and a half-dozen officers from the Wahiawa Crime Reduction Unit were serving a search warrant in a drug investigation. Jicha and his unit raided a Sunset Beach home, and police said Manuel Alvarez Hyde, 28, shot Jicha with a .44-caliber revolver. Jicha and another officer returned fire and killed Hyde.

>> February 1987: Two policemen were wounded when a man fired at them while they sat at a Moiliili fast-food restaurant. The gunman, described as a troubled street person, was killed after exchanging fire with three other officers. Reserve officer Brian D. Sugimoto and officer Lawrence Go recovered.

>> June 1987: Officer David Ronk was fatally shot after he entered a Waianae home to serve court papers on a man. Clyde Pinero was convicted of killing the officer with his own gun. Pinero was resisting service of a restraining order to prevent him from seeing his wife.

>> October 1987: Undercover narcotics officer Troy Barboza was shot to death in his Manoa home. Tony Williams, a drug dealer who had been arrested as a result of the officer's investigation, was convicted in his death.
E-mail to City Desk
---
---
© 2001 Honolulu Star-Bulletin
https://archives.starbulletin.com