---
Monday, April 16, 2001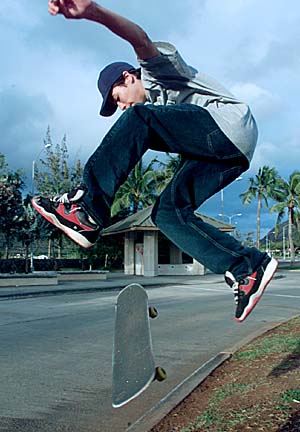 GEORGE F. LEE / STAR-BULLETIN
Chris McGonigal will have to make use of the city's
Park and Ride facility in Hawaii Kai until a new
skate park is built.
---
Hawaii Kai
debates spot for
new skate park


Some residents favor
Kamiloiki and others
prefer Koko Head

By Diana Leone
Star-Bulletin

Some Hawaii Kai residents are eyeing Kamiloiki Community Park as the potential site for a skateboard park and inline hockey rink.

They believe a skateboard park could be completed at the 18-acre park at Hawaii Kai Drive and Lunalilo Home Road by the end of the year.

Putting permanent skating facilities in Koko Head District Park as currently planned could take much longer because of a required environmental impact statement, said Mary Houghton, co-chairwoman of the Hawaii Kai Neighborhood Board's Parks and Recreation Committee.

The committee will hold a public meeting to discuss the proposal Friday, and the full Neighborhood Board will take up the matter April 24. The skateboarding issue has, for the moment anyway, taken the spotlight away from the call for public comment on expanding Koko Head District Park and the nearby shooting complex.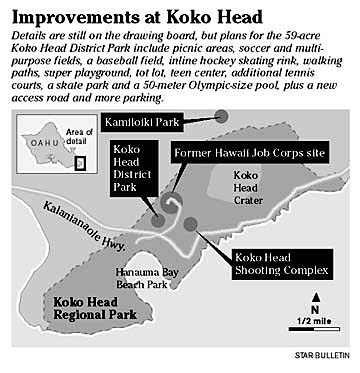 An estimated $12 million spending plan for the 59-acre park is tentatively slated to unfold in three phases over nine or more years. The work would include adding picnic areas, parking, tennis courts, soccer and multipurpose fields and enhancing a baseball field at Koko Head District Park.

And the skateboarding facility, which Mayor Jeremy Harris promised a group of skateboarders who had petitioned the city, would be installed this year.

At the Koko Head Shooting Complex, plans are to install a baffling system to reduce chances of stray bullets, a new archery range and general improvements. Plans to add baffling to three of the shooting ranges began a number of years ago, when the proposal to have a sightseeing tram take people to the top of Koko Head Crater spurred concerns about stray bullets. The tram idea was shot down by the public, and improvements to Hanauma Bay were dealt with separately as the first priority for the area.

Houghton said consideration of Kamiloiki Park instead of Koko Head District Park for skating and skateboarding facilities began only recently as the updated, revised plans for Koko Head District Park begin their own trip down the road of public input, city budget and permitting processes.

Group 70 International, the city's consultant for planned improvements, sent out a notice in late March that it will be preparing a draft environmental impact statement for the projects. The notice asks that anyone with an interest in the planned development comment in writing by May 8.

Houghton said any construction in Koko Head District Park will take more than a year to get started because of the required environmental study. She said "fast-tracking" the skateboarding park will be good for the community because "the kids are desperate for one."

"My feeling is that the people of Hawaii Kai will want a place for these kids to go," Houghton said. "People have been complaining about kids skateboarding at Park and Ride."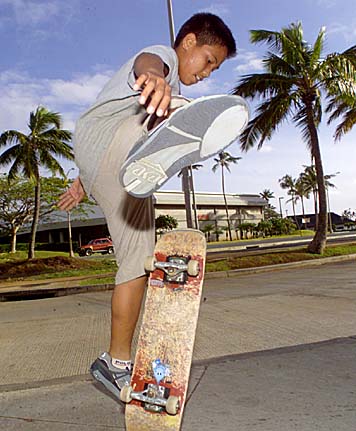 GEORGE F. LEE / STAR-BULLETIN
Jeremiah Tongan, 12, catches some air time at the city's
Park and Ride facility in Hawaii Kai
---
About 20 youths skateboarding Friday at Park and Ride, Hawaii Kai's unofficial skateboarding hot spot, agreed. As they jumped their boards over curbs and coasted down wheelchair cutaways, the teenage boys said they would jump at the chance to skateboard in a nice park, wherever it is located.

But some cautioned that if a Kamiloiki skateboard park was not top quality, they might rather wait the extra time for one at Koko Head.

Up at the temporary wooden ramp for skateboarding at Koko Head District Park, skateboarders expressed the same opinion.

"Wherever they can put one in is great for the kids, because skateboarding is very popular," said Christopher Bieck, a 22-year-old hitting some skateboard chops on a break from college. "There have always been tons of skateboarders in Hawaii Kai and no place to go but the Park and Ride."

Kamiloiki currently has multipurpose and baseball fields, basketball and tennis courts, a recreation center building and a small playground.

Some points in favor of the Kamiloiki site for skateboarders:

>> Kamiloiki is further mauka in the valley, so it is not as hot as Koko Head.

>> The bus line runs past it.

Some points against the Kamiloiki site:

>> There is not enough parking at the park for current usage, which includes baseball, soccer, basketball and a young children's play area.

>> Koko Head is nearer the population center of Hawaii Kai.

Karen Nakaoka, carrying her nephew's skateboard after he did some skateboarding at Kamiloiki Park, said Hawaii Kai can use a skateboard park, and either Koko Head or Kamiloiki is OK with her. "I think we definitely need one," she said. Dave Onodera's Hawaii Kai Youth Baseball team uses Kamiloiki Park for practices. "If they come here, where are they going to park?" he asked. "There are already enough activities here with people trying to park for baseball, basketball and soccer. ... In my opinion the other site (Koko Head) is ideal."

And while some area residents gripe about kids skateboarding at the Park and Ride, Onodera, who lives near it, said it is no problem. "The kids are getting more use out of the Park and Ride than the adults."

Dan Brady's young grandchildren, Ruairi and Aemon, are years away from skateboarding age. But as Brady watched them play at Kamiloiki Park, he said he is all for a skateboard park.

"They (the skateboarders) have no place to go. I think they could find enough room around here," Brady said at Kamiloiki Park. "This would make more sense if they could do it."

Robert Townsend, 13, said police regularly warn him and his friends to stop skateboarding at the Park and Ride, that they could get a citation.

"Then some drunk guys broke a phone (at the bus stop) and blamed it on us," said Tavin Winward, 12.




Meetings

Two meetings are set regarding skateboard park location and other Hawaii Kai park issues:

>> The Hawaii Kai Neighborhood Board Parks and Recreation Committee meets at 7 p.m. Friday, April 20, at Koko Head District Park.

>> The full Neighborhood Board meets at 7 p.m., April 24, at Hahaione Elementary.

Environmental impact

Public input is sought for an environmental impact statement on planned Koko Head park improvements. Written comments will be accepted through May 8. A copy is requested to each of the following:

>> Jeff Overton, Chief Environmental Planner, Group 70 International, 925 Bethel St., 5th Floor, Honolulu, HI 96813-4307; or fax 523-5874.

>> Stanford Kuroda, Department of Design and Construction, City and County of Honolulu, 650 S. King St., 9th Floor, Honolulu, HI 96813.



E-mail to City Desk
---
---
© 2001 Honolulu Star-Bulletin
https://archives.starbulletin.com