---
Monday, April 16, 2001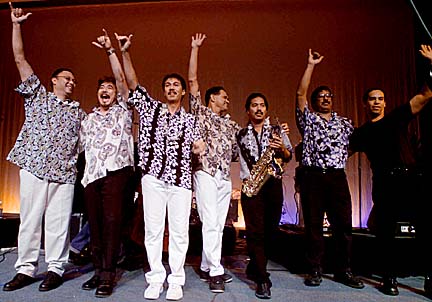 BY DENNIS ODA / STAR-BULLETIN
Above, Kalapana -- from left, Maurice Bega, Kenji Sano,
Gaylord Holomalia, Malani Bilyeu, Michael Paulo, D.J.
Pratt and Garin Poliahu -- says thank you and goodbye
after Saturday's concert.
---



Performing a lineup of old favorites
and charged with emotional chemistry,
the band creates a sentimental
supernova in its first concert since
the death of Mackey Feary

By John Berger
Star-Bulletin

Some fans waved candles or flickering lighters in the darkness. Others added the futuristic glow of their cell phone dials to the ocean of swaying points of light. Some were crying as Kalapana closed an epic concert with a brilliant extended arrangement of "Naturally" at the Sheraton-Waikiki on Saturday.

Any doubts about Kalapana being a powerful local band of the 21st century had long been laid to rest by the time Michael Paulo climbed out of the audience with his saxophone and rejoined the rest of the band to close the song.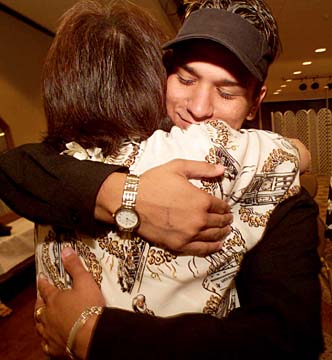 BY DENNIS ODA / STAR-BULLETIN
Mackey Feary's son, 16-year-old Sebastian (facing the
camera), gives a tearful hug back stage after the concert
to Kenji Sano, one of the original members of Kalapana.
---
The Saturday night show was the first Kalapana concert here since 1998 and thus the first time Honolulu had seen the band since Mackey Feary's death in 1999. The show proved beyond doubt that the new lineup -- with Maurice Bega singing for Feary -- is strong and polished. The concert sound was notably less than perfect, but with Bega and Malani Bilyeu as the lead voices, smooth harmonizing from the others and stellar virtuoso performances by Paulo and guitarist D.J. Pratt, Kalapana was superb.

Gaylord Holomalia presided as the band's cool and competent keyboard wizard. Kenji Sano added his distinctive style and charisma on bass. Garin Paliahu completed the roster on drums. (He'll be the primary drummer on the Kalapana album coming out this summer.)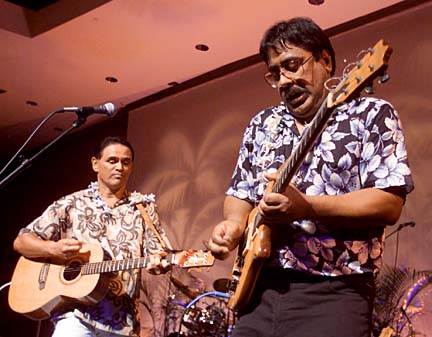 BY DENNIS ODA / STAR-BULLETIN
Malani Bilyeu, left, and D.J. Pratt play at the
Sheraton Saturday.
---
Bega, who had worked with Feary in the Mackey Feary Band and Nitelife, had also been on backing vocals for the Shell concert in '98. "The Hurt," the first Feary tune in the show, provided Bega's big moment here. The crowd embraced him instantly and applauded his work singing other Feary standards as well.

Bilyeu explained early that the band had decided to make it an oldies-only show. They focused on songs from the first two albums, "Kalapana" and "Kalapana II." "Many Classic Moments," a handful of slightly newer songs, a Bega composition and two of Bilyeu's solo hits, added diversity.

Bilyeu was in top form and gave a career-best performance up front. The instrumental chemistry between Pratt and Paulo took the intensity to supernova levels several times. "Naturally" was particularly powerful and a fine requiem for Feary.

Feary's son, Sebastian, joined the band briefly and spoke for the family in thanking the crowd for its support in being there. (Sebastian's mother, Marci, and his aunt, Dancetta Feary Kamai, were among the family members attending.)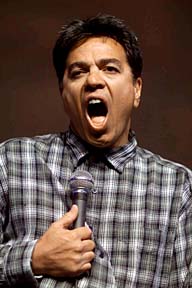 BY DENNIS ODA / STAR-BULLETIN
Andy Bumatai opened the show along with Summer.
---
The memories were too intense for some Feary friends. Several women were crying by the time the show was over.

The Hawaii Ballroom appeared to be almost sold out. Many fans looked old enough to remember Kalapana from Toppe Ada Shoppe in the '70s. Others had grown up with the music. Sista Sherry of KRTR was one them. Damien Farden of 'Elua Kane was in the house along with Donnie Martin, Terry Delgado, Ernie Cruz Jr. and veteran musicians Adney Atabay and Hemingway Jasmin.

Almost all of Paulo's family was there, too: his parents, Rene and Akemi, sisters Kathy and Gail, and brother Rene Jr.

The Kalapana classics were uniformly strong and beautifully done. Bilyeu's solo hit songs were also highlights as Kalapana material. "Moloka'i Sweet Home," his requiem for George Helm, has long been part of the band's repertoire. "Saved" is less familiar, but Bilyeu's powerful piece of personal Christian testament proved an inspired change of pace and another fabulous showcase for guitarist Pratt as well.

Kalapana was excellent, but the promoters clearly needed to get their act together. Service at the Hawaii Ballroom has never been slower or less attentive, and the show started almost 30 minutes late for no apparent reason.





Click for online
calendars and events.
E-mail to Features Editor
---
---
© 2001 Honolulu Star-Bulletin
https://archives.starbulletin.com