---
Wednesday, April 4, 2001
Mayor plans to
weed out Kapiolani
strip district


Jeremy Harris targets
Keeaumoku-Kapiolani
district for renovations

---

By Gordon Y.K. Pang
Star-Bulletin

Mayor Jeremy Harris is looking to shed the Keeaumoku-Kapiolani district of its distinction as Honolulu's adult-entertainment capital and wants to force out most hostess clubs, strip bars and other so-called undesirable businesses in three years.

A gateway plaza on a 1-acre site at Kalakaua Avenue and Kapiolani Boulevard is the centerpiece project. That project is expected to result in the condemnation of six sites, including one plot that is home to the Club Rock-Za strip club.

"We hope to have the land acquired, the buildings destroyed and the area landscaped by the end of the year," Harris said at a news conference yesterday. The city would then solicit proposals from the private sector for outdoor dining, cafes or other uses, he said.

[DESIGNS ON KAPIOLANI DISTRICT]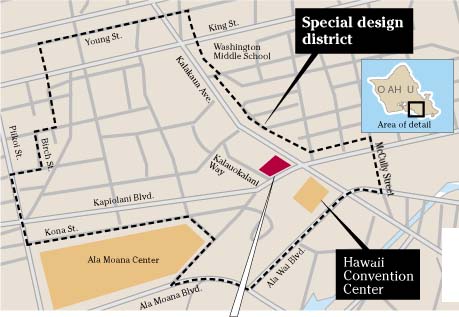 Mayor Jeremy Harris wants a Kapiolani special design district
within the bounded area which would, among other things, be devoid
of strip clubs, hostess bars and other adult establishments. The first
step of the plan involves taking five parcels on the corner of Kalakaua
Avenue and Kapiolani Boulevard, including the site of Club Rock-Za,
and creating a 1-acre gateway plaza. (Architect's drawing, below.)
---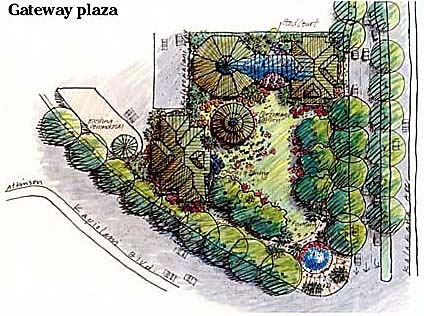 The mayor's capital improvement budget for the 2002 fiscal year includes $6 million for the project, including $3 million for land acquisition, $1.9 million for design and $250,000 for relocation assistance.

A more far-ranging initiative is the mayor's wish to establish the half-mile Keeaumoku-Kapiolani area as a special design district. Under that plan the city would rid the area of remaining hostess bars, strip clubs and cabarets, the mayor said.

"The noise, the crime that goes along with those activities has been tolerated for too long," Harris said.

Harris said he intends to get rid of the establishments by removing them as allowable uses within the district. Under the scheme, which apparently has legal precedent on the mainland, owners of adult clubs and bars in the district would be given a period of time to depreciate, or recoup, the value of their investment.

City attorneys have found existing case law that would allow the plan to go through, the mayor said. He also does not believe the city would run into constitutional issues by forcing the establishments out because it would only be attempting to regulate where the establishments go, not outlaw them.

An ordinance enacted in 1999 has already, in practicality, stopped new strip clubs and hostess bars by barring new ones from being within 500 feet of another, according to city Liquor Commission Administrator Wallace Weatherwax.

Harris wants to enact legislation barring them from selling their licenses.

Owners of Club Rock-Za and Da Hui, which opened earlier this year after installing $100,000 in improvements, believe the $250,000 set aside for relocation will not be enough for them.
E-mail to City Desk
---
---
© 2001 Honolulu Star-Bulletin
https://archives.starbulletin.com