---
Wednesday, April 4, 2001
THE ELECTRIC KITCHEN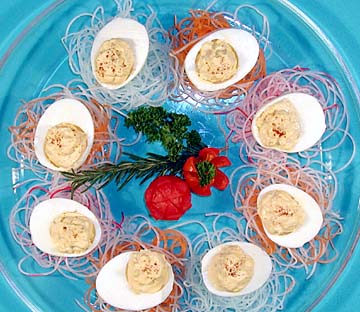 HECO
---
"The Electric Kitchen" airing through the first half of April is subtitled "Eggstra" and features the Hawaii Association of Family and Consumer Sciences.

"Electric Kitchen" airs at 9:30 a.m. Sundays, 8:30 p.m. Mondays, 5 p.m. Tuesdays and 6 p.m. Thursdays on Oceanic Cable Channel 16. It also airs on Maui at 8:30 p.m. Thursdays on Calabash Channel 44 (52 in Lahaina) and on the Big Island at 5 p.m. Mondays and 5:30 p.m. Wednesdays on Na Leo o Hawaii Channel 2 in Hilo and 14 in Kona.

Here are two of the recipes. For more: www.heco.com.

Cinnamon Crumb Cake

4 cups flour
2 cups sugar
4 teaspoons baking powder
1-1/2 cups butter or margarine
1-1/4 cups milk
2 eggs, beaten
1-1/2 teaspoons vanilla
1 teaspoon ground cinnamon

Preheat oven to 350 degrees. Combine flour, sugar and baking powder. Using a pastry blender, cut in butter until mixture resembles coarse crumbs. Reserve 2 cups for topping.

To the remaining mixture, add milk, eggs and vanilla. Beat well and pour into a greased 13-by-9-by-2-inch baking pan.

To the reserved crumb mixture, add cinnamon; sprinkle over batter. Bake for 40 to 45 minutes. Serves 24.

Easy Deviled Eggs

4 hard-cooked eggs, shelled
3 tablespoons mayonnaise
1 teaspoon Dijon mustard
Salt and pepper to taste
Paprika

Halve eggs lengthwise; remove yolks and place yolks in a small plastic sandwich bag. Set whites aside.

Add mayonnaise, mustard, salt, and pepper to yolks. Close plastic bag and mix by squeezing the bag until the mixture is smooth and creamy. Cut off a corner of the bag and squeeze mixture into reserved egg whites. Sprinkle with paprika. Serves 4.

Nutritional information unavailable.



Click for online
calendars and events.
E-mail to Features Editor
---
---
© 2001 Honolulu Star-Bulletin
https://archives.starbulletin.com