---
Wednesday, April 4, 2001



AIG offers $23 billion
for Texas insurer

---

By Alan Clendenning
Associated Press

NEW YORK >> Global insurance giant American International Group Inc. offered $23 billion in stock yesterday for American General Corp., attempting to outbid Prudential PLC for control of the Texas-based insurance company.

AIG chairman and CEO Maurice Greenberg said in a statement that he hopes to talk soon with American General officials about the proposal, which values the company at $46 per share.

The offer represents a premium of 25 percent from American General's closing stock price of $36.80 yesterday. American General is based in Houston, while AIG is headquartered in New York.

AIG-Hawaii maintains offices in downtown Honolulu's Restaurant Row.

"We believe that the combination of our two companies is uniquely attractive in terms of mix of businesses and distribution channels and would be highly beneficial financially to both of our shareholder groups," Greenberg said.

On March 12, London-based Prudential PLC offered $22.5 billion in stock to acquire American General, one of the nation's largest insurance and financial services companies. Prudential is unrelated to the Newark, N.J.-based Prudential Insurance Co. of America.

But Prudential's stock price dropped after the announcement, and the deal's value had declined to about $20 billion as of yesterday.

"It appears clear that the exceptionally steep price drop experienced by Prudential's stock reflects investors' serious concerns with the transaction," Greenberg said in a letter sent yesterday to American General chairman Robert Devlin.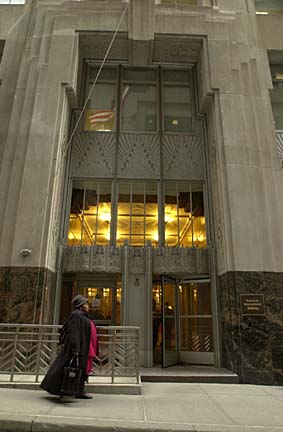 BLOOMBERG NEWS
A woman walks by 70 Pine St. in New York, home to American
International Group Inc. The insurance giant yesterday entered
a bidding war with Prudential PLC over Texas-based
American General Corp.
---
Geraldine Davies, Prudential's director of corporate relations, said under their agreement, American General would owe Prudential a $600 million break-up fee if it walks away from the purchase. "We note that our merger agreement with American General remains in full force and effect," she said.

American General would maintain its own identity under the combination with AIG, and Devlin would be offered a seat on AIG's board, Greenberg wrote.

American General has been considered a good takeover candidate because it holds leading market positions in both fixed and variable annuities.

The company has 1,350 offices in 40 states and 16,000 workers, most of whom work in Houston; Nashville; Milwaukee, Wis.; Amarillo, Texas; and Neptune, N.J.

AIG, one of the world's largest insurers, employs approximately 55,000 workers worldwide, and has interests in consumer finance, aircraft leasing and data processing. It has operations in 130 countries and generates more than half of its revenues overseas.

Meanwhile, AIG Hawaii Insurance Co. Inc. is launching a $6 million restructuring and marketing campaign to go after the small business insurance market.

For the first time, AIG will offer workers' compensation insurance coverage to small businesses in Hawaii. Also, the company's subsidiary American Pacific Insurance Co. will aggressively take over the marketing of commercial, business auto and temporary disability wage-loss insurance.
E-mail to Business Editor
---
---
© 2001 Honolulu Star-Bulletin
https://archives.starbulletin.com