Advertisement - Click to support our sponsors.

---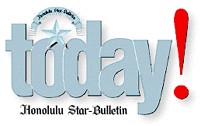 ---
Monday, March 12, 2001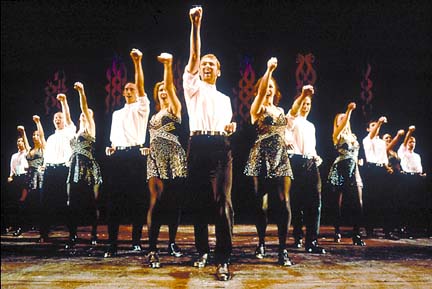 "Spirit of the Dance"
"I had hoped the production would last a year; now we're
in our fifth and I think we can go another five," says
David King, "Spirit of the Dance" producer.
---



---

By Tim Ryan
Star-Bulletin

IN the 1600s, Irish dance masters traveled from village to village giving dance lessons, performing and hosting social dances in exchange for food and lodging.

That tradition remains unbroken, though as befitting the 21st century, the troupes have gone global. Irish troupes now travel throughout the United States and the world enlightening and entertaining the masses with the inspiring cadence and emotion of centuries-old, fine-tuned Celtic dances.

"Spirit of the Dance" features 30 dancers in a two-hour love story combining Irish dance with a passionate storyline and love songs. The show, in its fifth year, opens tomorrow night at the Hawaii Theatre and continues through Sunday.




ON STAGE

What: "Spirit of the Dance: New Millennium"
Dates: 8 p.m. tomorrow through Sunday
Place: Hawaii Theatre, 1130 Bethel St.
Tickets: $25 to $45, available at the Hawaii Theatre box office or Ticket Plus outlets
Call: 528-0506 or 526-4400




There are six "Spirit of the Dance" productions performing worldwide, together reaching an average of 100,000 people a week. The London-based production employs some 250 dancers, 150 technical staff, 50 musicians and 75 management personnel.

"I had hoped the production would last a year; now we're in our fifth and I think we can go another five," said David King, "Spirit" creator, producer and the show's music composer. The Star-Bulletin caught up with King in London.

"Obviously, ('Spirit') owes a debt of gratitude to 'Riverdance,' which got the ball rolling and made the public aware of the excitement of Irish dancing, but 'Spirit of the Dance' has a life force of its own," he said.

"Spirit" is based around a love story in which the ethereal Spirit searches the world for her true love. Along the way, she encounters many different forms of dance, and this creates the story line. Along with Irish dance, the show incorporates jazz, ballet, salsa, flamenco and tap.

"Spirit" dancers performing in Hawaii have been with the company for about three years and range from age 18 to 24. Many are Irish dance champions.

"We also have our own full-time training schools in Dublin and London where new dancers are constantly being groomed to appear in one of the international tours," King said.

The group performs as many as 400 concerts a year, rehearses up to four hours a day, and wears out dance shoes every six weeks, making the production company the biggest shoe buyer in Europe, King said.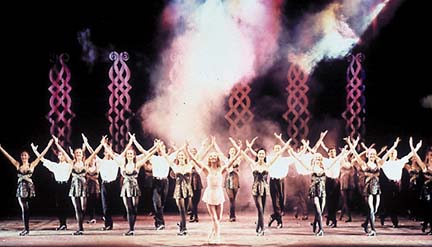 "Spirit of the Dance"
"Spirit" opens tomorrow at the Hawaii Theatre.
---
Creating "Spirit" was a labor of love for King, a former dancer whose broken leg a quarter century ago abruptly ended his career.

"'Riverdance' had just come out in London with Michael Flatley," he said. "Their show was sensational and broke all the barriers of a dance spectacular. They introduced the world to the phenomenon of Irish dance."

But "Riverdance," at that time, was based only in London, when all of Europe wanted to see more of the Irish dance craze. So "Spirit" was born, King said.

It wasn't easy. King, who created the original concept in three months, was unable to raise money to launch the show.

"I went to see the biggest people in the business, but nobody wanted to do it (because) they all said the Irish dance craze wouldn't see the year out, it was just a flash in the pan," he said.

The determined King then broke the two golden rules of shows business: he quit his day job and mortgaged his house for the project.

"Everyone thought I was crazy, except for my family who supported me 100 percent, (though) we knew that if it went wrong we could be living in a cardboard box somewhere," he said. "There comes a time in everyone's life when you have to take a chance and I saw this as the biggest chance of my life. This was the opportunity that could make or break me. I had to go for it."

Opening night at the Hippodrome Theatre in Bristol, England, in September 1996 was a resounding success with critics and the audience who gave the dancers a 5-minute ovation.

"Tears were streaming down my face ... it was as if somebody had unscrewed a massive valve in my head so all emotions could pour out.

"Those two hours were the longest of my life," King said. "When the show ended I knew that the audience was on my side.

"The Irish dance routines are spectacular, but that's only one aspect that makes the production so special," King said. "It's about passion and spirit and love and dancing that touches the soul."






Click for online
calendars and events.
E-mail to Features Editor
---
---
© 2001 Honolulu Star-Bulletin
https://archives.starbulletin.com