Advertisement -- Click to support our sponsors.

---

---
Saturday, February 24, 2001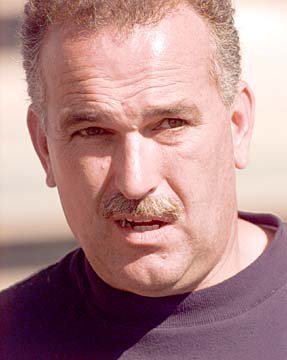 File photo by Ken Ige, Star-Bulletin
June Jones at a football practice before the start of
last year's season. Below, a sports fan expresses
get-well wishes on a banner at an event yesterday.
---
Fans from
all over root
for June Jones


As the UH football coach's
condition continues to improve,
thousands of get-well messages
and prayers bring encouragement

---

By Janine Tully
Star-Bulletin

University of Hawaii football coach June Jones' condition remained guarded this morning, but it could take weeks before he is fully recovered, doctors say.

"He's still not out of the woods, but it's been very positive and we're very encouraged," UH Athletic Director Hugh Yoshida said this morning.

At 11 a.m. today, Queen's Medical Center trauma surgeon and attending physician Neil Fergusson said all of Jones' vital signs remained stable and he continues to move his extremities and respond to doctors' requests.

A lung and chest X-ray showed those areas to be clear, and Jones' abdomen is also fine, Fergusson said in a Queen's press release. Jones is aware he is in the hospital.

Fergusson said yesterday that all abdominal and chest bleeding has stopped and that the injury in Jones' descending aorta has been repaired.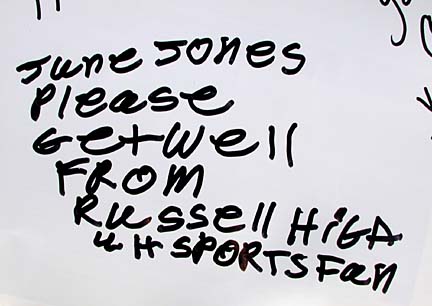 By Ken Ige, Star-Bulletin

---
At a press conference at Queen's yesterday, Fergusson said there is a good chance Jones will be taken off the ventilator soon. Also present were Dr. Michael Dang, a cardiovascular surgeon, and Dr. Gail Tominaga, trauma services medical director.

Jones was taken to Queen's in critical condition after his black 1999 Lincoln Town Car veered off the H-1 freeway and slammed head on into a pillar of the Kamehameha Highway overpass.

He underwent surgery to stop the bleeding in his abdomen and a second one to repair a ruptured aorta. He was upgraded yesterday morning from critical to guarded condition.

Dang, who repaired the bleeding aorta, said the tear was located at the beginning of the major vessel, which funnels blood to the lower part of the body. He said the injured area in the aorta was replaced by a tube-shape graft made of Dacron, about 3 to 4 inches long and 16 millimeters in diameter. He said Jones is not rejecting the graft, which will remain in his body for the rest of his life.

Dang said a tear in the aorta can cause major bleeding, but in Jones' case the blood was contained in the area of the injury and did not go into any other organs.

"That probably kept him alive until he got to the operating room," Dang said.

Fergusson said the quick response by the Emergency Medical Service ambulance also helped save Jones' life.

Longtime friend and UH sportscaster Artie Wilson said he rushed to the hospital as soon as he heard the news.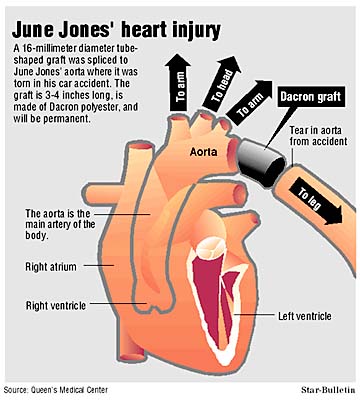 "I was shocked, but I couldn't show emotion because I needed to stay strong for his wife," said Wilson, who has known Jones since they were both 9 and living in Portland, Ore.

Police are still investigating the accident, which occurred at 10:35 a.m. Thursday. Sgt. David Talon, who is in charge of the investigation, said he has been instructed by Chief Lee Donohue not to release further details until police meet with Jones' family next week to discuss the investigation.

Meanwhile, doctors are optimistic. "He's doing very well, surprisingly," said Tominaga. "He's breathing well (through a ventilator), and he can nod yes or no to simple questions."

Doctors still do not know what caused Jones to lose control of his car. They also could not say what the overall prognosis is. Sometimes there can be neurological complications occurring after this type of injury, Dang said.

Wilson, who attended the news conference as a spokesman for the family, said Jones' family is touched by the outpouring of well-wishers, locally and from the mainland, who have expressed their concern for the UH coach.

"The family realizes June is well loved and respected," Wilson said.

People have been calling by the "thousands," he said. Ex-NFL players have called and said, "We love you and we are praying for you."

"June has been quite a fighter," said UH Board of Regents Chairwoman Lily Yao. "I'm sure he'll be fighting for his life."

---

Online aloha
streaming in

Sports fan Web sites are often bastions of tasteless blasts, as anonymous backers of teams take their best -- and worst -- shots at "the enemy."

The Hawaii Rivals site, http://hawaii.rivals.com, is no exception under normal exceptions. Maybe a little tamer overall than mainland sites with less aloha, but the animosity generated by fanaticism does appear at times, from UH loyalists and those of other schools.

But since June Jones' life-threatening car accident Thursday, the site has become a conduit of nearly nothing but get-well wishes for a man who now appears to be not only the most popular person in Hawaii, but a universally well-liked sports figure nationwide.

Here are just a few of the messages.

"Good luck to coach Jones. We just recently hosted your softball team here in Daytona Beach when they played Bethune-Cookman. They were very nice young ladies. Everyone here is hoping coach Jones will be back on the sidelines in September."

"There has been nothing better the past couple of years than the coming of coach Jones to Hawaii. All our prayers and all our love to June Jones and his family."

"Purdue fans wish JJ to get well. Hope your coach gets well soon. Best of luck with your program."

"All Michiganders wish JJ a speedy recovery. I remember our trip a couple of years ago to Oahu. The Bow fans were among the classiest in the country. And they have one of the class guys in our great sport. I'm sure June Jones will once again be leading the Rainbow Warriors."


| | |


How to send your
get-well wishes

Hawaii.com has created a way for residents to send good wishes to University of Hawaii football coach June Jones:

Go to www.hawaii.com, and click on the e-mail link in the "Hot Stuff Box"

Or send a message directly to wellwishes@hawaii.com.

Cards and letters can be sent to:

June Jones
c/o University of Hawaii Sports Media Relations Office
1337 Lower Campus Road
Honolulu, HI 96822

In lieu of flowers, Jones' family has asked that donations be sent to:

American Cancer Society
2370-B Nuuanu Ave.
Honolulu, HI 96817-1714
E-mail to City Desk
---
---
© 2001 Honolulu Star-Bulletin
https://archives.starbulletin.com