Advertisement - Click to support our sponsors.

---

---
Wednesday, February 21, 2001



M A J O R _ _ L E A G U E _ B A S E B A L L
---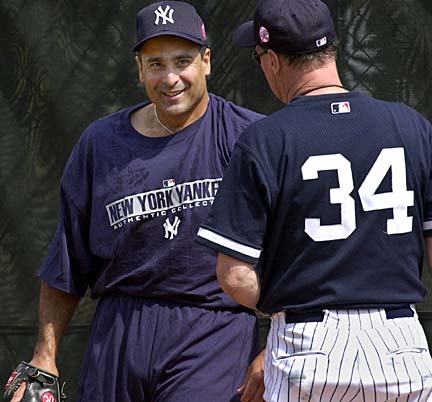 Associated Press
Former Kaiser High standout and New York Mets all-star pitcher
Sid Fernandez talks to Yankees pitching coach Mel Stottlemyre after
throwing in the Yankees bullpen yesterday at Legends Field in Tampa,
Fla., during spring training. The 38-year-old left-hander went 114-96
in 15 seasons for four major league teams.
---
El Sid mounts
a comeback


The Hawaii-born left-handed
pitcher signs with
the Yankees

---


Associated Press

TAMPA, Fla. (AP) - An unexpected face walked into Yankees camp Tuesday: Ex-Met Sid Fernandez, out of baseball since 1997, was given a minor league contract.

"We saw enough where we're intrigued," Yankees general manager Brian Cashman said.

The 38-year old left-hander, 114-96 in 15 major league seasons, went through a 15-minute, 48-pitch audition on Tuesday. He was given No. 36, last worn by David Cone, another former Met.

"It's win-win for me," Fernandez said. "It's exciting to come here. It's not a guarantee. At least I got a shot."

Fernandez was part of the Mets' last World Series championship team in 1986, along with current Yankees pitcher Dwight Gooden.

El Sid, born in Hawaii, pitched for the Mets from 1984-93. His last appearance in the major leagues was when he was in one game for Houston in 1997.

He retired because of what was thought to be an elbow problem. The pain turned out to be related to a nerve in his neck, and Fernandez said he was pain-free.

"What the future takes for both of us now, we'll see," Cashman said. "I wouldn't waste our time if we weren't intrigued, enough to the point where we said let's try it."

Fernandez's agent, Barry Meister, called the Yankees on Monday about a tryout.

Fernandez, who had pitched for scouts last Thursday in Arizona, caught a redeye flight that arrived in Tampa about 6:30 a.m. Tuesday.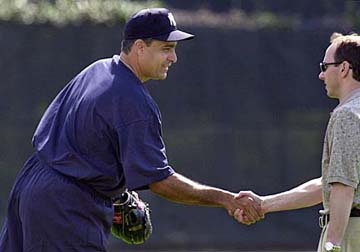 Associated Press
New York Yankees Vice President and General Manager
Brian Cashman, right, welcomes pitcher Sid Fernandez yesterday
to spring training. Fernandez helped the New York Mets
win Game 7 of the 1986 World Series.
---
"I just don't want to look down the road two years, or 20 years, and say 'What if I tried, I should have tried,"' Fernandez said. "So at least now I can say I tried. If it doesn't work out, I tried. I didn't want to look down the road and keeping hitting my head against the wall and saying what if."

The Yankees have had some success with former Mets: Cone became a team leader and Gooden turned into a significant pitcher on last year's team.

"I was shocked," said Gooden, who last saw El Sid during a January reunion of the '86 Mets. "He looks real good."

Fernandez, who had problems with his weight during his career, is about 220 pounds. He has been working out for four months and throwing for a month.

"The ball is flying out of his hand pretty good," said pitching coach Mel Stottlemyre, who was Fernandez's coach with the Mets. "The motion looked good. We'll see what's left and go from there."

Fernandez thought Cone wouldn't appreciate him taking No. 36.

"He's going to be mad," Fernandez joked. "It was the only number they had."

If Fernandez made the team, he would get a $500,000, one-year contract and the chance to earn $150,000 more in performance bonuses.
E-mail to Sports Editor
---
---
© 2001 Honolulu Star-Bulletin
https://archives.starbulletin.com