Advertisement - Click to support our sponsors.

---

---
Monday, February 12, 2001



W A H I N E _ B A S K E T B A L L
---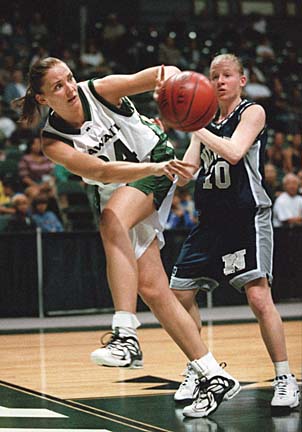 By George F. Lee, Star-Bulletin
Hawaii's Dainora Puida, left, keeps the ball in play
in last night's victory over Nevada.
---
Wahine bruise
Wolf Pack


Hawaii next hits the road
for two straight two-
game trips

---

By Al Chase
Star-Bulletin

The University of Nevada came to town to challenge Hawaii in the same manner the Wahine did in Reno a week ago.

For 32 minutes the teams battled and bloodied noses with pressure defenses that made establishing an offensive rhythm difficult.

Finally, with 7:59 left to play, Karena Greeny's three-point play gave the Wahine a 10-point lead, 52-42. They maintained the double-digit margin the rest of the game en route to a 74-52 victory at the Stan Sheriff Center.

Hawaii countered 23 points by Nevada's standout center, Kate Smith, by putting four players in double figures. Jana Gabrielova, Crystal Lee and Dainora Puida each scored 14 points and Kylie Galloway contributed 10.

"Everyone stepped up a notch," Galloway said. "Dainora is playing great offensively and Crystal is her steady self. I look for my opportunities and I also look for the scoring opportunities of others."

The WAC win kept the Wahine in second place. They now prepare for a pair of difficult two-game road trips.

Hawaii plays Southern Methodist in Dallas on Friday, then head to Houston for a Sunday game against Rice. The next weekend, UH starts a road trip at San Jose State Feb. 23, then returns to Texas Feb. 25 to play league-leading TCU.

Hawaii coach Vince Goo began preparing the team after last night's victory.

"Vince told us the next two weeks are the most vital for us," said Lee, who turned her right ankle late in the first half, but returned to score 10 points in the second half.

"We're 4-0 on the road, but we have the toughest teams yet to play. So, we're not going in overconfident by any means. "We'll just go out and play our game."

The Wolf Pack closed the first half with a 15-7 run that left UH holding a 31-28 lead.

Nevada pulled into a 35-35 tie early in the second half. Smith had four points and Ashley Bastian, the No. 2 3-point shooter in the WAC, made her only trey.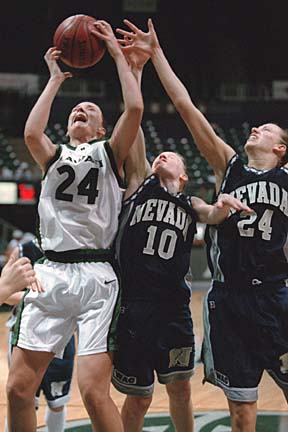 By George F. Lee, Star-Bulletin
Hawaii's Dainora Puida (24) grapples for a rebound
against Nevada's Angie Heer and Katie Golomb.
---
Hawaii hung on to a slim lead for the next four minutes before taking control with a 17-7 burst.

Lee led the way with six points, and during that period, UH converted 10-of-11 free throws.

Nevada did get the deficit down to 11 points (63-52) with 3:52 left as Smith scored seven points, but that was a close as the Wolf Pack got.

"Smith is an outstanding one-on-one offensive player," Goo said. "We defended her well at times and not at others A lot of times it's just her basketball ability.

"I don't think they got into their offense very well in the first half and I don't think we did either."

"They put pressure on with the man defense. They did a real good job. We had spurts where we attacked and went right at it, then we had situations where we were back on our heels and let the pressure get to us."

It wasn't that the Wahine didn't hit their shots (48 percent from the field in the first half). It was more like they weren't getting shots off.

One telling statistic in the second half was Nevada's 24 percent shooting from the field after hitting 44 percent in the first half.

Lee turned her right ankle on a driving layup attempt. The trainers iced the ankle immediately and it was retaped at halftime.

"I'm a player who never gets injured, knock on wood," Lee said. "It will be OK. I played on it later, which is a good thing."

Poll sitting:

Hawaii received five points in today's Associated Press poll, the same as last week.

Hawaii 74, Nevada 52

Wolf Pack (5-6 WAC, 12-11 overall)

| | | | | | | | | |
| --- | --- | --- | --- | --- | --- | --- | --- | --- |
| | fg | fga | ft | fta | min | reb | a | tp |
| McGlaston | 1 | 3 | 0 | 0 | 11 | 1 | 0 | 2 |
| Heer | 1 | 7 | 0 | 0 | 33 | 2 | 4 | 2 |
| Bastian | 2 | 6 | 0 | 0 | 28 | 8 | 2 | 5 |
| Larsen | 3 | 12 | 1 | 2 | 31 | 4 | 2 | 8 |
| Williams | 0 | 6 | 2 | 2 | 14 | 3 | 1 | 2 |
| Estrada | 4 | 7 | 0 | 0 | 19 | 1 | 0 | 8 |
| Golomb | 0 | 4 | 3 | 4 | 28 | 6 | 1 | 3 |
| Smith | 9 | 17 | 4 | 8 | 36 | 10 | 2 | 23 |
| Team | | | | | | 0 | | |
| Totals | 20 | 62 | 10 | 16 | 200 | 35 | 12 | 52 |

Wahine (9-2 WAC, 18-4 overall)

| | | | | | | | | |
| --- | --- | --- | --- | --- | --- | --- | --- | --- |
| | fg | fga | ft | fta | min | reb | a | tp |
| Galloway | 4 | 9 | 2 | 2 | 36 | 2 | 3 | 10 |
| Gabrielova | 4 | 6 | 4 | 4 | 32 | 1 | 5 | 14 |
| Roper | 3 | 3 | 1 | 2 | 20 | 3 | 0 | 7 |
| Brossman | 0 | 3 | 0 | 0 | 11 | 2 | 1 | 0 |
| Gabriel | 0 | 1 | 0 | 0 | 7 | 1 | 0 | 0 |
| Lee | 3 | 5 | 8 | 9 | 26 | 2 | 0 | 14 |
| Puida | 2 | 3 | 10 | 11 | 20 | 7 | 1 | 14 |
| Atuaia | 2 | 7 | 4 | 5 | 22 | 4 | 0 | 8 |
| Allen | 0 | 1 | 1 | 2 | 4 | 2 | 0 | 1 |
| Greeny | 2 | 3 | 2 | 3 | 22 | 4 | 2 | 6 |
| Team | | | | | | 5 | | |
| Totals | 20 | 41 | 32 | 38 | 200 | 33 | 18 | 74 |

Key--fg: field goals; fga: field goals attempted; ft: free throws; fta: free throws attempted; min: minutes; reb: rebounds; a: assists; tp: total points.

Halftime score-Hawaii 31. Nevada 28.

3-point goals-Nev. 2-10 (Bastian 1-1, Larsen 1-3, Heer 0-2, Golomb 0-2, Smith 0-2), UH 2-9, (Gabrielova 2-2, Brossman 0-1, Lee 0-1, Atuaia 0-1, Galloway 0-3). Personal fouls-Nev. 24, UH 13. Fouled out-Smith. Steals-Nev. 2 (Bastian, Estrada), UH 6 (Atuaia 3). Blocked shots-Nev. 5 (Williams, Estrada 2), UH 3 (Roper 3). Turnovers-Nev. 16 (Golomb 4), UH 18 (Gabrielova 5). Technicals-Nevada bench. Officials-Fujimoto, Myles, Lewis. A-948.

WAC standings

Conference




Overall
Team
W
L
Pct.
W
L
Pct.
Texas Christian
9
0
1.000
17
4
.810
Hawaii
9
2
.818
18
4
.818
So. Methodist
7
4
.636
12
10
.545
Nevada
5
6
.455
12
11
.522
Rice
4
5
.444
12
9
.571
Fresno State
4
7
.364
8
15
.348
San Jose State
4
8
.333
12
11
.522
Tulsa
3
7
.300
7
15
.318
Texas-El Paso
3
9
.250
7
16
.304

Yesterday's results

Hawaii 74, Nevada 52

San Jose State 73, Fresno State 59

Tulsa 75, Texas-El Paso 71

Today's game

Rice at Texas Christian

---




UH Athletics
Ka Leo O Hawaii
E-mail to Sports Editor
---
---
© 2001 Honolulu Star-Bulletin
https://archives.starbulletin.com