Advertisement - Click to support our sponsors.

---

---
Monday, February 12, 2001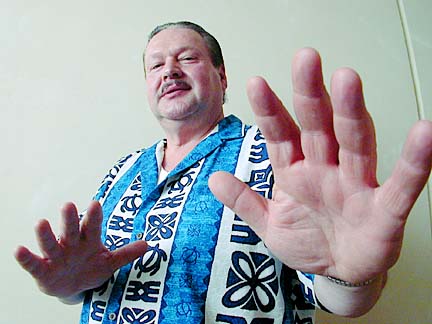 By Craig T. Kojima, Star-Bulletin
Daniel Heidt, a professional bodyguard, speaks to groups
about school and workplace violence.
---
School violence
can be predicted,
says pro bodyguard


Watch for students with problems
at both home and school, advises
bodyguard Daniel Heidt

---

By Mary Adamski
Star-Bulletin

When the teen-agers at Hawaii Youth Correctional Facility gathered to hear the bodyguard to the rich and famous, they may have expected war stories about martial-arts skills overwhelming attackers.

But what Daniel Heidt told them recently was about giving the other guy respect, treating him with dignity and even backing away from a fight.

"I think kids want options to violence; they want to be safe," Heidt said. A professional bodyguard for 31 years, the husky martial-arts teacher from Caldwell, Idaho, is here pursuing his second career, lecturing about school and workplace violence.

Heidt is an unashamed namedropper. He showed the juvenile inmates his scrapbook photos of bodyguard duty with actors Bruce Willis and Julia Roberts, athletes David Robinson and Mary Lou Retton, musicians Sammy Davis Jr. and Jimi Hendrix, and even for World Championship Wrestling star Bill Goldberg.

He also circulated his photos among teachers at a later speech at the Lutheran Education Conference.

"It gets their attention. It's a perfect avenue that leads into talking about violence, and how to head it off," said Heidt, who also has credentials as a youth counselor.

The name he dropped at the conference was "Columbine," and it got the undivided, hushed attention of teachers from Hawaii's seven Lutheran schools.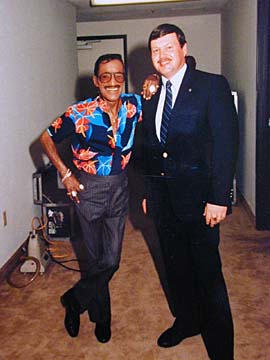 Courtesy photo
Photos such as the one with Sammy Davis Jr. helped Daniel
Heidt make an impression at the Hawaii Youth Correctional
Facility in a visit earlier this month.
---
Heidt joined the relief effort in Littleton, Colo., following the April 20, 1999, shootings that turned the high school's name into a household word equated with school violence.

He has worked at several other schools where violence occurred and was hired by the U.S. Postal Service to present workshops on defusing workplace violence.

"You may be inclined to say that only happens in public schools," he told the teachers. "There are kids in Lutheran schools, too, who are angry and planning attacks."

Heidt said there's a school of thought that there is no way to predict school violence. But he said, "I don't believe there are no indicators."

He advised watching for a student who has problems at home, "then at school, is getting teased or abused. Don't tell yourself, 'Oh, that's just our school; kicking or spitting is what they do.'

"Watch how students treat each other, who is being teased and bullied. It's not the bully who commits the shooting," the bodyguard said. "I think conflict resolution should be taught in every school. When a student has lost hope, and has no support from teachers and other kids, it's a recipe for disaster."

He said the key to safe schools is to get people working together. He suggests putting students on the security team and getting them involved in peer mediation.

Heidt advised the adults to keep calm when a student lashes out in anger and to "let them vent, even if they swear. Give people some space to breathe so they don't feel closed in. The days of getting in their face are gone. Don't make it personal with name-calling. Try to keep it focused on what they're angry at."

Heidt told teachers to be alert to what's happening around them.

"If somebody comes on campus and you don't feel right about it, trust your instincts. Check it out," he said. "School violence is a mirror of what goes on at home, in the community. It is just vented in school."
E-mail to City Desk
---
---
© 2001 Honolulu Star-Bulletin
https://archives.starbulletin.com