Advertisement - Click to support our sponsors.

---

---
Monday, February 12, 2001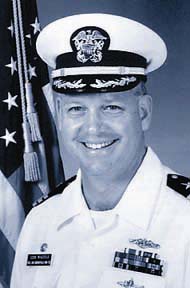 Cmdr. Scott Waddle
USS GREENEVILLE
"He is a superb Navy
officer," one says.
---
Waddle is called
'dynamic leader'


Submariners have nothing but
praise for the USS Greeneville's
commander

---

By Janine Tully
Star-Bulletin

Fellow submariners say Cmdr. Scott Waddle of the USS Greeneville is the kind of leader you would want to follow into battle.

"He is a superb Navy officer," said John Peters, a retired nuclear submarine captain who is the secretary and treasurer of a group of submariners that meet monthly in Honolulu.

"I was surprised it was the Greeneville," Peters said of the collision. "That's a good boat with a good C.O. (commanding officer)."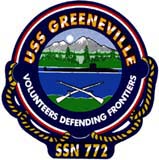 Peters said Waddle was a member of the Bowfin Base, the local chapter of the United Submarine Veterans Inc. The submariners share experiences, hold memorial services for lost submariners, put out a newsletter, attend conventions and raise money for scholarships.

"If he's here and if the ship is in port, he frequently attends (meetings)," Peters said. "He's extremely smart, very energetic. He's a dynamic leader."

Bowfin member Stan Cook, a former Honolulu police officer and retired chief warrant Navy officer, said Waddle is "a regular kind of guy who you'd never know he was a commanding officer."

"These things happen," Cook said. "It's a once-in-a-lifetime freak accident."

But the question gnawing most people is what went wrong. "What was not done to allow an accident to happen?" Peters said.

Waddle has been reassigned to the staff of Rear Adm. Al Konetzni Jr., commander of Submarine Forces Pacific, pending the outcome of the investigation.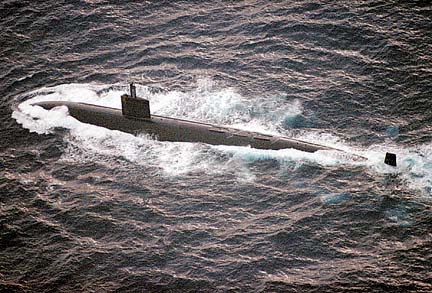 By George F. Lee, Star-Bulletin
The USS Greeneville at the accident scene shows damage from
the collision on the port side, just below the sail, at the waterline.
---
Waddle has been commander of the USS Greeneville since March 19, 1999.

At the time of his commission he was quoted as saying: "I'm really looking forward to this duty. The crew is superb. Everyone works together, and that's why they're one of the best boats on the waterfront."

A native of Austin, Texas, Waddle graduated from the United States Naval Academy in 1981 with a bachelor of science in chemistry.

In 1983, he served on the ballistic missile submarine USS Alabama, before it was commissioned, as electrical officer and damage control assistant.

Waddle was stationed in Hawaii in 1992 and assigned to the CINCPAC staff. He also served as the executive officer of the USS San Francisco, a Pearl Harbor-based sub until 1995.

Following his tour on the USS San Francisco, Waddle attended the National Defense University Industrial College of the Armed Forces in Washington, D.C., where he earned a masters degree in National Resource Strategy.

He has received several military decorations, including the Meritorious Service Medal, the Navy Commendation Medal and the Navy Achievement Medal.
E-mail to City Desk
---
---
© 2001 Honolulu Star-Bulletin
https://archives.starbulletin.com