Advertisement - Click to support our sponsors.

---

---
Monday, February 12, 2001
Recovery possible
but very difficult


The director of UH's Undersea
Research Laboratory says it would
be possible, but costly, to
raise the trawler

---

By Treena Shapiro
Star-Bulletin

Recovering the wreckage of a Japanese fishing vessel from a depth of 1,866 feet would be possible, but an expensive and difficult procedure, according to Alexander Malahoff, director of the Hawaii Undersea Research Laboratory.

The Ehime Maru sank Friday about 10 miles south of Diamond Head after a collision with a Navy nuclear-powered attack submarine that had been performing an emergency surfacing drill when it cut through the ship's hull. The Japanese prime minister has called for the United States to raise the ship.

Malahoff said the ship could be raised by surrounding it with cables and attaching lift bags, which, when inflated, could raise the ship in 100 foot increments. "That would be quite a technical task to do it," he said. "Whether it's worth salvaging or not is another story."

Deep sea diver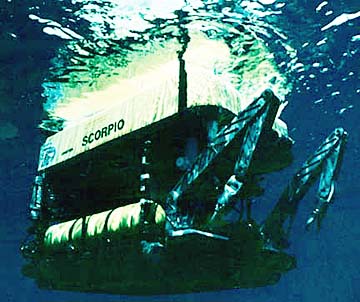 Super Scorpio Remote Operated Vehicle:


Function: Deep sea recovery


Maximum depth: 5,000 feet


Weight: 4,500 pounds
---
The Hawaii Undersea Research Laboratory is one of five deep submergence facilities in the world, and one of two in the United States, Malahoff said. The lab owns a mother ship and two deep-sea submersibles with external manipulators, or arms. Researchers using the submarines generally take them to a depth of 6,000 feet.

Since the mother ship is currently out to sea, Malahoff said his crew would not be prepared to do an exploratory mission to the Ehime Maru until late next week. The undertaking would cost $20,000 a day, considerably less than it would cost to contract a commercial company, he said.

The Navy has not asked for his assistance, however. "I haven't heard from the Navy yet, but we're here and we're ready," he said.

As a researcher, Malahoff said his crew could perform inspections and take photographs from a safe distance, but he was unsure whether he could help recover any of the wreckage. "Certainly if it was material outside of the ship we can do things with that, but if it's inside the ship, we don't go into wreckage with a submarine," he said, noting that getting close to the wreckage could cause the sub to become entangled. "You don't endanger the people inside the research sub. We try to keep away from any wreckage," he said.
E-mail to City Desk
---
---
© 2001 Honolulu Star-Bulletin
https://archives.starbulletin.com