Advertisement - Click to support our sponsors.

---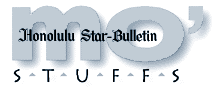 ---
Monday, February 12, 2001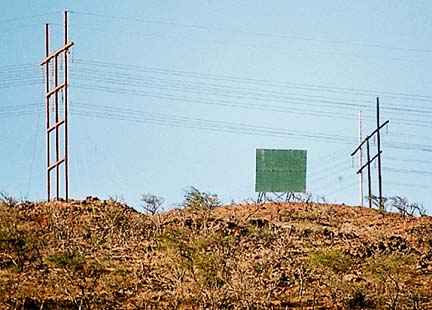 By George F. Lee, Star-Bulletin
Power poles frame a large board used to direct
microwave signals from Honolulu to Kahe Point.
---
Bank shot gets
communications signal
to Waianae
Up in the hills of the Waianae Coast, just past Ko Olina, John Dorsey of Honolulu has noticed, "for want of a better description, a tan drive-in movie screen."

He goes on to say he's sure it isn't a drive-in movie screen -- since there's no way to drive in to it! -- and there's at least one more "screen" above Waianae itself.

Mainlanders, of course, would think it was a billboard.

Our first clue is the electrical lines bracketing the object. They lead downhill to the Kahe Point Power Plant. From Honolulu, the view toward the power plant is shielded by the hump of the Waianae mountains dribbling down toward the shore.

Hawaiian Electric, according to their spokes-folks, keeps in touch with the plant via microwave signals. Microwaves are great at that sort of thing, keeping the signal fresh and strong over a distance. Just one problem: microwaves work by line-of-sight. They don't bend around mountains.

So to reach the Kahe Point plant, Hawaiian Electric erected this flat thing in the hills, precisely angled. The microwave signal is squirted out from Honolulu, zips over the south shore of Oahu, slams into the board -- bang! a bank shot! -- and is deflected down into the power plant antennaes.

Movies probably could be shown on the "screen," if you could get up there to do so. Just remember to bring microwave popcorn.
---
Burl Burlingame, Star-Bulletin
---
Big Break for Waipahu man
Tino Isaac of Waipahu moved on to the finals of the performance competition television series "Your Big Break" with his winning rendition of "I Just Called to Say I Love You" on the semi-final program that aired last night.

The finals, airing 11 p.m. Feb. 25 on KGMB/CBS, will decide the grand-prize winner, who will be awarded $25,000.

Another Hawaii man, Mililani's Garry Moore , will perform in the last semi-final round, which airs Sunday. Last month Moore made the cut by singing "Good Golly Miss Molly."
---
Dakine

Everyday intrigue
Everyday items used by Japanese Americans living in Hawaii through the last century are on exhibit at the Japanese Cultural Center of Hawaii Gallery through April 16.

"Mainichi Mono: Everyday Things" include such household items as kezuriki (vegetable grater-slicer), bento bako (lunch boxes), porcelain neck pillows, carpentry tools and hinoshi (charcoal irons).

The exhibit also show the technological and design evolution of such items from manual to electric, metal to plastic.

Gallery hours are Tuesdays through Saturdays, 10 a.m. to 4 p.m. Information: 945-7633.
Fest in Kaimuki
Sacred Hearts Academy's "Superfair 2001" community fair is Feb. 23 and 24 from 11 a.m. to 10 p.m. at 3253 Waialae Ave. in Kaimuki.

Food, games, rides, baked goods, fresh produce, tropical plants, arts and crafts, and other activities for the family will be available.

Call Andrea Hamilton at 734-5058, extension 229 for more information.
Late shoppers' serenade
Kahala Mall is celebrating Valentine's Day by giving out free treats while supplies last at noon Wednesday. Heartstrings, a viola and guitar duo, will play from 3 to 4 p.m., and Randy Focht will provide romantic sax music from 5 to 6 p.m. to round out the day.

On Friday and Saturday, the Hawaii Council of Engineering Societies will put on an interactive display near Liberty House to promote the National Engineers Week theme, "Turning Ideas into Reality."

The Queens Heart Institute Health Fair will be 10 a.m. to 3 p.m. at center stage Saturday. The "Healing Health Fair" will offer advice on alternative methods to treat and prevent heart disease.

Kalani High School will promote a Drug Free Awareness Program for children at a booth near Liberty House from 3 to 3:30 p.m. Feb. 18.
Gala summons
Dress in vintage aloha attire for the "Waikiki Calls" gala March 9 at the DFS Galleria Waikiki.

The event is a benefit for the Washington Place Foundation, an organization that hopes to convert the governor's mansion into a museum.

A buffet by Indigo restaurant, shopping with 20 percent discounts at the Galleria's shops and stage performances by Neil Sedaka, Martin Nievera and others will highlight the event.

Tickets for the gala, which will run from 6:30 to 10:30 p.m., are $250 with all of the money going to the foundation.

For tickets, call Stryker Weiner & Yokota Public Relations at 523-8802.
---
Radio Log

KONG 570-AM / 93.5 FM: Adult contemporary rock with some Hawaiian music
KSSK 590-AM / 92.3-FM: Adult contemporary music
KHNR 650-AM: CNN news, sports
KQMQ 93.1-FM: The Q, '80s and '90s hits
KQMQ 690-AM: Radio Disney
KGU 760-AM: Talk, news, sports
KHVH 830-AM: News, talk, traffic, weather
KAIM 870-AM / 95.5-FM: Christian music and teaching
KJPN 940-AM: Japanese-language shows
KHBZ 990-AM: Business talk radio
KIKI 93.9-FM: Contemporary country AM; contemporary hits FM
KLHT 1040-AM: Christian radio
KWAI 1080-AM: Talk radio
KZOO 1210-AM: Japanese-language shows
KNDI 1270-AM: Live news from the Philippines; programs in 10 languages
KIFO 1380-AM: News, public affairs
KCCN 1420-AM / 100.3-FM: All talk / UH sports AM; contemporary island hits, FM
KUMU 1500-AM / 94.7-FM: Adult standards, AM; light rock, FM
KHPR 88.1-FM: Classical, news, public affairs
KIPO 89.3-FM: Jazz, classical, news
KTUH 90.3-FM: Jazz, blues, Hawaiian, rock, country and alternative
KKUA 90.7-FM: Classical, news, public affairs
KKCR 90.9 / 91.9-FM: Hawaiian music, midnight-3 p.m.; and rock, reggae, classical and new age
KRTR 96.3-FM: Adult contemporary music and news
KPOI 97.5-FM: Modern rock
KDNN 98.5-FM: Contemporary Hawaiian
KORL 99.5-FM: Adult contemporary
STAR 101.9-FM: Modern hits
KKHN 102.7-FM: "Da Bomb" top 40 hits
KXME 104.3-FM: Top 40
KINE 105.1-FM: Hawaiian
LAVA ROCK 105.9-FM: Alternative rock
KGMZ 107.9-FM: Oldies


Click for online
calendars and events.
---
Send WatDat? questions, stories
or any other story ideas or comments to:
Features, Honolulu Star-Bulletin, P.O. Box 3080,
Honolulu, HI 96802 or send a fax to 523-8509
or E-mail to features@starbulletin.com.
Please include your phone number.
E-mail to Features Editor
---
---
© 2001 Honolulu Star-Bulletin
https://archives.starbulletin.com