Advertisement - Click to support our sponsors.

---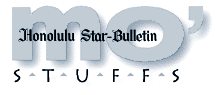 ---
Tuesday, February 6, 2001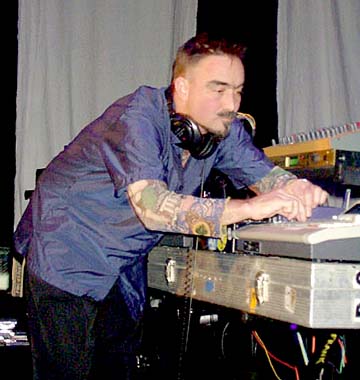 www.8fatfat8.com
Frank Orrall in performance.
---
New development
in Orrall history
Frank Orrall, founder of Poi Dog Pondering, shows off his latest project, 8FatFat8, in its Hawaii debut today and tomorrow at Wave Waikiki.

The former local musician, who's taken Poi from Hawaii to Austin, Texas, to Chicago, last appeared here in August 1999. 8FatFat8 is his Chicago-based side project, serving up "body music" or what critics have described as "deep spiritual and tribal grooves."

Tonight's show is for ages 21 and up. Tickets will be $5 at the door.

Tomorrow's show is for ages 18 and up, with tickets $10 for those under 21, $5 for legals.

Wave Waikiki is at 1877 Kalakaua Ave. For more information, call 941-0424.
---
Preview
Coming to the big screen

These movies are scheduled to begin their Oahu run on Friday:

Hannibal
Rated R
Hannibal returns to America and attempts to make contact with disgraced Agent Starling and survive a vengeful victim's plan. Stars Anthony Hopkins and Julianne Moore.

Saving Silverman
Rated PG-13
A pair of buddies conspire to save their best friend from marrying the wrong woman.
---
Scoops
Scholarships and more

Poetry contest: Starbucks and Windward Community College are hosting the annual "Star Poets" contest for students in grades 3-12.

Entry forms must be signed by a parent or guardian and postmarked by March 1. Winning poems will be published in the Star Poets 2001 Journal.

Call Sherri Rigg at 395-5859, email starpoets@hotmail.com; or call Libby Young at 235-7396 for rules and entry forms.

Vegetarian essay contest: The Vegetarian Resource Group is sponsoring an essay contest for students 18 and under. Entrants should submit a two-to-three page essay on any aspect of vegetarianism or veganism.
Contest age categories include: 8 and under; 9-13; and 14-18. The essay should be based on interviewing, research and personal opinion. Mail to: The Vegetarian Resource Group, P.O. Box 1463, Baltimore, MD 21203 by May 1. Include name, age, address, telephone number, grade, school and teacher's name.

Tzu-Chi scholarships: High school seniors who demonstrate excellence in both community service and academics may apply for Tzu-Chi scholarships. Ten scholarships of $2,000 will be awarded.
Applications can be obtained from high school offices or by contacting: Buddhist Compassion Relief Tzu-Chi Foundation USA, Attention: Scholarship Program Coordinator, 100 N. Beretania St., Suite 122, Honolulu, 96817. Call Lih Ashley at 626-2465 for details. Deadline for submissions is March 1.


Click for online
calendars and events.
---
Send WatDat? questions, stories
or any other story ideas or comments to:
Features, Honolulu Star-Bulletin, P.O. Box 3080,
Honolulu, HI 96802 or send a fax to 523-8509
or E-mail to features@starbulletin.com.
Please include your phone number.
E-mail to Features Editor
---
---
© 2001 Honolulu Star-Bulletin
https://archives.starbulletin.com