Advertisement - Click to support our sponsors.

---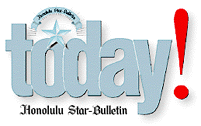 ---
Wednesday, January 31, 2001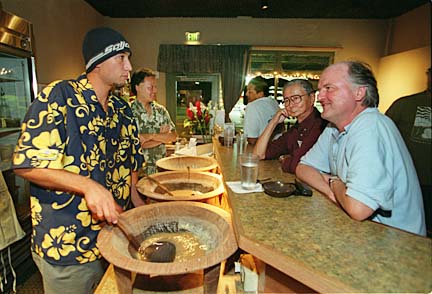 By Dennis Oda, Star-Bulletin
Kawika Winter stirs the 'awa while chatting with Manuel
Wisotzky, right, and Masakazu Sugiura at Hale Noa.
---
Getting to the root


Taste is the least concern
in understanding 'awa

---

By Betty Shimabukuro
Star-Bulletin

"Tastes like dirt."

"Tastes like an unwashed potato."

"Tastes like the inside of my shoes."

How do people know these things, anyway? Do they lick their shoes so they have a basis of comparison?

Whatever, all these comments were heard at Hale Noa, the Kapahulu 'awa bar, from people who actually like the stuff. Because while the taste is nothing to write home about, this traditional drink offers spiritual and health benefits that are turning more and more people into regular imbibers.




'AWA INSTRUCTION

Class times: 6:30 to 8:30 p.m. Tuesdays for three weeks beginning Feb. 6. Second session begins March 6, also for three Tuesdays.
Place: Honolulu Community College, Building 2, Room 111
Cost: $25 per night
Call: 845-9296
Online info: www.hawaiiankavacenter.com




With most bad-tasting things that are good for you, the preferred manner of ingestion is a pill -- goes down without tipping off the taste buds -- or perhaps a tonic swallowed quickly, while holding your breath. 'Awa can be had that way, but the recommended way is to sip it in all its sludgy splendor, socially and ceremonially, like a fine wine.

Why? Culturally, 'awa is a link to pre-contact Hawaii, when the drink eased the aches of the work day and was also a sacred, ceremonial part of religion. Medicinally, it relaxes, relieves pain and inflammation -- and regular drinkers say it does this without making you stupid, as alcohol can.

Jonathan Yee, an 'awa farmer, and Kawika Winter, a botany student, will explore all these aspects in a series of classes beginning next week .

Quick take: 'Awa is the Hawaiian name for a taro lookalike with gnarly roots from which the drinkable essence is extracted. Kava is its Western name; Piper methysticum, the scientific. Its traditional use reaches throughout the Pacific islands.

'Awa is sold in ground and pill forms in health-food stores and some pharmacies as an alternative to drugs for treating anxiety, sleeplessness and pain. The active ingredient is kavalactone. The federal government considers it a food supplement, not a drug.

Yee calls it a "pharmacological enigma," because it yields so many therapeutic benefits without side effects -- except, in some people, for a drying of the skin.

Beyond all that, and beyond the cultural connection, you also can come at 'awa from the economic direction. As a cash crop, 'awa has an established export market.

Yee and Winters will touch on all these points in their classes, which are offered in three parts: a cultural introduction to 'awa and how to prepare it, a survey of its economic potential and a taste comparison of different 'awa varieties.

The two instructors are serious disciples of 'awa and have made the drink a daily part of their lives. Winter has been studying the plant for more than a year as he prepares his master's thesis in ethnobotany.

He recalls first tasting 'awa at a ceremony at Iolani Palace. "The taste wasn't the big thing. It was part being in the ceremony, part pride in being Hawaiian."

sss

Hale Noa is a mellow place. Voices are low; talk is congenial. It's not at all a typical boisterous, smoky bar, where the noise level rises as inhibitions fall.

Ernie Cruz of the Ka'au Crater Boys comes here two or three times a week. He says he's been drinking 'awa since he had knee surgery last August. He points to the scar on his leg and says the painkillers his doctor gave him made him nauseous.

By Dennis Oda, Star-Bulletin
Gathered behind the bar at Hale Noa are, from left, Makani
Ortogero, Jonathan Yee, Tim Rieth, Kawika Winter and
owner Keoni Verity. Yee and Winter are teaching classes
on 'awa at Honolulu Community College.
---
'Awa takes away the pain -- and also helps him focus when performing, Cruz says. "I sleep good, too. It's a really deep sleep." And never a hangover.

He says he usually has two bowls at Hale Noa, "or sometimes three, four, maybe five, if I gotta prove something."

Drinking 'awa comes with some ceremony, which varies throughout the Pacific. In Vanuatu, the tradition is to face the wall, close your eyes and drink, then go outside and spit, says Keoni Verity, owner of Hale Noa.

At his bar, though, drinkers will stir their bowls with their fingers, then flick a small amount of 'awa behind them, in an offering to the ancestors.

sss

Verity opened this bar 18 months ago, borrowing money from family to get it started. "By the third month we were able to pay our bills based on our sales."

It is a business and his livelihood, but Verity says his motive is also to perpetuate the culture and "simply to express my being Hawaiian everyday."

He hopes other bars will open so that a "drinking market" grows in Hawaii to sustain the 'awa-growing industry.

Yee says Hawaii farmers can't produce the crop as cheaply as other Pacific islanders and so must create a market for a higher quality Hawaiian product, the way Kona farmers have promoted their coffee.

Winter says some older Hawaiians he has interviewed view 'awa only in connection with the old religion. They see commercialization of the plant as selling out, he says, but they are missing the larger part of 'awa in Hawaiian life.

Verity says a commoner might have taken 'awa daily to ease the aches of a day's labor and to bring about a restful sleep. The kahuna, meanwhile, would use it in religious ceremonies and the ali'i would use it in political and social settings. It was social, recreational and medicinal, he says, but always taken with proper ritual.

A parallel -- although admittedly simplified -- can be found in the Western reverence for wine, Verity says.

"You can eat it with cheese and crackers, or you can use it in religious ceremony as the blood of Christ. You can also make it into Champagne and christen a boat with it."






Click for online
calendars and events.
E-mail to Features Editor
---
---
© 2001 Honolulu Star-Bulletin
https://archives.starbulletin.com