Advertisement - Click to support our sponsors.

---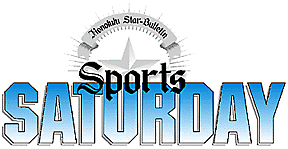 ---
Saturday, January 27, 2001



P R O _ B O W L
---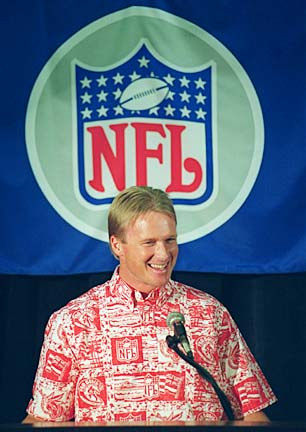 By Dennis Oda, Star-Bulletin
Oakland Raiders' coach Jon Gruden addresses the media
during a Pro Bowl press conference yesterday at the Hilton
Hawaiian Village. The Pro Bowl is at Aloha Stadium on Feb. 4.
---
Gruden's
Pro Bowl glow


The Oakland coach, proud of his Raiders'
accomplishments, will try to lead the
AFC to a win in the NFL
all-star game

---

By Paul Arnett
Star-Bulletin

Jon Gruden stood against a wall, his hands clasped in front of him like an altar boy waiting for communion.

The youngest coach in the National Football League has an impish quality about him. It's not hard imagining him as a child, breaking from his desk for recess, glad he can finely cut loose and let his other side come out and play.

He's idly talking about the just-completed season. Yeah, we're still in the tank about not being in the Super Bowl. But if you can't be in Tampa this weekend, a 10-day stay in Hawaii, courtesy of the NFL, isn't a bad consolation prize.

Suddenly, he snaps out of the controlled rhetoric, holds his hands apart as if he's showing the world his heavyweight title belt, just won in a hard-fought battle in the ring.

"We're still the champs of the AFC West," he said, his arms returning to his side, but only briefly. He points at an imaginary target somewhere over your shoulder, and says, "That's saying something for a team that three years ago finished last in our division and last in the league in rushing. This year, we finished first in both."

Gruden is proud of those accomplishments. In 1998, he took a team that was only a shell of its former self and restored the pride in the once feared silver and black. Every game, TV cameras and photo journalists are trained on Gruden, hoping for one of his ever-changing expressions of joy, anger, disappointment and relief. While Tom Landry's face remains etched in stone, Gruden's tells a story on every play.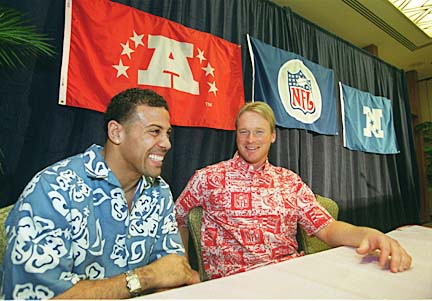 Tennessee's Blain Bishop, left, and Oakland Raider's coach
Jon Gruden had a good time at yesterday's news conference.
---
He is back against the wall, the AFC title belt put away for now. He and NFL media contact Michael Signora are waiting for the room to fill with local reporters, who are here today to see what the future of the NFL looks like. As of now, it's one of concern.

The conversation has turned to the local coaching scene, the amazing turnaround engineered by June Jones and the demise of former UH head coach Fred vonAppen, who was fired by the Minnesota Vikings last week.

VonAppen and Gruden coached together at the University of Pittsburgh. The thought of those days brings a brief smile to Gruden's face as he recalls the unusual vonAppen.

"He is one of the most interesting coaches I've ever met," Gruden said. "He's an intellectual. Very smart. Very well-read. Loves the classics. It's a shame things didn't work out here. But he's a helluva coach. I liked working with him. It's tough what happened to him in Minnesota. I haven't talked with him yet, but my wife spoke with (Thea). I hope something works out for him. It sure did for June. He really seems to have it going. To come in here and do what he did, well, it shows he's a great coach and motivator."

Gruden is well-versed in both categories. He joins Signora on the dais and eventually answers questions of his stay in Hawaii --who will win the Super Bowl and whether his intense style of coaching will be a comfortable fit in this week's relaxed all-star setting.

"We're going to play hard and we're going to try to win," Gruden said. "But obviously, we don't want to get anyone hurt. This is a players' game. To be honest with you, I'm going to be honored meeting them and shaking their hands."

Afterward, Gruden is asked a few more questions about his own team and what the Raiders need to do to get to the ultimate game. No, he's not going to do any recruiting while mingling with the game's best. In the NCAA, that leads to probation. In the NFL, it's called tampering and there are heavy fines for such actions.

But then that impish grin returns, as he heads for the door.

"I like our team the way it is," Gruden said. "But that won't keep me from looking this week because you never know who might come your way."
E-mail to Sports Editor
---
---
© 2001 Honolulu Star-Bulletin
https://archives.starbulletin.com