Advertisement - Click to support our sponsors.

---

---
Thursday, January 25, 2001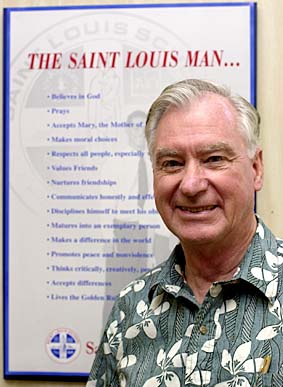 By Ronen Zilberman, Star-Bulletin
Father Allen DeLong, St. Louis School head,
with the "Saint Louis Man" credo.
---
Look for the
'Saint Louis Man'
to stand tall


The school's president wants
his students to make a difference
in the world and to
be responsible

---

By Mary Adamski
Star-Bulletin

There's a new poster up on the St. Louis School campus, not a souvenir of sports victories or an ad for the latest play by teen thespians.

"A Saint Louis Man," it says, "Believes in God, makes moral choices, nurtures friendships, communicates honestly and effectively, disciplines himself to meet his obligations, matures into an exemplary person, makes a difference in the world, promotes peace and nonviolence, thinks critically, creatively, perceptively ... and accepts differences."

The measuring stick for students gives an insight into the school's "new" president whose vow when he came aboard five months ago was to work to strengthen the community spirit and underscore the Catholic nature of the school.

"They used to talk about the St. Louis man, from what I can gather from history," said the Rev. Allen DeLong. With faculty advice, he crafted the vision statement for 21st century students. "We want them to be responsible for things happening in this world, we want them to make a difference."

The veteran of 45 years experience as a Marianist educator and administrator characterized his first months at the 780-student Catholic boys school as a time of assessing the school, on his own and with the help of experts.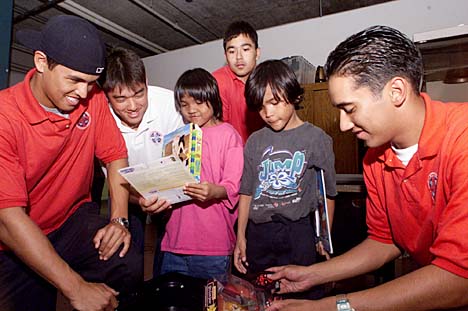 By Ronen Zilberman, Star-Bulletin
Six-year-old twins Abraham and Priscilla Mattes, center,
choose toys from a gift box at the Institute for Human Service's
Women & Children Shelter. The recent event was a service
project by St Louis School students, including, from left,
Brandon League, Davin Nakasato, Alan Ching
and Brion Zablan.
---
"The change I've made is communication," said DeLong. "I'm trying to talk to a lot of people, listening to them so that I can be brought up to speed ... establishing strong lines of communication between people. I watched the boys, looked at the goals the school sets for itself, went to a number of alumni gatherings and saw how they interact with each other, and talked to them about how they felt."

He writes a monthly letter to parents "to tell them what I'm seeing." The Christmas letter advised parents not to pamper and protect, but to encourage their sons to get jobs. "I think the most important thing is we focused in on the goals of the school. I found the faculty are really concerned about that. They are very interested in teaching and doing an excellent job in the teaching, that's something that's their passion.

"The tradition here is phenomenal," he said. He cited upperclassmen in a religion class who practice the Marianist teaching of "servant leadership" by providing meals at a homeless shelter. "Going to the kitchen doesn't come from us telling them they have to do it, it comes from their wanting to do it. There's a care and concern with people."

He said Catholic School Management company of Connecticut has been here to analyze the organization of the administration, relationships between trustees, school managers and the Marianist order. The team talked to feeder school principals, parents, students and "They were very impressed by the boys ... they said they were very mature in their responses."

Next month is the accreditation visit by the Western Association of Schools and Colleges. And later this year, a Marianist team will be "looking at our philosophy, how it's played out in our every day. It's always good to have people look at how you're doing and make suggestions," said DeLong.

What has been absent so far during his watch has been public scrutiny, a complete turn from a year ago when the previous president was fired by the board of trustees. The controversy churned for months after the dismissal of Rev. Mario Pariante, characterized by his supporters as loser in a struggle to emphasize academics over athletics. The media also missed no opportunity to focus on misbehavior by school athletes, and former athletes -- a hunt heightened by the football team's high profile as state champion for 14 years and repeatedly chosen for national ranking.

"It is pretty well behind us," is all DeLong wants to say about the past chapter. But he said that if all that people know about the school is its football record, "I think it is mostly because St. Louis hasn't told its story."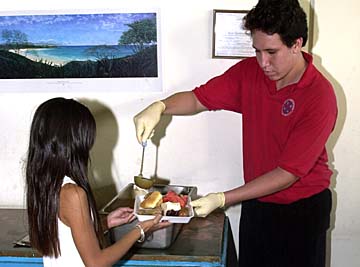 By Ronen Zilberman, Star-Bulletin
St. Louis student Jarret Keohokalole serves turkey dinner
Monday to Jazmine Krael at the IHS shelter to celebrate
a saint's feast day.
---
There's a remedy in the works for that too. The school has hired a public relations firm to trumpet its accomplishments, and prominent alumni are now starring in television and print advertisements aimed at recruiting students.

Speaking of football, the Crusaders were not state champions this year, but that didn't put the campus into crisis, he said. "I've been at schools with the same amount of talent, and they don't do as well. I think the coaching staff is excellent.

"I went to the football banquet the day after the loss. There was one moment of a few tears but the boys are resilient. We had a good year, we had a lot of fun ... and we will take it again this year."

DeLong said one of his goals is to enhance the program of spiritual retreats which afford boys a chance "to share their fears and doubts in a safe environment, to analyze how they are getting along with God, with their friends." Other goals are to expand academic resources for the teachers, and to excite the faculty with the technology available for the classroom.

Alumni who vehemently resisted an earlier effort to add girls to the St. Louis student body, need have no fear. DeLong thinks an one-gender learning environment is "a treasure.

---

Chaminade, St. Louis
honor priest

---

By Mary Adamski
Star-Bulletin

The St. Louis School and Chaminade University community is honoring a French priest whose dedication to education is still bearing fruit in Hawaii 150 years after his death.

A Mass today in the St. Louis gymnasium will celebrate the feast day of Father William Chaminade, founder of the Society of Mary, the religious order which operated the high school since 1883 and founded the only Catholic college in Hawaii in 1955.

About 30 members of the order, better known as Marianists, live at the Kaimuki campus shared by the two institutions.

More than 2,000 students attend the liberal arts university which offers more than 20 undergraduate degree programs, and several master's degree programs. Some 780 boys in grades 6 through 12 are enrolled at St. Louis. Father Chaminade was beatified last September, the second of three steps in the Catholic Church's process of declaring sainthood. A delegation from the school attended the ceremony in Rome.

"This whole month, we've focused on him, telling about his principles of faith and the Marianist way of education," said the Rev. Allen DeLong. "We want boys to be aware of things about his life." Each youth will be given a medallion depicting the priest.

The St. Louis president, a Marianist for more than 40 years, said that like himself, Chaminade was a physics and math teacher.

---



E-mail to City Desk
---
---
© 2001 Honolulu Star-Bulletin
https://archives.starbulletin.com