Advertisement - Click to support our sponsors.

---

---
Thursday, January 25, 2001
State of the City Address




Harris courts
high-tech firms to
invest on Oahu


In his State of the City address,
he is vague on whether he will
want property taxes increased

---

By Gordon Y.K. Pang
Star-Bulletin

Mayor Jeremy Harris is encouraging high-tech companies to invest on Oahu as part of his seventh State of the City address.

According to a draft of the speech that was to be given this morning, Harris is proposing to:

Establish a high-technology park on more than 50 acres of "un-utilized" city land at Manana.

Work with Campbell Estate and Hawaiian Electric to encourage high-tech firms into the "Second City" of Kapolei.

Launch an Asia-Pacific Urban Technology Institute based in the city's new municipal building in Kapolei.

The mayor also said he would "work hard" to keep property taxes lower than when he took office in 1994, but was vague on whether he will propose raising the property tax rate.

The city was expected to collect $374 million from property taxes, the largest source of revenues for its operating budget, this fiscal year. In fiscal 1994 the city collected $433 million.




Want to know more?

The full text of Mayor Jeremy Harris' State of the City speech is available here.

An edited version of the speech will be shown at 6:30 p.m. tonight on Oceanic Cable Channel 54 and rebroadcast at 10 a.m. Sunday. It also will be shown at 9 a.m. tomorrow on KHNL (Channel 13, Oceanic Channel 8), 9 p.m. Monday on KGMB (Channel 9, Oceanic Channel 7) and 6:30 p.m. Wednesday on K5 (Channel 5).




That gives Harris $59 million to play with should he choose to keep his promise. Administration officials say government employee pay raises and increases in retirement system costs will force the city to pay $58 million more in fixed costs in the coming year.

The high-tech proposal is based on ideas the mayor has floated in speeches to downtown business leaders in the months since his re-election in September. Harris has been talking about a need for initiatives that would make Hawaii a gateway of intellectual exchange between Asia and the West.

The 109-acre Manana property, long the home of Quonset-style storage huts owned by the Navy, was purchased by the city in 1994 under former Mayor Frank Fasi for $94 million to help finance the federal government's Ford Island Causeway. The deal also included the purchase of the so-called Pearl City Junction property across the street. That site was sold by the city last year and will soon be the site of a Home Depot.

Last May, the city offered 57 acres of the Manana property for development that would have ideally included medical facilities, dance studios, day care centers, teen nightclubs and restaurants.

Now, Harris apparently wants to use that same land for a tech park that would "provide attractive lease rents and other tax benefits for information-based companies."

Already under construction or in planning at Manana are a city bus depot, a park with softball fields and other recreational facilities, a youth center, and corporation yards for the departments of transit services and parks and recreation, as well as the Board of Water Supply.

Also planned is a four-lane, 92-foot-wide, 3,800-foot-long road that would connect the Moanalua-Waimano Home Road intersection with Acacia Road near the Pearl Highlands Center at a cost of $9.8 million.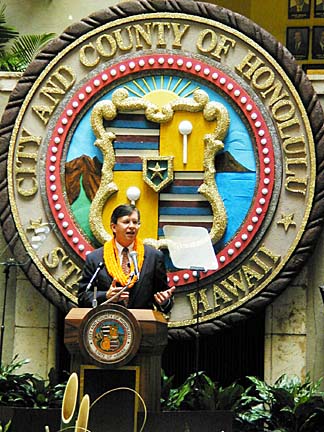 By Ken Ige, Star-Bulletin
Honolulu Mayor Jeremy Harris delivers the State
of the City address today at Honolulu Hale.
---
In Kapolei, Harris was not specific about how he will work with Campbell Estate and Heco other than that he wants the electric company to provide surplus electricity from the H-Power plant to new high-tech firms in the area at lower costs.

The mayor said he wants to open the Asia-Pacific Urban Technology Institute at the new municipal building in Kapolei which is expected to open sometime this year.

"Working in partnership with private-sector firms and the Board of Water Supply, this institute will exhibit a wide array of cutting-edge technology," Harris was to say. "Asian leaders will be able to receive information and training at the center, and local technology and professional service firms will be able to market their services there."

To help local, non-tech new businesses, the mayor wants to open a small-business incubator using vacant, city-owned office space in Chinatown. Nearby, he said, would be a one-stop small-business development center in partnership with the U.S. Small Business Administration.

For existing small-business owners, Harris proposes creating a small-business advocate who would investigate and resolve complaints and red tape.

The mayor also announced an agreement with the American Youth Soccer Organization to have its 2002 national games hosted by the city's new Waipio Soccer Complex. The games are expected to attract up to 250 teams from across the nation and pump $10 million into the island's economy.

Meanwhile, agreements have been reached with two Korean major league baseball teams who will use facilities at the new Central Oahu Regional Park for their winter training camps.

Harris said he will budget for arbitrated contracts with the government unions despite the city's opposition to them at the bargaining table because he has a "moral as well as legal obligation" to do so.

Oahu property owners should know more about their tax situation when Harris submits his budget to the Council on March 2.

Other proposals

Creating a "Convention Center Special District" to redevelop the area around the convention center with more landscaped open space.

Working with Hawaiian Electric to split the costs for underground utilities across the island, particularly where ocean and mountain views are obscured.

Providing used computers at city recreation centers.

Establishing eight new affordable day care centers, in partnership with Head Start, at city parks.

Building 50 new "play sets" at parks adjacent to schools, six more skateboard parks and 11 segments of the city's islandwide bicycle plan.

Improving and expanding the current vision team system, which allows citizens to participate in government.

Broadcasting live, monthly Cabinet meetings on television and the Internet.

---



E-mail to City Desk
---
---
© 2001 Honolulu Star-Bulletin
https://archives.starbulletin.com