Advertisement - Click to support our sponsors.

---

---
Monday, January 22, 2001



S O N Y_ O P E N
---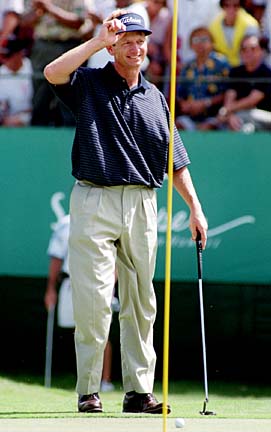 By George F. Lee, Star-Bulletin
With victory in sight, Brad Faxon tips his visor to the
gallery on the 18th green yesterday.
---
Faxon whips Waialae


He shoots a record 20-under
par to earn fattest paycheck to date

Els out of rhythm
Notebook
Key Hole
The Leaders

---

By Bill Kwon
Star-Bulletin

Brad Faxon couldn't have asked for a better pairing in the final round as he won the Sony Open with a record 20-under-par 260 yesterday at the Waialae Country Club.

One of his goals is to be among the world's top golfers. And here he was, playing with Ernie Els and Tom Lehman, both ranked among the top 10 in the world.

"I was thrilled to get that pairing," said Faxon, who shot a final-round 65 for a four-stroke victory and his biggest paycheck ever -- $720,000.

"Ernie is No. 2 or 3 in the world and Lehman's right up there," Faxon said. "Absolutely, I wanted to prove something to myself."

And to a Sports Illustrated writer, who once challenged Faxon's manhood in his three-hole playoff loss to Furyk in the 1996 Hawaiian Open.

That "distasteful" article still grates Faxon, who brought it up more than once this week.

This week, he let his clubs do the talking.

Known as one of the PGA Tour's best putters -- three putting titles in five years -- Faxon ate up Waialae's silky smooth greens.

"The greens are as good as we'll see all year long on the tour," he told club members at the champagne celebration party.

But now, Faxon, who was 171st in driving for distance last year, has combined his putting skills with longer tee shots, which caught Lehman's attention.

"He's hitting it longer. It's got to be 20 yards further," said Lehman who finished with a 66 for a 72-hole total of 264 and $432,000 runner-up money.

"He's now giving himself shorter clubs (to the greens)."

That proved to be a winning combination for Faxon, who finished with a flourish, eagling the 551-yard 72nd hole.

It was his fourth eagle in as many days, matching his entire 2000 output. "That's pretty remarkable for a course with only two par-5s," he said.

"Everything went my way this week. Everything went as planned, went as expected, sometimes even better."

Faxon made his Sunday stroll as easy as one-two-three. The Sony Open countdown was three-two-one.

He turned a three-man race for first place to a two-man race and then a yours-truly race.

A double-bogey 6 at the eighth hole first knocked Els, who three-putted from 12 feet, out of contention.

Lehman hung in there, cutting Faxon's lead to just one stroke with a birdie at the sixth hole.

But Faxon birdied the next three holes to take a two-shot lead over Lehman at the turn.

Despite a bogey at the 13th because of a bad lie on his second shot, Lehman thought he was still in it -- until he missed a birdie putt at 15.

"I have some big goals. I would like to get back into all of the majors," Faxon said.

Handling all that Lehman and Els gave him yesterday, Faxon showed that he could play with the big boys.

"I'm thrilled to death. I hope this is the start of a great year," he said.

Where's that SI writer?

---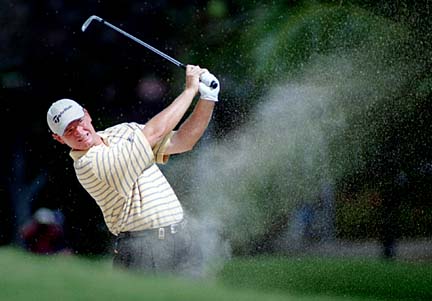 By George F. Lee, Star-Bulletin
Ernie Els blasts out of a bunker on the 16th hole during
the final round of the Sony Open yesterday at Waialae
Country Club. Els said he had problems with his driver,
but he still managed to place third.
---
Els, out of rhythm,
earns third

---

By Dave Reardon
Star-Bulletin

Narrow fairways did in any slim chance Ernie Els had of catching Brad Faxon and Tom Lehman in yesterday's final round of the Sony Open.

Els finished third at 13-under for a $272,000 payday.

He shot a one-under 69 yesterday, despite hitting only 3-of-14 fairways. Els hit only 23-of-56, or 41 percent, over the four days.

"The rhythm in my driver is not up to standard, especially for a narrow course like this," he said. "I didn't have a lot of opportunities to attack, which you need when you're playing in the first group. I needed to drive better."

His putting could have been better, too -- at least on No. 8, where he three-putted from 12-feet for a double bogey.

Els, coming off the best of his seven previous Tour seasons, wasn't really making excuses. He knew Faxon would be very hard to catch, no matter what.

"All-in-all, I think this week I had no chance, even if I played as good as I can," Els said.

"Last week was more disappointing."

That was when he led after the first two rounds of the Mercedes Championships at Kapalua, but faltered to finish in a third-place tie.

Els' popularity was evident yesterday. Dozens of fans lined the ropes outside of the 18th green after his round, hoping for an autograph or just a glimpse.

The Tour's star attraction in a Tiger-less field has reached the point that no matter how much time he spends signing, he can't satisfy them all.

But no one seemed to take offense when Els (who had to catch a plane to the mainland) jogged directly to the clubhouse after signing for a few minutes.

"Back next year, Ernie?" yelled a fan.

"Oh, yes," he replied.

By then, the 1994 and '97 U.S. Open champion hopes to have at least another major victory under his belt.

"I know what I've got to work on. I'm really not far off from my best golf," he said.

Els will play in this week's Phoenix Open.

"I've never been there, but Tom Lehman told me I would really enjoy it.

"It's wide," Els said with a huge smile.

---

NOTEBOOK

Champ was paired
with good friend

LIKE all games, golf is a lot more fun when you play with friends. It can also be very profitable. Just ask Brad Faxon, winner of the 2001 Sony Open, and Billy Andrade, who finished fourth.

Faxon was paired in the first and second rounds Thursday and Friday with fellow New Englander and good buddy Andrade.

"It's always nice when you play with someone you're comfortable with," Faxon said after his first round 64, which he followed with another 64 on Friday.

It wasn't just intangibles; on one putt on Thursday, the break on Andrade's ball coincidentally helped Faxon line up his own putt.

Together, they run the Billy Andrade/Brad Faxon Charities for Children, Inc., which distributes money to children in Massachusetts and Rhode Island, the golfers' respective home states.

Presumably, those charities will get quite a boost due to last week's happenings at Waialae. Faxon won $720,000 and Andrade got a check for $192,000.

Andrade shot two 69s playing with Faxon and Dennis Paulson on Thursday and Friday.

Then he climbed the leader board with a 66 on Saturday and a 65 yesterday to finish at 11-under.

HARD HOLES, EASY HOLES: No 2 was a torture chamber (see article to left) for many, but the 459-yard, par-4 No. 6 gave some of the best golfers in the world a very hard time, too.

Over four days, it yielded an average score of 4.274, behind only No. 2's 4.344.

It was birdied only 32 times, compared to 97 bogeys, 17 double bogeys and five of the ominous "other" category.

The 551-yard, par-5 No. 18 was played the best by the field.

It was eagled as many times (14) as it was bogeyed (13) or double-bogeyed (1). It was birdied 238 times, compared to 160 pars.

The other par-5, the 510-yard No. 9, didn't present much of a challenge to the field, either. In fact, it was eagled (18) more than the 18th, but also bogeyed (25) more often.

WHERE'D THEY GO?: John Daly and Larry Mize were tied with Faxon for the lead at 64 after the first round.

Both fell off the pace quickly on Friday.

Mize finished tied for 47th after going 5-over in the last three rounds.

Daly shot 9-over the rest of the way to finish in a tie for 63rd.

Rookie report: Kaname Yokoo (T36), Cliff Krege (T40), Stephen Allan (T46) and Garrett Willis (T59) are all Tour rookies who earned a check again after doing so the previous week at the season-starting Tucson Open.

Kelly Grunewald (T59), J.J. Henry (T65), Jeremy Anderson (T67) and Michael Muehr (T67) all earned a check for the first time this past weekend.

PAR FOR THE COURSE: Of all the rounds in the four days, 198 were under par, 55 were even-par and 173 were over par. The field finished at 63-over for the tournament.

TAP-INS: Sony Open runner-up Tom Lehman is the defending champion at this week's Phoenix Open. ... Faxon scored an eagle in each of his four rounds, and dating back to the final round of last week's Mercedes Championships, he now has five consecutive rounds with an eagle. Faxon leads the Tour with six eagles this season. ... Andrade was joined by Briny Baird and Duffy Waldorf with 65s for the best final rounds. ... For the second year in a row, Gary Nicklaus blew up on the final day. His 78 yesterday after going into the final round at 3-under left him at 5-over and tied for 68th.

---

Dave Reardon, Star-Bulletin

---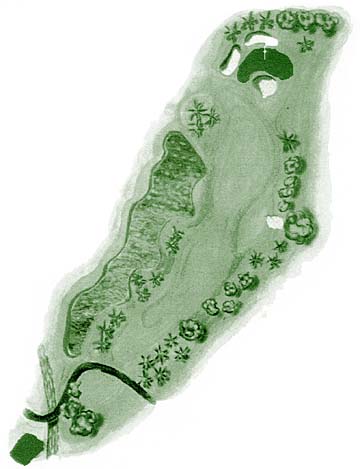 Key hole: No. 2
Par 4 -- 426 yards

Waialae's par-4, 426-yard No. 2 lived up to its reputation yesterday -- and all week.

It ranked last year as the 14th toughest hole on the entire Tour.

Paychecks shrank there yesterday with 28 players absorbing bogey or worse.

It strangled the field all four days of the tournament, producing nearly as many double bogeys (30) as birdies (35).

But for eventual champion Brad Faxon, an improbable birdie on No. 2 kick-started his 32-33--65. It eased his nerves, giving him more confidence to stave off the dangerous Tom Lehman and Ernie Els.

"I was nervous. The first and second tee shots are tough. Making the (65-foot) chip in on 2 was unbelievable," said Faxon, who used a sand wedge. "I had a bad lie. It was a 1-out-of-100 shot. Birdie was a very big surprise."

Els also birdied No. 2, to go 13-under.

But Faxon, who dropped to minus-16, sent a message -- to his playing partners and himself -- that he would be awfully difficult to catch.

His play the rest of the round was fittingly like the hole's nickname: "Unyielding," or 'O'ole'a in Hawaiian.

---

Dave Reardon, Star-Bulletin

---

The leaders

Scorecards from yesterday's final-round leaders at Waialae Country Club:

Hole
1
2
3
4
5
6
7
8
9
FRONT




Yardage
488
426
423
203
466
459
167
459
510
3601




Par
4
4
4
3
4
4
3
4
5
35




Brad Faxon
4
3
4
3
4
5
2
3
4
32




Tom Lehman
3
4
4
3
4
3
3
3
4
31




Ernie Els
4
3
4
3
4
5
3
6
4
36




Billy Andrade
4
4
4
3
4
3
3
3
4
32




Fred Funk
4
4
5
2
4
3
2
3
5
33




Joe Ozaki
4
5
4
3
4
4
3
3
4
34




Greg Chalmers
5
4
3
3
4
3
3
5
4
34




Briny Baird
4
4
4
3
4
4
3
4
4
34




Loren Roberts
5
4
4
3
4
4
3
4
5
36

| | | | | | | | | | | | | |
| --- | --- | --- | --- | --- | --- | --- | --- | --- | --- | --- | --- | --- |
| Hole | 10 | 11 | 12 | 13 | 14 | 15 | 16 | 17 | 18 | | BACK | |
| Yardage | 353 | 196 | 446 | 478 | 433 | 396 | 417 | 189 | 551 | | 3459 | 7060 |
| Par | 4 | 3 | 4 | 4 | 4 | 4 | 4 | 3 | 5 | | 35 | 70 |
| Brad Faxon | 4 | 3 | 4 | 4 | 4 | 4 | 3 | 4 | 3 | | 33 | 260 |
| Tom Lehman | 4 | 3 | 4 | 5 | 4 | 4 | 4 | 3 | 4 | | 35 | 264 |
| Ernie Els | 4 | 2 | 4 | 4 | 3 | 5 | 4 | 2 | 5 | | 33 | 267 |
| Billy Andrade | 4 | 2 | 4 | 4 | 4 | 4 | 4 | 3 | 4 | | 33 | 269 |
| Fred Funk | 4 | 3 | 3 | 5 | 4 | 5 | 4 | 3 | 3 | | 34 | 271 |
| Joe Ozaki | 3 | 3 | 4 | 4 | 3 | 4 | 4 | 3 | 5 | | 33 | 271 |
| Greg Chalmers | 4 | 3 | 4 | 3 | 4 | 4 | 3 | 4 | 4 | | 33 | 271 |
| Briny Baird | 1 | 3 | 4 | 4 | 3 | 3 | 4 | 3 | 4 | | 31 | 271 |
| Loren Roberts | 4 | 2 | 4 | 4 | 3 | 3 | 4 | 3 | 4 | | 32 | 371 |

At Waialae Country Club
Honolulu, Hawaii
Purse: $4 million
Yardage: 7,060; Par: 70
Final round results

Brad Faxon, $720,000 -- 64-64-67-65--260
Tom Lehman, $432,000 -- 66-67-65-66--264
Ernie Els, $272,000 -- 68-65-65-69--267
Billy Andrade, $192,000 -- 69-69-66-65--269
Fred Funk, $135,600 -- 66-69-69-67--271
Joe Ozaki, $135,600 -- 66-70-68-67--271
Greg Chalmers, $135,600 -- 69-69-66-67--271
Briny Baird, $135,600 -- 68-70-68-65--271
Loren Roberts, $135,600 -- 67-67-69-68--271
Tom Byrum, $96,000 -- 68-70-67-67--272
Jeff Sluman, $96,000 -- 66-73-66-67--272
Brian Gay, $96,000 -- 71-65-70-66--272
Davis Love III, $96,000 -- 70-68-65-69--272
Shaun Micheel, $68,000 -- 67-68-69-69--273
Stephen Ames, $68,000 -- 68-68-68-69--273
Spike McRoy, $68,000 -- 66-69-71-67--273
John Huston, $68,000 -- 68-66-69-70--273
Jim Furyk, $68,000 -- 66-67-69-71--273
Carlos Franco, $52,000 -- 66-67-69-72--274
Michael Clark II, $52,000 -- 72-66-69-67--274
Duffy Waldorf, $52,000 -- 73-66-70-65--274
Bradley Hughes, $36,057 -- 67-66-71-71--275
Vijay Singh, $36,057 -- 68-70-67-70--275
Shigeki Maruyama, $36,057 -- 69-66-70-70--275
Scott Dunlap, $36,057 -- 68-68-68-71--275
Craig Parry, $36,057 -- 69-69-66-71--275
Chris DiMarco, $36,057 -- 67-69-67-72--275
Steve Lowery, $36,057 -- 68-70-69-68--275
Robert Allenby, $24,350 -- 70-67-68-71--276
Joe Durant, $24,350 -- 68-69-68-71--276
Franklin Langham, $24,350 -- 66-69-69-72--276
Jerry Smith, $24,350 -- 71-66-67-72--276
K.J. Choi, $24,350 -- 68-70-69-69--276
Jim Carter, $24,350 -- 70-69-68-69--276
Jerry Kelly, $24,350 -- 69-65-73-69--276
Kaname Yokoo, $24,350 -- 70-66-72-68--276
J.L. Lewis, $17,600 -- 66-69-70-72--277
David Berganio, $17,600 -- 71-66-67-73--277
Bill Glasson, $17,600 -- 67-68-68-74--277
Jeff Maggert, $17,600 -- 69-70-69-69--277
Stuart Appleby, $17,600 -- 72-67-69-69--277
David Peoples, $17,600 -- 67-70-73-67--277
Rory Sabbatini, $13,600 -- 71-68-66-73--278
Cliff Kresge, $13,600 -- 68-68-70-72--278
Olin Browne, $13,600 -- 67-68-71-72--278
Esteban Toledo, $13,600 -- 71-66-73-68--278
Larry Mize, $10,760 -- 64-71-71-73--279
Ted Tryba, $10,760 -- 68-70-75-66--279
Stephen Allan, $10,760 -- 70-69-69-71--279
Dudley Hart, $10,760 -- 69-70-70-70--279
Richie Coughlan, $9,413 -- 65-71-70-74--280
Bob Burns, $9,413 -- 68-70-69-73--280
Chris Perry, $9,413 -- 67-72-68-73--280
Pete Jordan, $9,413 -- 68-71-72-69--280
Craig Barlow, $9,413 -- 69-67-75-69--280
Corey Pavin, $9,413 -- 73-66-71-70--280
John Riegger, $9,000 -- 68-70-75-68--281
John Cook, $9,000 -- 71-68-70-72--281
Garrett Willis, $8,760 -- 68-70-68-76--282
Chris Smith, $8,760 -- 70-69-68-75--282
Kelly Grunewald, $8,760 -- 71-68-74-69--282
Paul Goydos, $8,760 -- 68-71-71-72--282
Sean Murphy, $8,480 -- 66-71-70-76--283
John Daly, $8,480 -- 64-72-76-71--283
Frank Lickliter, $8,480 -- 71-66-74-72--283
Peter Jacobsen, $8,280 -- 69-64-75-76--284
J.J. Henry, $8,280 -- 67-71-72-74--284
Gary Nicklaus, $8,080 -- 66-71-70-78--285
Jeremy Anderson, $8,080 -- 72-67-75-71--285
Michael Muehr, $8,080 -- 68-70-75-72--285
E-mail to Sports Editor
---
---
© 2001 Honolulu Star-Bulletin
https://archives.starbulletin.com