Advertisement - Click to support our sponsors.

---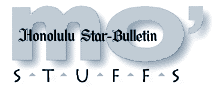 ---
Monday, January 22, 2001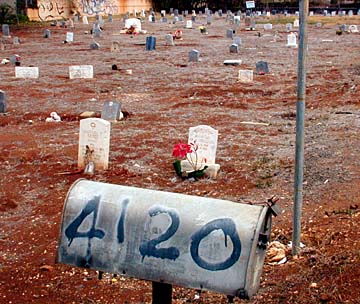 By Craig T. Kojima, Star-Bulletin
The mailbox at Ocean View Cemetery belongs
to the caretaker of the property.
---
Mailbox at
Ocean View Cemetery
no grave mistake
Kensey Inouye of Honolulu is curious about the Ocean View Cemetery near Kahala Mall. "What is the mailbox doing at the entrance to the cemetery in Waialae? Who's expecting mail?"

The easy answer would be, that's the address for the dead-letters file at the post office.

But no. The thing is, cemeteries don't take care of themselves. Especially not cemeteries that are inactive. When the Hiram Fong family acquired the property in 1935, it had formerly been a city property where indigents were buried, and later a going concern that specialized in Hawaiian and Portuguese burials, at least going by the names on the headstones.

Burials in Ocean View Cemetery stopped in the '50s, which was about the last time the property actually had an ocean view. Freeway Overpass View Cemetery doesn't have the right ring does it? And the old Waialae Drive-in was nearby. All the graves would have had to have been realigned to view the movie screen.

The property is still kept up by the Fong family, who are planning to "beautify" the site. There is a caretaker who lives in a house on the property, and that's his mailbox. We peeked in through the mail slot and saw junk mail. So, to death and taxes, add junk mail as one of the only sure things in life.
---
Burl Burlingame, Star-Bulletin


| | |

Radio Log
KONG 570-AM / 93.5 FM: Adult contemporary rock with some Hawaiian music
KSSK 590-AM / 92.3-FM: Adult contemporary music
KHNR 650-AM: CNN news, sports
KQMQ 93.1-FM: The Q, '80s and '90s hits
KQMQ 690-AM: Radio Disney
KGU 760-AM: Talk, news, sports
KHVH 830-AM: News, talk, traffic, weather
KAIM 870-AM / 95.5-FM: Christian radio
KJPN 940-AM: Japanese-language shows
KIKI 990-AM / 93.9-FM: Contemporary country AM; contemporary hits FM
KLHT 1040-AM: Christian radio
KWAI 1080-AM: Talk radio
KZOO 1210-AM: Japanese-language shows
KNDI 1270-AM: Live news from the Philippines; programs in 10 languages
KIFO 1380-AM: News, public affairs
KCCN 1420-AM / 100.3-FM: All talk / UH sports AM; contemporary island hits, FM
KUMU 1500-AM / 94.7-FM: Adult standards, AM; light rock, FM
KHPR 88.1-FM: Classical, news, public affairs
KIPO 89.3-FM: Jazz, classical, news
KTUH 90.3-FM: Jazz, blues, Hawaiian, rock, country and alternative
KKUA 90.7-FM: Classical, news, public affairs
KKCR 90.9 / 91.9-FM: Hawaiian music, midnight-3 p.m.; and rock, reggae, classical and new age
KRTR 96.3-FM: Adult contemporary music and news
KPOI 97.5-FM: Modern rock
KDNN 98.5-FM: Contemporary Hawaiian
KORL 99.5-FM: Adult contemporary
STAR 101.9-FM: Modern hits
KKHN 102.7-FM: "Da Bomb" top 40 hits
KXME 104.3-FM: Top 40
KINE 105.1-FM: Hawaiian
KGMZ 107.9-FM: Oldies






Click for online
calendars and events.
---
Send WatDat? questions, stories
or any other story ideas or comments to:
Features, Honolulu Star-Bulletin, P.O. Box 3080,
Honolulu, HI 96802 or send a fax to 523-8509
or E-mail to features@starbulletin.com.
Please include your phone number.
E-mail to Features Editor
---
---
© 2001 Honolulu Star-Bulletin
https://archives.starbulletin.com