Advertisement - Click to support our sponsors.

---

---
Thursday, January 18, 2001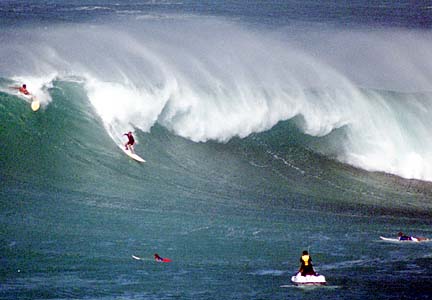 By George F. Lee, Star-Bulletin
Only the most proficient surfers take advantage of surf
up to 20 feet at North Shore's Waimea Bay yesterday.
In the foreground, lifeguards on Jet Skis are on hand
for those who run into trouble. High-surf advisories
are posted to try to keep people out of the water.
---
Beware
the big surf


Lifeguards sound a warning
as spectators flock north for
a look at 20-foot waves

---

By Janine Tully
Star-Bulletin

City lifeguards are worried that the big waves which have closed North Shore beaches will attract spectators who may get too close to the water.

"The waves are causing havoc, limiting the number of people that can go in the water," said lifeguard Capt. Edmund Pestana.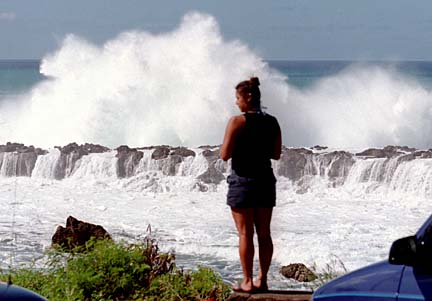 By George F. Lee, Star-Bulletin
Sixteen-year-old Deanna Acker of Mililani stops to
take in the high surf yesterday at Sharks Cove near
Sunset Beach.
---
But 20-foot waves yesterday and 12- to 15-foot waves today haven't stopped expert surfers. About 20 or so were spotted yesterday surfing at Waimea Bay, despite the high surf advisory signs posted along the shore.

"Those guys are proficient surfers," Pestana said.

But lifeguard Dennis Sallas said experienced surfers sometimes "push the limit," sending lifeguards to risk their lives rescuing them. "You never know Mother Nature," Sallas said.

Lifeguards are most concerned about spectators who come to see the waves and walk down to the water's edge.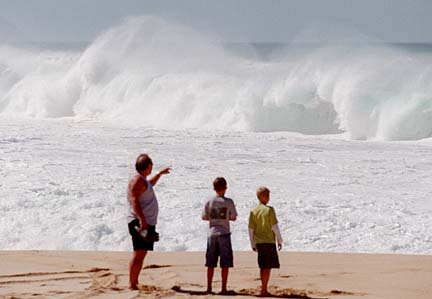 By George F. Lee, Star-Bulletin
Island visitor allowed themselves a quick,
that's-close-enough look at Waimea Bay's
awesome surf yesterday afternoon. They are,
from left, Jim Platzer, Cameron Thomits
and Josh McEuen
---
All day yesterday, lifeguards and Civil Defense volunteers tried to keep people off the ledges at Three Tables and Sharks Cove.

"When a big wave comes, it will pull them in," Pestana said. "They might want to take a picture and instead get sucked into the ocean and drown."

Waves washed over parts of Kamehameha Highway, through lifeguard towers at Alii and Sunset beaches, and at Ke Waena Beach, next to Pipeline.

As of yesterday, the only reported incident was a Jet Ski that washed onto Sunset Beach. But if the waves continue to be this big, shoreline properties could be damaged, Pestana said. "It depends a lot on the angle of the swell."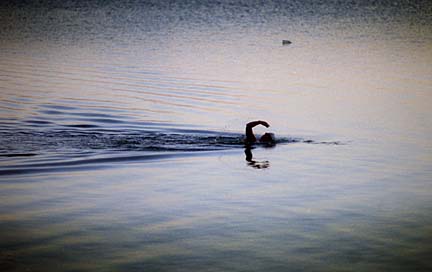 By Dennis Oda, Star-Bulletin
The big waves skipped some beaches. Here,
a lone swimmer takes a few quiet laps in the
calm waters off Ala Moana Beach Park.
---
Jim Howe, Ocean Safety Operations chief, said waves are coming in at a right angle from the northwest. "Sometimes we get more westerly waves, and that's what causes property damage."

Meanwhile, Civil Defense advised residents to take precautions.

"The only problem is to keep swimmers off the water," said Paul Takamiya, operations officer for Oahu Civil Defense. "Motorists negotiating the coastal roadway should also be on alert."

Beaches are expected to stay closed at least until tomorrow, when National Weather Service forecaster Roy Matsuda predicted waves will have diminished to 6 to 10 feet. Another big swell could begin building Monday, he said.
E-mail to City Desk
---
---
© 2001 Honolulu Star-Bulletin
https://archives.starbulletin.com