Advertisement - Click to support our sponsors.

---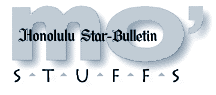 ---
Wednesday, January 10, 2001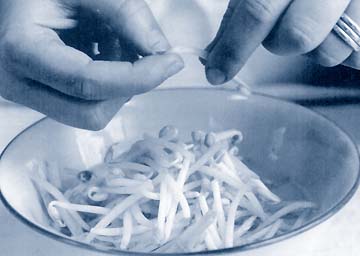 "Authentic Vietnamese Cookery," by Corinne Trang
Bean sprouts have been missing from local stores.
---
Sprout shortage
should end this week
Stir-fries, sandwiches and salads have gone sprout-less the last few days, since the island's major supplier of bean, clover, radish and broccoli sprouts pulled its products from stores. HPC Foods removed the items after testing the sprouts and finding levels of bacteria in excess of new standards, company treasurer/comptroller Eric Enomoto said.

The FDA and sprout producers have been steadily increasing safety standards, Enomoto said. "The industry has been making tremendous changes over the last three years."

The International Sprout Growers Association lists salmonella and e. coli as "microbial hazards" of particular concern.

HPC has always been able to keep up with the changes while staying in production, he said, but now the company finds it must shut down to revamp its plant. HPC plans to be back in production within a month and in the meantime will import mainland sprouts for its local customers.

Produce managers at several Oahu supermarkets said they were caught by surprise a few days ago when their shelves went bare, but plan to have mainland sprouts in their stores by the end of the week.
Food and wine

"Winz & Grinz": Chef Steven Ariel and pastry chef Mark Okumura present a five-course dinner, 5-9 p.m. Jan. 19 at Alan Wong's Pineapple Room. On the menu: Rock Shrimp, Spinach and Cheese Lasagnette, Achiote Cornish Game Hen, Pan-Steamed Moi, Ginger-Crusted Lamb Chops and a dessert sampler. Cost is $49, or $54 with wine. Call 945-8881.

Best buys: Wine tastings at Sam Choy's Diamond Head resume, 5-6:30 p.m. Friday with Leland Nakakura of Southern Wines and Spirits presenting wines chosen as best buys by Wine Spectator magazine. Appetizers will be served. Cost is $20. Call 739-5637.
Dinner marks Tet
Celebrate Tet at at the annual membership dinner of the Vietnamese-American Chamber of Commerce of Hawaii, 5:30 p.m. Jan. 20 at Garden of Saigon Restaurant. Cost is $25; $10 for students and children. Call 545-1889 or email Yvette@pacmarinc.com by Jan. 17.
Learn massage basics
Learn how to ease tensions of family members and friends through massage classes being offered at Waipahu's Good Health Center.

Kathy Julia will explain benefits of the massage routine, give a demonstration and hands-on training, and distribute information about the techniques featured in the three-hour classes.

Classes cover topics such as baby; self; head, neck and face; pregnancy; back and foot massage, as well as office stress busters.

The cost is $30 per person; $50 per couple. Call Nando Arcayna at 671-7966 for reservations.
Eye seminar tonight
Dr. John D. Olkowski will present a free, one-hour seminar on laser vision correction at 6:30 p.m. today at Mililani Public Library.

Olkowski, of EyeSight Hawaii, will discuss the benefits and risks of such surgery as well as technology being develop to correct vision problems.

Information: 627-7470.
Windward fair set
Free health screenings, information on holistic lifestyles and the use of fresh herbs will be part of a health fair from 11 a.m. to 4 p.m. Saturday at Windward Mall.

There also will be demonstrations on yoga, jazzercise, gymnastics and arm wrestling.

Information: 235-1143.
MS program on internet
The National Multiple Sclerosis Society is presenting a monthly Internet program to provide information about MS treatment and issues.

The programs will broadcast the third Thursday of each month from 3:30 to 4:30 p.m.

The first program, on Jan. 18, will feature Dr. Peter B. Dunne of the University of South Florida, Department of Neurology.

The program will be followed by a question-and-answer segment when people may email questions to the presenter.

Free audio software can be downloaded from www.nmss.org, the MS Society's Web site. Written transcripts will remain on the site for 12 months.

Information: 1-800-FIGHT MS, ext. 1.






Click for online
calendars and events.
---
Send WatDat? questions, stories
or any other story ideas or comments to:
Features, Honolulu Star-Bulletin, P.O. Box 3080,
Honolulu, HI 96802 or send a fax to 523-8509
or E-mail to features@starbulletin.com.
Please include your phone number.
E-mail to Features Editor
---
---
© 2001 Honolulu Star-Bulletin
https://archives.starbulletin.com