Advertisement - Click to support our sponsors.

---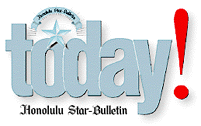 ---
Wednesday, January 10, 2001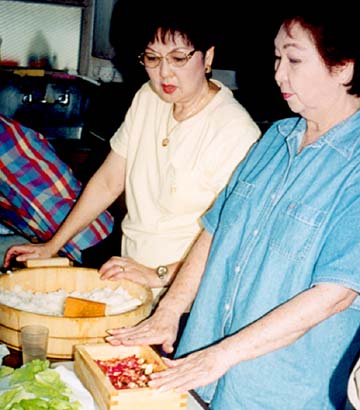 Honolulu Yamaguchi Kenjinkai
Members of the Honolulu Yamaguchi Kenjinkai get ready
for the Japanese Cultural Center of Hawaii's 2001 New
Year Festival with a round of sushi making.
---
A taste of
Japanese tradition

---

Star-Bulletin

Sample hard-to-get Japanese food specialties when the United Japanese Society of Hawaii and Japanese Cultural Center of Hawaii present a New Year Festival 9 a.m. to 4 p.m. Saturday at JCCH.

In addition to the traditional mochi-tsuki, or mochi-pounding demonstrations by Tenrikyo Hawaii, five Japanese prefectural groups will feature their specialties for purchase at a series of food booths.

Honolulu Yamaguchi Kenjinkai will feature its iwakuni-sushi, or pressed sushi. This is traditionally made in a box measuring 2-1/2-by-2-1/2 feet with a removable top that is pressed into the rice.

"When I was a young boy, about 9 or 10 years old, my family used to make me go on top of the box to press the sushi down," said Masao Wakatake of the Honolulu Yamaguchi Kenjinkai.

The ingredients that go into iwakuni-sushi are thin, flat and soaked in vinegar, vs. chunky ingredients that go into other forms of sushi, according to Wakatake.

The bottom layer of the toppings may be a green-leaf vegetable such as lettuce, followed by a layer of rice. After pressing, these may be followed by lotus root and thin-sliced fish, shrimp or chopped eggs, he said.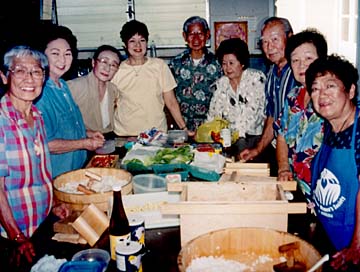 Honolulu Yamaguchi Kenjinkai
Members of the Honolulu Yamaguchi Kenjinkai
pose after a session of iwakuni-sushi making.
---
The layering process is repeated about five or six times.

Wakatake said iwakuni-sushi is nicknamed "combat food," because one 18-inch block could fill a samurai's carbohydrate needs in the field. It could also be easily cut into pieces to serve many.

Today, iwakuni-sushi is usually made during spring and fall festivals in Yamaguchi prefecture, where it also is presented as an offering at shrines.

Other specialties that will be featured are dango-jiro, a dumpling soup from Kumamoto; Okinawa-onigiri and andagi from Okinawa; curry from Fukuoka; ozoni, the New Year's soup made with mizuna; and zenzai, a red-bean dessert.

The free festival will open with a Shinto blessing and taiko performance at 9 a.m. Entertainment and cultural displays will be featured throughout the event.

A highlight will be the cultural center exhibition, "Mainichi Mono: Every Day Things," with photos, kimono, early cameras, tea (chado) implements and many other items reflecting Hawaii's lifestyle.

The JCCH is at 2454 S. Beretania St. Call 945-7633 for more information.

Following is a recipe for zenzai, a dessert of azuki beans, believed in ancient Japan to have the power to dispel evil and diseases.

Zenzai (Red Bean Dessert)

"The Legacy of the Japanese in Hawaii: Cuisine"

1 8-ounce package azuki beans
2 cups sugar
3/4 teaspoon salt
1 tablespoon cornstarch
10 cubes of mochi or dango (dumplings)

Wash azuki beans. Cover with water; let stand overnight. Drain water, replacing with four times more water than beans. Bring to a boil; remove scum.

Cover and simmer until tender. If there is too much liquid remaining when azuki is cooked, remove the excess. Add sugar and cook about 1 hour. Add salt and cook a few minutes longer.

To 3 cups seasoned azuki, add 3 cups of hot water. Mix well and bring to a boil Add more sugar if desired. Mix 1 tablespoon cornstarch with 1 tablespoon of water and add gradually to boiling azuki sauce.

Broil mochi cubes. Place 2 cubes in a bowl and pour azuki sauce over. Serve hot. Serves 5.

Nutritional information is unavailable.

---

"The Legacy of the Japanese in Hawaii Cuisine" cookbook is available at JCCH gift shop at $12 softcover, $20 hardcover)





Click for online
calendars and events.
E-mail to Features Editor
---
---
© 2001 Honolulu Star-Bulletin
https://archives.starbulletin.com